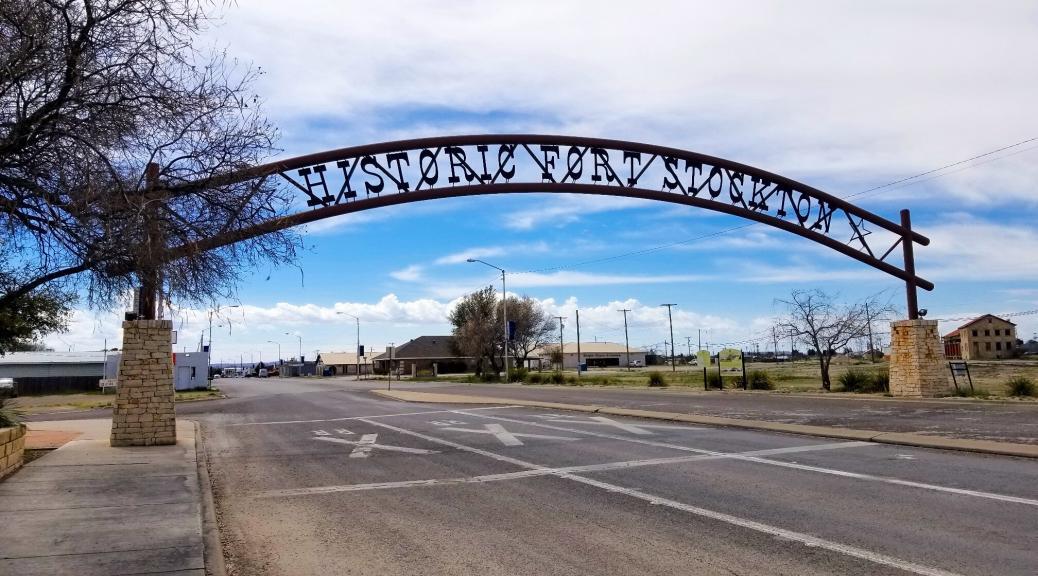 Hilltop RV Park, Fort Stockton, TX
We ended up staying in Fort Stockton for a week on our way back through Texas from New Mexico. Basically there isn't a lot to do there but we did find several things to look at including the area around the Visitor Center, historic downtown including the courthouse, a frontier era jail, and the remains of Fort Stockton, an old frontier fort. We also visited the Annie Riggs Memorial Museum where we learned a lot about the history of the area. As with most frontier towns, there is a lot of interesting facts about the early pioneers that settled here and much of the early law typically had criminal histories as well. It's fun to think about what life must have been like in those tough times.
Rating: ⭐⭐⭐
Site Quality: Dirt and gravel pads and roads. Our site was just long enough for our rig with the truck parked beside it. Throughout he park were many pipeline and oil field workers staying long term.
Type: Commercial
Access: Just west of Fort Stockton on I-10.
Staff: We arrived when the office was closed (we arrived about 1:30 and the office opens at 3:00) but before we could investigate the self check-in procedures the manager came along and helped us get checked in. He even took us to the site to be sure it was acceptable before we drove back to it.
Amenities: There were Restrooms with showers and laundry facilities but we didn't use them. There was also a pool that looked nice but it was still closed for the season (we were there in early March). There was a dog run area in the park.
Cellular/WiFi: Verizon (6 Mbps) and AT&T (15 Mbps) were pretty good. The park had WiFi but we did not use it. The signal at our site was pretty weak.
Restaurants: The Garage Coffee Shop served great coffee and we stopped by there for latte's and cinnamon rolls on our way out to explore. We also had lunch at B's Family Dining in downtown Fort Stockton. They are a family run business serving up friendly conversation, great hamburgers, steaks and other fare but they are only open until 3:00PM M-F.
What we liked: The park is on a hill and had great views of the evening sunsets. Even though the park is right on I-10, there is very little road noise as the park is above the road on a hill.
What we didn't like: While the sites are wide allowing for the truck to be parked beside the RV, they are also short, just barely long enough for our RV. Compounding that the rows of sites are somewhat close and some people parked badly (ones behind us were at the very front of their sites) even though their trailers were short. The rules were one tow vehicle and one RV but many of the more permanent residents had two vehicles. All this made spacing lengthwise a bit short and maneuvering a larger trailer difficult.