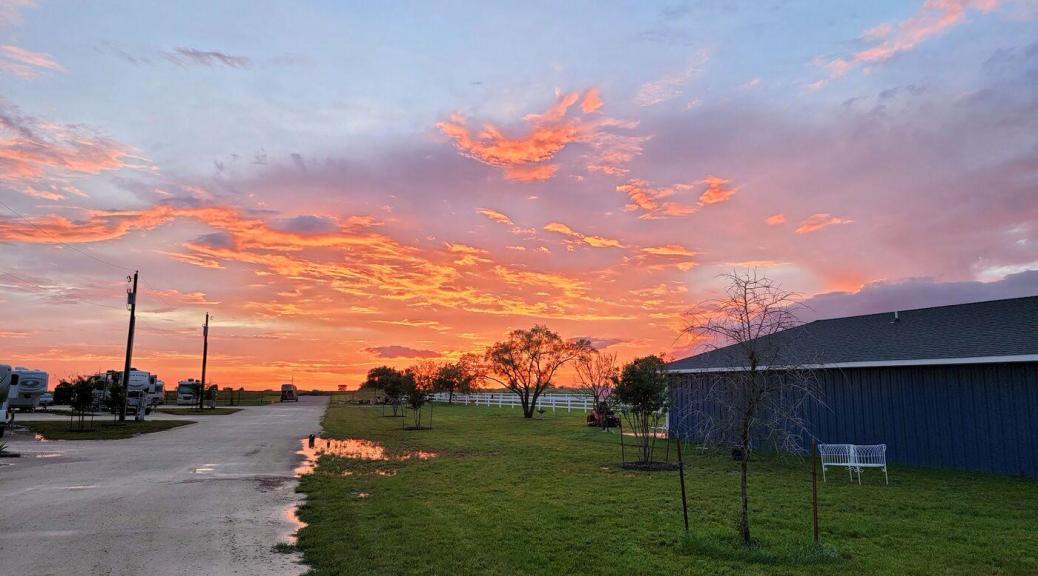 Weir-RVing, Dublin, TX
Weir-RVing, Dublin, TX
Park Review
Rating: ⭐⭐⭐1/2
Site Quality: Gravel roads and pads. Due to recent rains we sunk about 4″ into the pad while parking. All connections were conveniently located for our rig.
Type: Commercial
Access: Easy access off US-377 on FM 219 (W. Clinton St.) on the west side of Dublin.
Staff: Very accommodating, friendly and helpful. Provided a lot of information about the local area, places to go and things to do. Allowed us to stay until 1:00 PM to depart. They are some of the friendliest and most accommodating hosts we have ever encountered, even returning home early after eating out to be sure they were able to say goodbye before we left.
Amenities: Laundry, restrooms and showers.
Cellular/Wi-Fi: Verizon was almost non-existent and AT&T was somewhat slow at about 8 Mbps. There was Wi-Fi in the park but we didn't use it.
Restaurants: There were a few options in Dublin although we didn't try them. We did go to Hard 8 BBQ in Stephenville, a place we had flown in to often for a so called $100 hamburger.
Nearby parks: We didn't investigate other parks in the area as we were only there for one night. We had tried several parks in the Stephenville area however before staying here and most did not even call back. The staff at this park was definitely much more welcoming.
What we liked: Very friendly and helpful staff.
What we didn't like: Gravel pads and roads are not the best option during the rainy season. No trees so it could be a bit hot in the summer but otherwise provides for good satellite TV coverage.
Verdict: The owners are very friendly and helpful and really make you feel welcome. Definitely a good place for a short stay in the Dublin / Stephenville area. There are a couple of museums in Dublin that we'd like to go through as well as Hard Eight BBQ in Stephenville that's been a favorite since we used to fly in there.