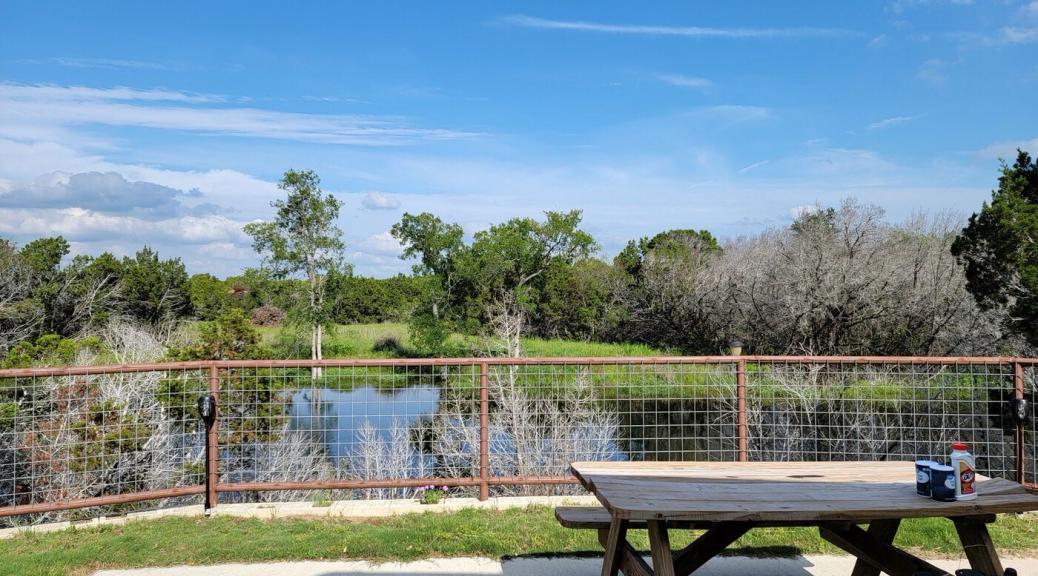 Little Lucy RV Resort, Lampasas TX
Little Lucy RV Resort, Lampasas TX
Park Review
Rating: ⭐⭐⭐1/2
Site Quality: Gravel roads and pads. Many sites have a concrete porch with a picnic table and some have additional wood decks. We were on site 2 and it had both a porch and a small wooden deck. Sites 1, 2 and 3 are all on the small lake (pond) created on Little Lucy creek and those along with the back-in sites along the creek are the best sites.. In our opinion, site 2 is the best in the park. It is a long pull-thru with a side yard facing the lake that is almost as long as the site.
Type: Commercial
Access: Easy access off US-281 just north of Lampasas. There is a large sign at the southern entrance but that is the exit from the park. The actual entrance is a bit further north and has a sign over the entrance road that's a bit harder to see from the road. This entrance is about 1 mile north of the northern end of the runway at the Lampasas airport.
Staff: We had minimal interaction except when setting up our reservation several months ahead of time. It was all done with Trent, who I believe runs the park, and everything was just as we expected when we arrived.
Amenities: There is a playground as well as laundry facilities that include restrooms/showers. Construction was underway for many new sites as well as another laundry facility. I wouldn't call this a resort yet but maybe once they finish out the remaining sites it will be closer. This will be a very large park once complete.
Cellular/Wi-Fi: AT&T was decent at about 16.7 Mbps but Verizon was all but non-existent. Wi-Fi was not available in the park.
Restaurants: Storm's Drive-In is a well known hamburger restaurant dating back to 1944. The burgers were just ok but the fries were really lacking. We'll probably try one of several other hamburger places in the area next time. Mimo's Mexican had decent Mexican food in a strip center next to Tractor Supply. Alfredo's Mexican I liked it a lot but Anna's chicken enchiladas were just so so.
Nearby parks: We didn't really investigate other parks in the area but we did pass by a few. If we are in the area again we should check out Boone RV Park on 281 on the south side of town. That area has a nice park and was very pretty although the parks could be smaller and have smaller sites. There is also the Buena Vista Wildlife Safari and RV Park north of here in Evant that might be interesting. The only issue there is that it is farther from any larger grocery stores.
What we liked: Lots of space between sites. The park was well maintained. Quiet, country setting.
What we didn't like: No Verizon service. We had data from AT&T but phone calls were intermittent based on being able to connect to a nearly non-existent Verizon signal. We were there in the rainy season and the gravel roads, although well packed and not particularly muddy, did track dirt into the RV and splashed mud onto the outside. There is a fair amount of road noise from US-281, a bit more than I would expect given our distance from the road, although generally not enough to keep us awake at night. There is also a train track about 1/2 mile away but fortunately they do not cross any roads where they need to sound their horn so the noise is fairly minimal.
Verdict: I could easily give Little Lucy 4 stars if the roads and sites were asphalt and/or concrete. That said, we would still return to Little Lucy and the Lampasas area again whenever we want to stay in the area. Little Lucy was a great country park to get away and enjoy some peace and quiet.