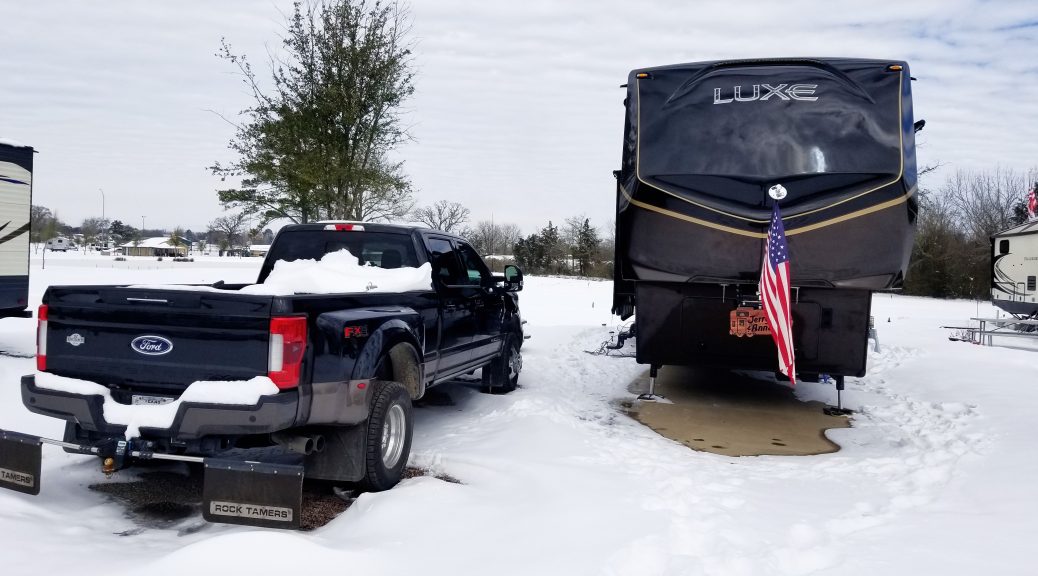 Tyler Oaks RV Resort, Tyler, TX
Tyler Oaks RV Resort, Tyler, TX
We spent two months (January and February 2021) at Tyler Oaks RV Resort north west of Tyler. We originally planned to go back to New Mexico for the winter but due to COVID and continued lockdowns there that were causing long lines just to get in a grocery store we decided to go back to Texas where we would have better medical care due to our insurance. We thought it might be easier to get vaccinations (which I was able to do but not Anna quite yet) and also that it would be warmer. Well, we should have known better about that one. Even as we left Colorado there was snow ahead of us going through Texas.
We missed most of that weather but we weren't in Tyler long when we got a couple of inches of snow. That one was a typical Texas snow – here today and gone tomorrow. After that we thought surely that would be the worst of winter in Texas. Wrong! Two winter storms came through just days apart leaving temperatures well below freezing for over a week. The entire state was covered in these temperatures and millions were without power and water for days. Luckily we only had a couple of hours without power and only a few short periods with water issues. So far, these temperatures are the coldest we've been through in our RV with the prior record being 0°F. We learned quite a few lessons learned throughout this experience.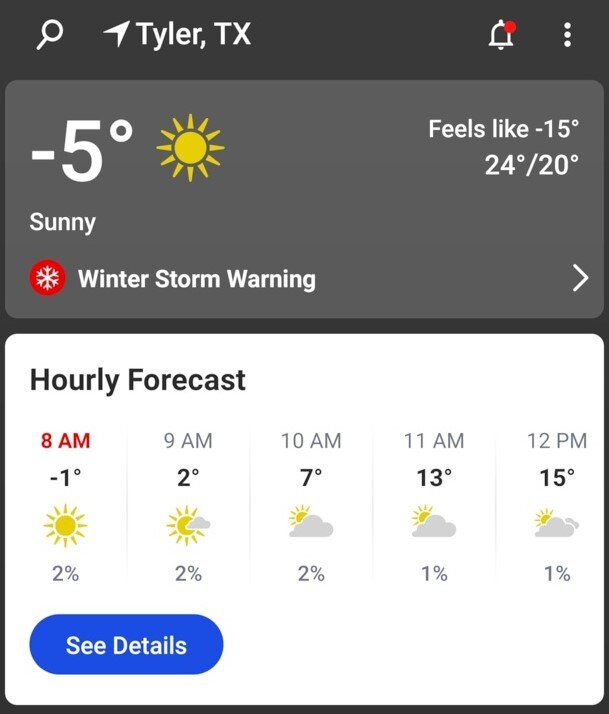 For much of the rest of the time in Tyler, the weather was somewhat typical for Texas in the winter. We had many cooler days with lots of wind and rain. That kept us from getting out and doing as much as we would have liked. For instance, Tyler State Park is one of our favorite parks to visit and we never made it over there. We were hoping to hike some of the trails there but we just didn't find time the few really nice days. We did make several trips to south Tyler and we found that part of town to be where all the newer development is and to our surprise the area also wasn't quite as crowded feeling. Many of the nicer restaurants and stores are down there.
Due to the soil and weather, Tyler is known for its roses and we spent a few hours one day at the Tyler Rose Museum learning about the history of Tyler's Rose Growing Industry and the Texas Rose Festival. The museum features fabulous costumes and items acquired since the first festival back in 1933. Held in October and rich in heritage and tradition, the Festival offers ceremonial events including the Queen's Coronation, Ribbon Cutting and Rose Presentation, the Queen's Tea, and the Rose Parade – all with a backdrop of brilliant roses. Of course, being here in the winter, we missed the festival and for the most part we could only imagine what the rose gardens outside must look like in the spring and summer when the roses are in full bloom.
We also took a day trip over to Canton, TX for their First Monday Trade Days event. Billed as the "World's Largest Flea Market", First Monday has been a fixture in Canton since the 1850's. It now no longer occurs on the first Monday of each month but rather on the Thursday through Sunday prior to the first Monday of the month. Anna used to go here regularly with her friends when we were still in our house but it wasn't quite the same this time since we couldn't put a lot of "stuff" in our rig. We did manage to find someone to make us a new sign to replace the cheap one we got from Amazon.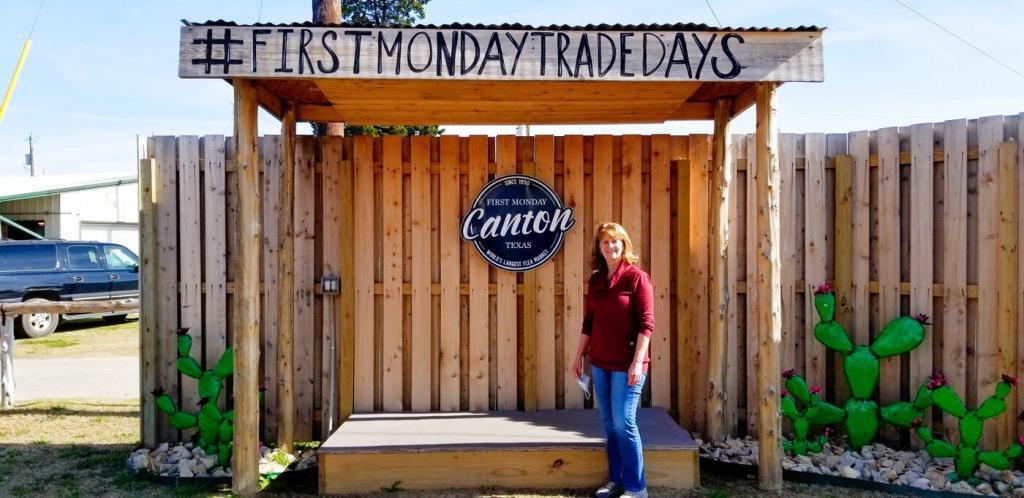 In spite of the overall cold and wet weather, we were still able to take care of some needed maintenance. When we arrived at the stop prior to Tyler Oaks and began setting up, we found a puddle of hydraulic oil near one of our leveling jacks. On looking at it we realized that one of the hydraulic lines had been rubbing on part of the slide mechanism and had eventually worn through. We managed to patch it well enough so it wouldn't leak but we couldn't use it until it could be repaired properly. Luckily the site there and the new site at Tyler Oaks were pretty level so we could just park the trailer without needing to level it.
I thought we'd have to replace the hose from the front of the trailer all the way back to the rear most leveling jack but found out the two rear jacks are tee'd together meaning the hose that needed to be replaced was only about 10′ long and was easily accessible. We ordered a new hose and replaced it but realized that the factory had used an improper tee when they built our unit. It should have had SAE JIC connections for all three connections but it had one that was an ORB connection instead. That allowed a very small amount of hydraulic oil to leak. So back to the internet to order the correct parts and later we had to reopen the basement to replace the tees.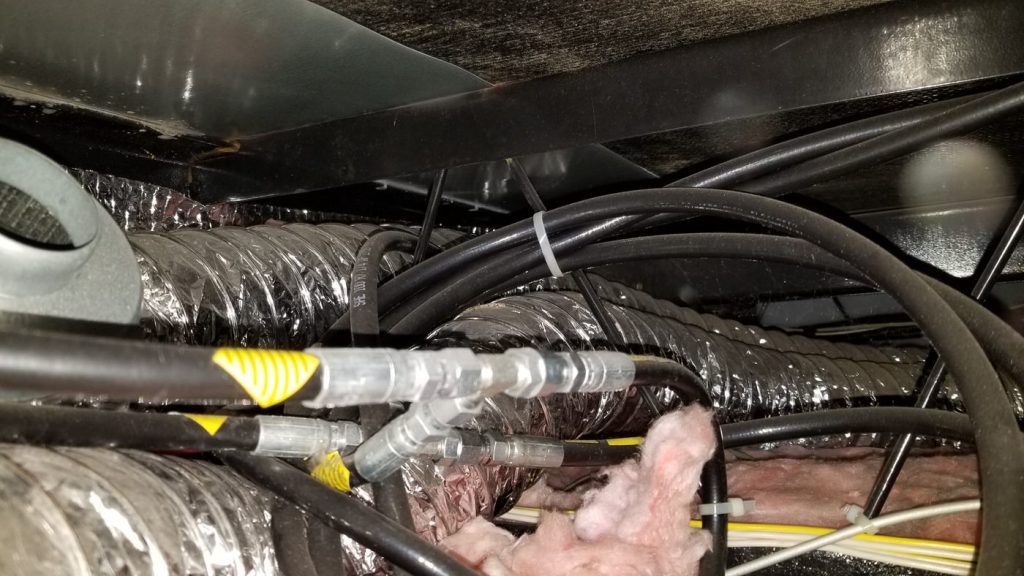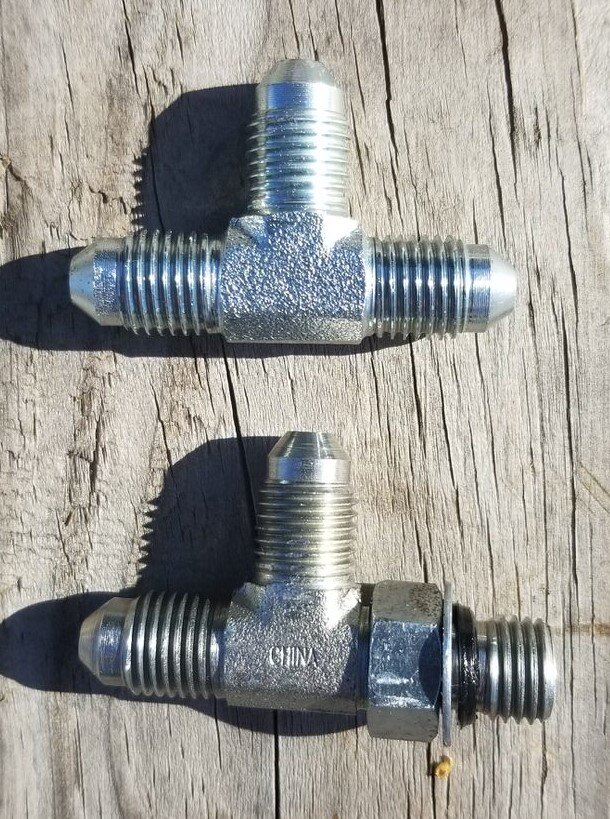 After the cold weather we noticed that the propane level in one of our tanks was decreasing when it shouldn't have been. I have a propane leak detector so I went out and checked around the tank and found there was indeed a leak at the pigtail going from the regulator to the tank. In fact, the leak was bad enough you could hear the propane escaping and I'm surprised the tank wasn't empty. Luckily there were several RV parts stores right across the street from the park and we were able to get a replacement part and get things back to normal.
Not to leave the truck out, we also took advantage of our time here to do some truck maintenance as well. We installed an ICON Dual Steering Stabilizer Kit to improve the steering quality of the truck. It helps reduce steering wander and tightens up the overall feel of steering with the truck. At the same time, we replaced the stock Rancho shock absorbers with Fox shocks. The OEM Rancho shocks Ford uses are known to be pretty bad and we seem to have a bit smoother ride with the newer shocks although it's still a truck so the ride is a bit rough on bad roads. After all that we also got the alignment checked and it had to be adjusted a bit although I don't think it was significantly off. Finally, I replaced the stock thermostat with one from Snyder Performance Engineering. The OEM thermostat opens at 194/201°F whereas the SPE Low Temp, High Flow Thermostat opens at 175/180°F. In the summer time when pulling the trailer the engine and more importantly the transmission gets quite warm. We're hoping this will decrease transmission temperatures by about 20°F and help keep the transmission running longer.
Park Review
Rating: ⭐⭐⭐
Site Quality: Asphalt roads and concrete pads. The parking areas to the side of the sites and the path from the road to the concrete pads are gravel. Water does collect around many of the sites particularly those in the larger area closer to the office. We were on site 106 in the back of the park and it had been pretty good but after major freezing weather we had some collecting in our parking area. There might have been a pipe leaking underground but we were not sure. On the last day, we found our neighbor's hose had cracked and was where all the water was coming from. He either didn't know or didn't care. Each site had a picnic table and fire ring. The sites in the back of the park had more space and more privacy.
Type: Commercial
Access: Easy access for big rigs, right off US-69 about 3.5 miles south of I-20.
Staff: This is a family owned and run park. The current manager is the daughter of the owners and her son is training to take over the park in the future. During a Valentines get together they all came by and thanked us for staying at their park which was very nice. During freezing temperatures we were kept up to date on potential power and water loss.
Amenities: Propane available on site as well as a large air compressor. There is a playground and dog park for those who need these facilities. In the summer a pool is available. There is also an exercise room, , a game room with a pool table, and a chipping green, horseshoes as well as a disc golf course outside. For group activities there is a nice event center. The grounds include two large ponds with catch and release fishing.
Cellular/WiFi: Both AT&T and Verizon were great with Verizon rates reaching nearly 78Mbps. WiFi was available at the park but we did not use it.
Restaurants: Jumbo Seafood – went once but never went back. Not that good. Stanley's Famous Pit Barbecue – Excellent BBQ. Park on the west side on Oakland Ave. Definitely go if you like Texas BBQ. Jucy's Hamburgers – Great burgers and ok French Fries. Another must go. Mercado's – On a previous trip to the area we had eaten at Posado's and didn't care for it so we thought we'd try Mercado's. Unfortunately they are run by the same family. Bodacious Bar-B-Q – Anna liked hers but mine was too fatty. I'd go to Stanley's instead. The Front Porch Cafe in Arp, TX – We stopped by on the way back from a day trip to the east. Nice small town café with good food. Pettys Steak and Catfish in Lindale – Given the price $9.99 for a meal with 3 sides, bread, and dessert and the fact the food was pretty good, this has to be the best deal in the area. This place is definitely worth a stop. Leo's Asian Bistro in Lindale – Good Asian but can get expensive. Don Juan at the Square – Better than Mercado's but the enchiladas were dry and didn't have much if any sauce on them so we still didn't quite get what we expected for Tex-Mex. Clear Springs Restaurant – Very good seafood and chicken fried steak. Definitely a place to return to.
What we liked: Friendly staff and people staying in the park. Mostly quiet and likely much prettier in the summer than it was in the winter.
What we didn't like: The roads through the park are asphalt and need to be resurfaced. There are numerous potholes and mud pits throughout the park. Right behind our site was a large field that was part of the septic system. For some reason they ran sprinklers over the septic field and we think they were using pond water but at times it was a bit smelly – not sewer smell but bad water smell. This is not a park full of retirees so many of the people worked. That's fine but people tend to be less friendly – although we did meet quite a few folks near our site. Tyler tends to be much more crowded than we expected and the roads are very narrow for larger vehicles.
Nearby Parks: Mill Creek Ranch Resort in Canton looked really nice but we contacted them before we came to the area to see if they had any openings and we had to fill out a multiple page form including drivers licenses and social security numbers so they could run a background check before even telling us if they had an open site for our stay. While visiting Canton for a day we stopped by for a -and asked the office if it was Ok to go in and look around. They said sure and gave us a map. When we got to the gate and pressed the button to get it opened, they said we couldn't go in. Eventually they let us go in to go to the Inn they have so we drove through. Sites at the back of the park by the Inn were not that great. Sites closer to the office were really nice and the park grounds were wonderful with acres of land and numerous ponds. Given their attitude, however, I don't think we'll ever consider going here – what a shame! Feeling that the area east of Tyler was prettier we took a day trip to look at a few parks that direction. In Gladewater, we stopped by Shallow Creek Golf & RV Resort and Antique Capital RV Park. Both were ok but really didn't seem all that nice compared to Tyler Oaks. Then we went to Fernbrook RV Park in Longview. Although all three parks had the same rating, we liked Fernbrook a lot better. It was out in the country (although there was a commercial facility across the street) and was surrounded by larger trees. We really liked the park and will try to stay here if we come back to the area. We also visited Martin Creek Lake State Park in Tatum south of Longview. This was a nice state park with lots of trails and big trees. In the middle of the week in February there were very few people camping there. Weekends, even then, would likely be a bit more difficult. Sites on the lake side of the road through the campground were often sloped toward the lake and could be difficult for a larger rig. Sites in the other side are more level and were often longer. Be sure to check length before booking! The downside is there is a coal powered power plant across the lake. Between the plant noise and railroad noise including horns, it could be quite noisy in the campground. Try for a site as far away as you can get.
Verdict: We had a hard time rating this park because we really liked the family running it. In the end I think that the major downside of this park is primarily the location and the need for some road maintenance. We would definitely stay here again but we felt like there might be some nicer places a bit farther south or east. We would try Fernbrook if looking east.