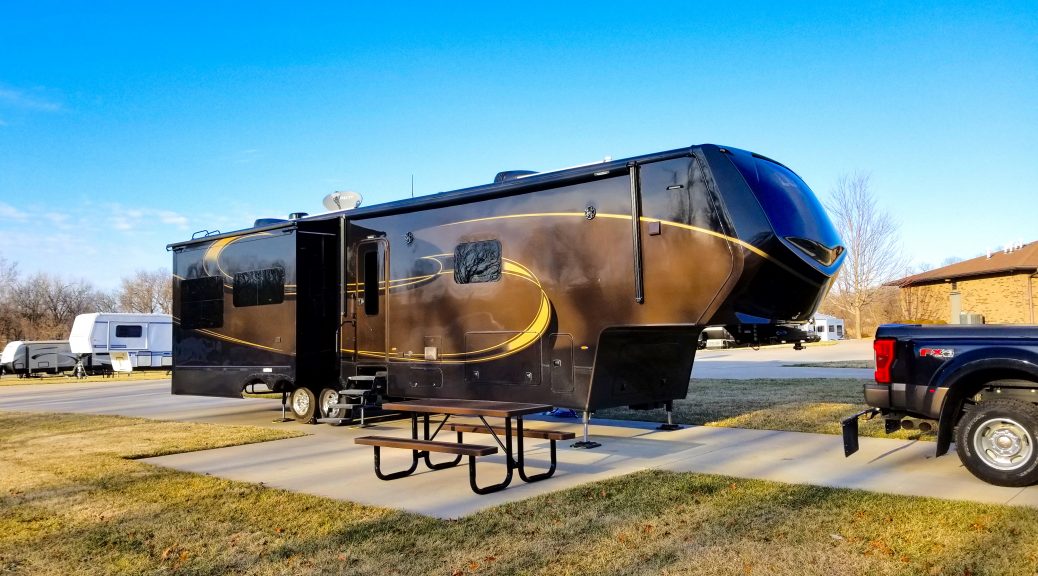 Deer Creek Valley RV Park, Topeka, KS
Deer Creek Valley RV Park, Topeka, KS
After a three week stop in Springfield Missouri to visit family for Thanksgiving, we needed to head west toward Colorado but we also needed to find a place that could align our trailer wheels. With MorRyde independent suspension each wheel on our trailer can be aligned much like a car. We had already tried a couple of places who said they could align anything, but it turned out they could align anything but our trailer. As luck would have it, there was a MorRyde certified alignment service center in the small town of Pittsburg, KS just north and west of Joplin along our path. We stopped in at Holland Alignment at our scheduled appointment time and they started work right away. Everything was completed within the 2 hours I was told it would take and at the price I was quoted ($180).
I had manually adjusted the alignment myself after wearing down an expensive tire and not being able to find someone to do it professionally near where we were at the time. It turned out I had set the tow-in pretty well but the camber was also off – something I couldn't set without their tools. The shop owner told me he sees a lot of trailers, even new ones, that aren't right straight from the factory. While we won't know the outcome for several thousand more miles, I'm confident the job was done right and we will be happy. I highly recommend Holland Alignment to anyone who needs any type of alignment in the southeast Kansas area.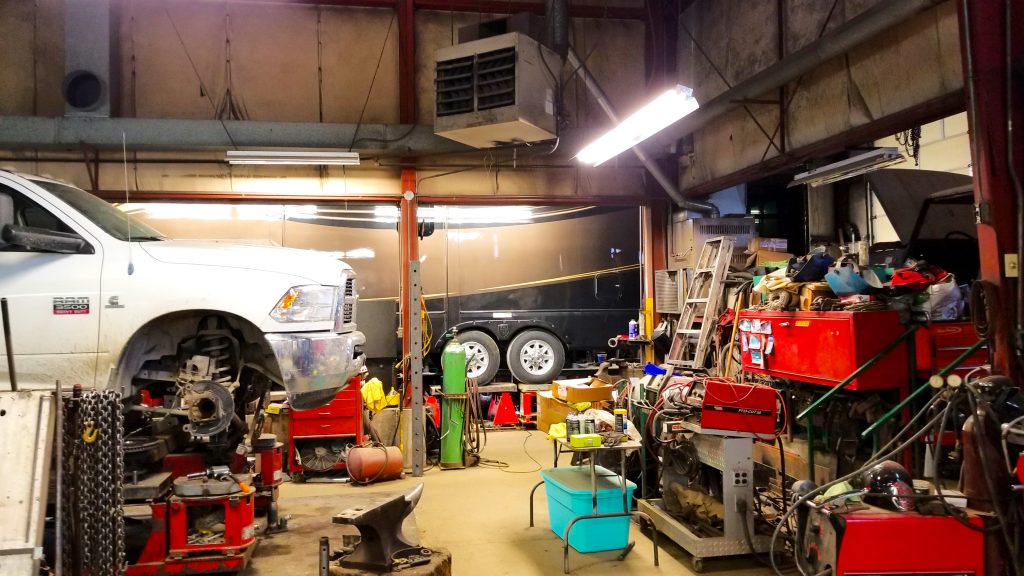 After the alignment, we were back on the road by noon and we dove the 170 miles or so on to Topeka Kansas and the Deer Creek Valley RV Park. A front came through while we waited for the trailer to be repaired and we faced temperatures dropping through freezing and winds from the north gusting to about 40 mph. Even when we turned west, the cross winds weren't too big a problem for us and our heavy fifth wheel but our gas mileage dropped 25% to about 6.5 mpg.
Topeka was a good preview of the weather to come further west as the first night's low temperature got down to 17 degrees. We woke up the next morning to see icicles on our water hose. The diverter valve on the park water connection leaked a little bit causing them to form overnight. Unfortunately, the towel I used to provide some insulation around our pressure regulator froze together. Hopefully it will be thawed out before we leave the area or we might have to use a hairdryer on it to thaw it out!
With the cold weather and just needing some down time, we really didn't do much exploring in the Topeka area. There are some interesting things to see here but we'll just have to see them next time around.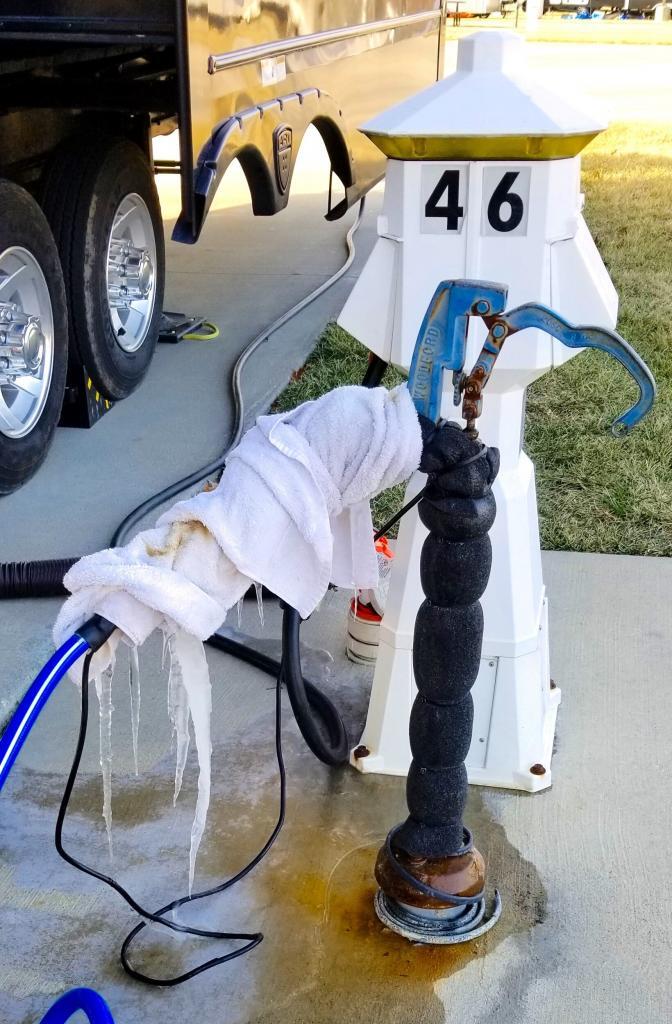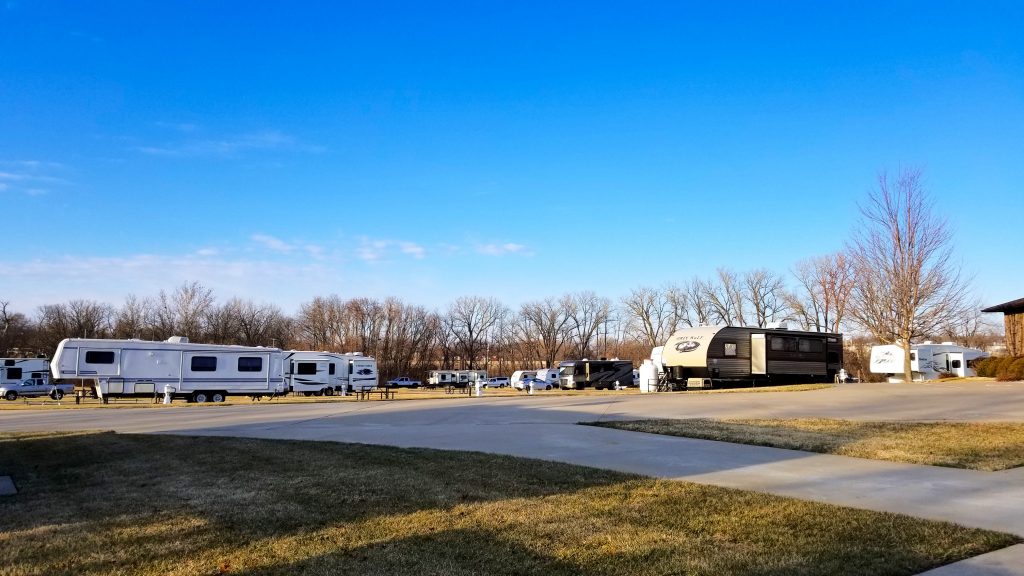 Rating: ⭐⭐⭐1/2
Site Quality: Concrete roads and pads. Our site was long enough for our rig and truck with some room to spare. Each site has a concrete patio with a picnic table. There is a good deal of space between each site.
Type: Commercial Park
Access: Just off Interstate 70 at exit 364B on the east side of Topeka, KS. Easy access via SE Carnahan Ave. It is possible to get there from exit 365 however that requires navigation of two traffic circles and a fairly steep hill.
Staff: Staff interaction was good. They will come pick up your propane bottles, fill them, and return them to your site which is handy.
Amenities: Dump station, laundry, restrooms with showers, playground, horseshoes, pet play area, storm shelter. Free cable TV. Propane on site.
Cellular/WiFi: Verizon service was 3 bars on our phones and our data rate exceeded 26 Mbps. AT&T through our wireless setup was about 10.5 Mbps. They had WiFi but we did not use it.
What we liked: Roomy sites on pavement – good for wet weather. Close to Walmart, gas stations and restaurants. Little road noise at our site but the park is right on Interstate 70 and sites closer to the road likely did have some noise issues. Good satellite reception with no trees overhead.
What we didn't like: No landscaping throughput the park although there are trees around the perimeter. In the summer there would be no shade and it could be hot.
Verdict: This is a good park and we wouldn't have any problem staying here again for an overnight or longer.