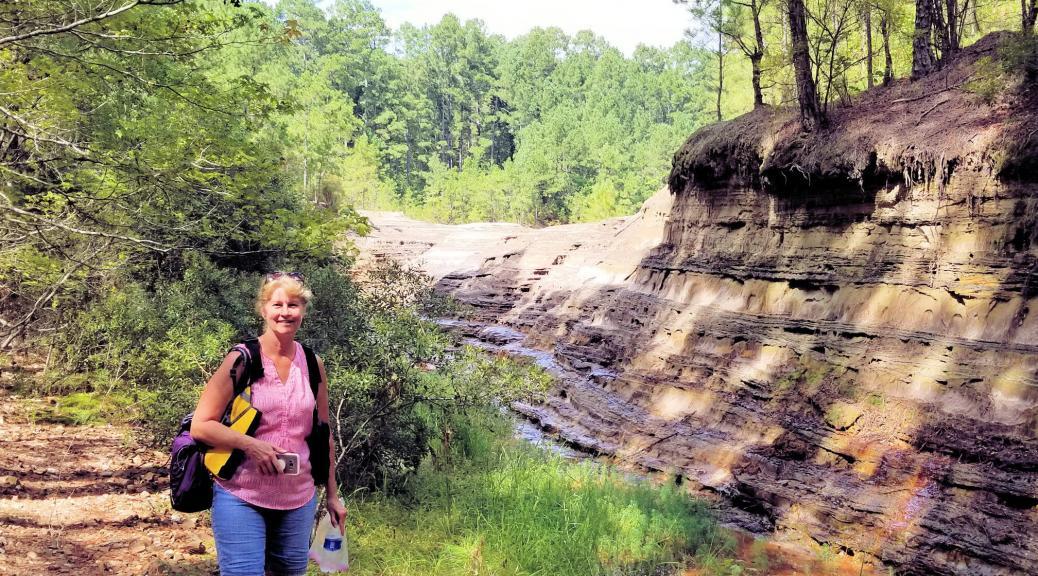 White Oak Lake State Park
White Oak Lake State Park
Rating: ⭐⭐⭐⭐
Location:  Bluff City, Arkansas
Site Quality:  Asphalt roads and pads throughout the park. Mostly 30A back in spots but there are 5 pull through sites. Only 3 sites are 50A (A1, B25 and C27).   
Type:  State Park
Access:  From Interstate 30 go east on either Arkansas 53 or 24 to Arkansas 387. Some smaller roads but pretty easy even for a larger rig.
Staff:  The park attendant who checked us in was very helpful and friendly.
Amenities:  Water and electric only. Bath house in the camping area was clean.  Dump station, Fishing pier and boat dock. Boat rentals on site including fishing boats, canoes, kayaks and pedal boats. You can also rent fishing gear as well as bicycles. Several hiking and bicycle trails of various lengths.
Cellular/WiFi:  AT&T and Verizon 3 bars but we had data issues using the amplifier and MiFi devices but our phones worked pretty well without amplification. 
What we liked: Gorgeous park with lots of trees. Spacious sites. Site B25 had good satellite reception (C27 likely would as well) but many of the other sites likely wouldn't due to trees. Hiking trails. 
What we didn't like: Only a few 50A sites. Some roads were a bit narrow for our rig but they were manageable. No sewer hookups. Cellular data was inconsistent. Lots of bugs.
It had been a long time since we spent much time in Arkansas and we were pleasantly reminded of how pretty the area is with rolling hills and lots of dense forest areas. White Oak Lake did not disappoint with lots of pine and oak trees. With the exception of the weekend when the park was quite full, it was quiet, relaxing and peaceful. Due to limited 50A sites and no sewer hookups we did not like this park as much as we did Woolly Hollow although it is still a good option if it fits within your travel plans.
While here we enjoyed evening walks down to the fishing pier to see wildlife including an Eagle, Egrets and Herons as well as seeing the sunset. There were several gorgeous sunsets which we hadn't seen for a while due to our location and/or weather. We also hiked a couple of the trails. We were surprised due to the lack of any animals or even bugs on one of the trails until we were closer to the lake. It was eerily quiet! We did run across a large black snake along the trail though and that kept us on guard for the rest of the hike. Having seen several snakes on previous hikes in other places, we started wearing our hiking boots to provide a little more protection on the trails. 
One day we rented a tandem kayak and spent several hours rowing around the lake. With little wind, the water was glassy smooth but a downside was that it got pretty warm out on the water. We paddled for about an hour and made our way up to the spillway where we got out and hiked back behind it to the "Little Grand Canyon" of Arkansas. There is actually another place in Arkansas called the same thing but that's what locals called it. It was very pretty but maybe more like a "Micro Grand Canyon". After that we paddled back along the opposite shore looking for wildlife but mostly saw fish jumping in the lake and a few turtles.
We took a couple of trips over to the nearby city of Camden (about 20 miles away) to eat and go to Walmart. We had seafood at Woods Place and mexican food at El Ranchito. Both places were ok but nothing spectacular. I'd rate both about 3 stars. Between White Oak Lake and Camden is Poison Springs where a significant Civil War battle occurred. Union troops were marching south with the intent to take over the state of Texas to gain access to it's cotton crops. Confederate troops won a decisive battle and turned away the Union army stopping their plan. We tried to imagine how hard it must have been to march with over 1000 troops and supply wagons in these dense and rocky woods.  
The Walmart Supercenter in Camden was decent and while there we used the "ship to store" capability for the second time. This time we purchased a 42 gallon gray water tote so we can dump the gray water and cart it to the dump station without taking the rig over. We have several places booked (including White Oak Lake) that do not have sewer hookups and we expect this to be a great help. Our first use of it was a qualified success. One problem we have is that our dump outlet on the RV is lower than many others and we couldn't get out tank completely drained. We did get it down to about 30% and hopefully we will find ways to improve on that going forward. Even at 30% it should still be a big help.
If we return to White Oak Lake, site C27 might be the best choice with B25 a close second. B25 is on a curve in the road and other cars and RV's go by are quite close. A1 is in an area that is a bit more busy than the other 2 sites.