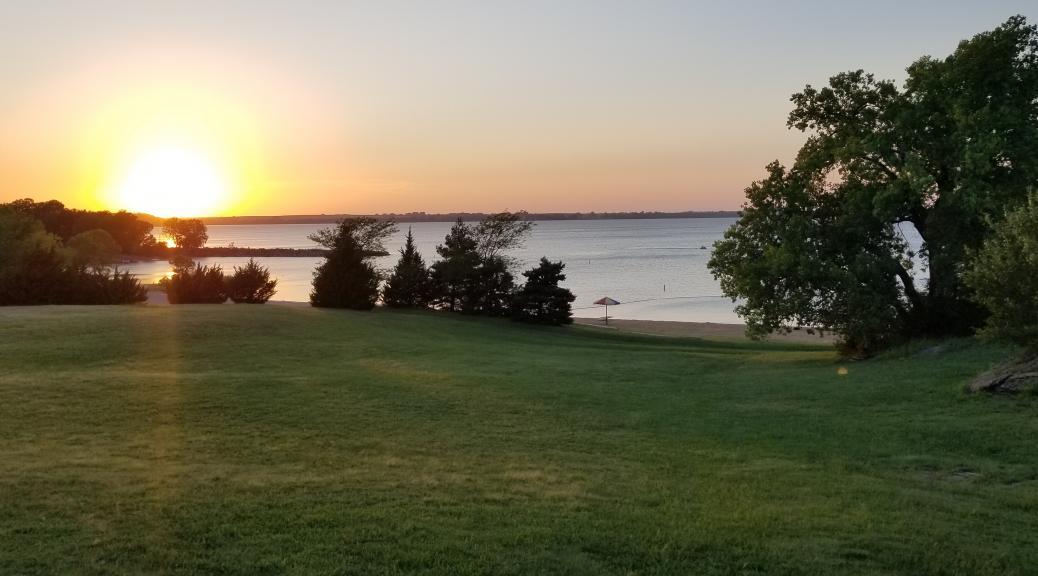 Kanopolis State Park – Marquette
Kanopolis State Park – Marquette
Rating:  


Location: Marquette, Kansas
Site Quality:  Paved roads gravel pads (Sumac Loop). Back in spots throughout the park. Each site has a picnic table and fire ring.
Type:  State Park
Access:  Easy access from Interstate 70 or 135 but 15 to 20 miles in and off state hwy 141.
Staff: Friendly and helpful.
Amenities:  Showers and restrooms (not in Sumac loop though),  playground for kids. There is a swim area and boat launches as well as other facilities but we did not use any of these.
Cellular/WiFi:  AT&T and Verizon 2 bars and decent speeds (>22Mbps on AT&T but Verizon was a bit slower). WiFi was not available.
What we liked:  Quiet, peaceful atmosphere. Felt safe. Our site (#13) was spacious enough for the rig and truck although our truck had to sit on the grass a bit.
What we didn't like: Do not get truck passes online. At the park they are $5 per day, online a one day pass was $13 after additional fees. There are booths or self-pay stations to get these on site. The facilities in the Sumac loop were starting to edge toward being a bit run down. The picnic tables for example could use new wood tops. Also some of the pavement was quite uneven in some sites from tree roots. We could not get DirecTV but only because of a tree blocking our view of the southern sky.

We stayed here two nights on the way from Goodland toward Oklahoma City. Not a bad spot but temperatures were reaching 100 degrees here in late August and we had winds of 20 gusting to over 30 both days. Needless to say we didn't get out and explore a lot. There are some interesting geological formations nearby as well as numerous hiking trails. We drove into the town of Kanopolis to fill the tank with Diesel and unexpectedly got full service at the pump. The gentleman pumped the gas and cleaned our windows while we waited. Nice touch these days. Most everything else in town was closed on Mondays.
Within the park the Sumac loop is the only area with full hookups. Out of 16 campsites in Sumac, there were never more than about 4 campers here including us. We did notice that some of the other campgrounds were a bit busier and in some cases were nices spots. If we come again we might want to consider getting an electric/water site if we are only staying a week or less. Within the Sumac loop, sites 8,9, and 10 share a common driveway and would not be suitable for our rig.