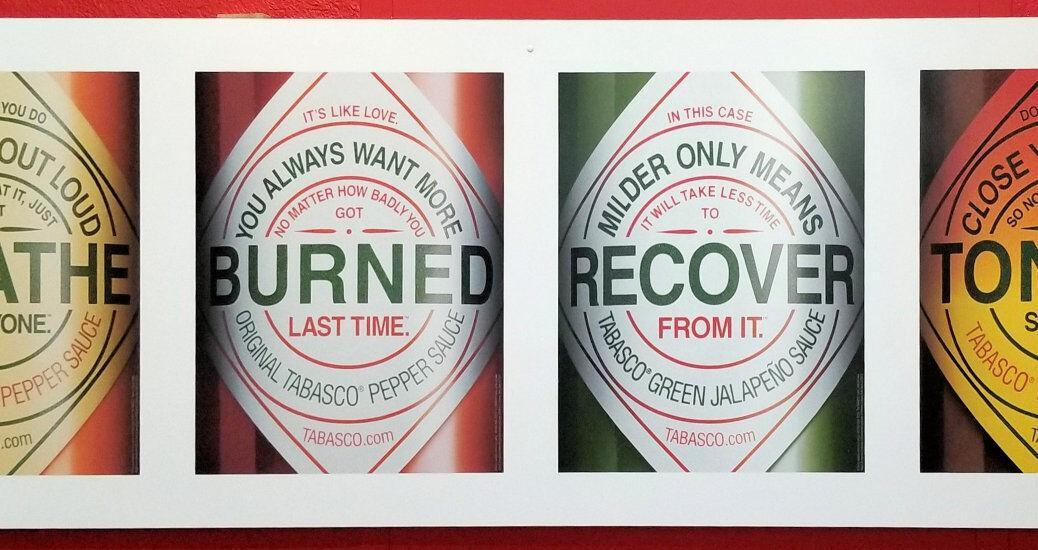 We spent a sunny afternoon visiting Avery Island and learning all about how Tabasco hot sauce is made.  We started out with a yummy lunch in the Tabasco Cafe with, of course all the dishes had Tabasco in them.  Our  tour began in the Tabasco Museum where we learned all about the McIlhenny family and the history of the world renowned and earliest recognized hot sauce.  The McIlhennys moved to Avery Island and began producing Tabasco sauce there since 1868.  The family still runs the environmentally friendly production and keeps the island as a natural habitat.  
We learned a lot about peppers, aging and storing.  We could smell the peppers and the aged whiskey barrels in the storage area.  Peppers are mashed and mixed with salt then aged in used Jack Daniel's Tennessee Whiskey white oak barrels for 3 years.  After that the mash is strained to remove seeds and skins then the remainder is blended with vinegar and periodically stirred for a month in huge vats.  Feel the burn in the air! 
We were lucky to be touring on a day the production line was busy bottling several varieties of Tabasco.  The end of the tour was the gift shop with a Tabasco tasting area.  Feel the burn!  We left with a new appreciation for Tabasco, along with several bottles and a t-shirt.  Enjoy our pictures below.
…