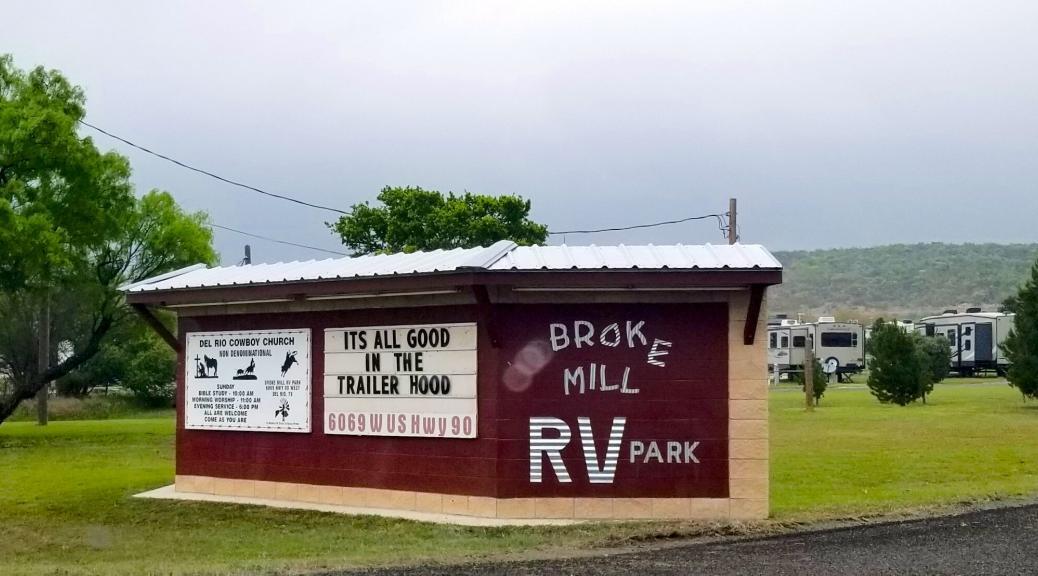 Broke Mill RV Park – Del Rio, TX
Rating: ⭐⭐⭐1/2
Site Quality: Asphalt roads and gravel pads. All sites are pull through. Mix of long and short term people. The long term folks appeared to be mostly winter Texans. The park was clean and well kept.
Type: Commercial
Access: Easy access from U.S. Highway 90 on the north side of Del Rio.
Staff: The owners run the park and they were former full time RVers so they understand what people are looking for in a park. They were friendly and helpful.
Amenities: Full hookups, free fast WiFi, pool, event center, dog park, bird watching area, fitness room, laundry room, restrooms and showers. Premium sites have additional parking for folks with a boat for instance.
Cellular/WiFi: AT&T and Verizon were decent with 3 to 4 bars unamplified and about 4 Mbps download speeds. The WiFi at this park was the best we have seen with download speeds of 7 Mbps or better and it was reliable. Since they no longer offer free cable TV they actually encourage streaming TV – something we have never seen before.
What we liked: Trail through the park and into adjacent properties. Decent diesel prices along with a variety of stores (Home Depot, Walmart, HEB, etc.).
What we didn't like: We tried a couple of local restaurants, one suggested by the park and another that wasn't and all were a bit mediocre. No picnic table at each site. There was quite a bit of road noise from Highway 90 even though they had taken steps to reduce it such as planting hedges.
Verdict: Good park when passing through town. Limited things to do in the area.