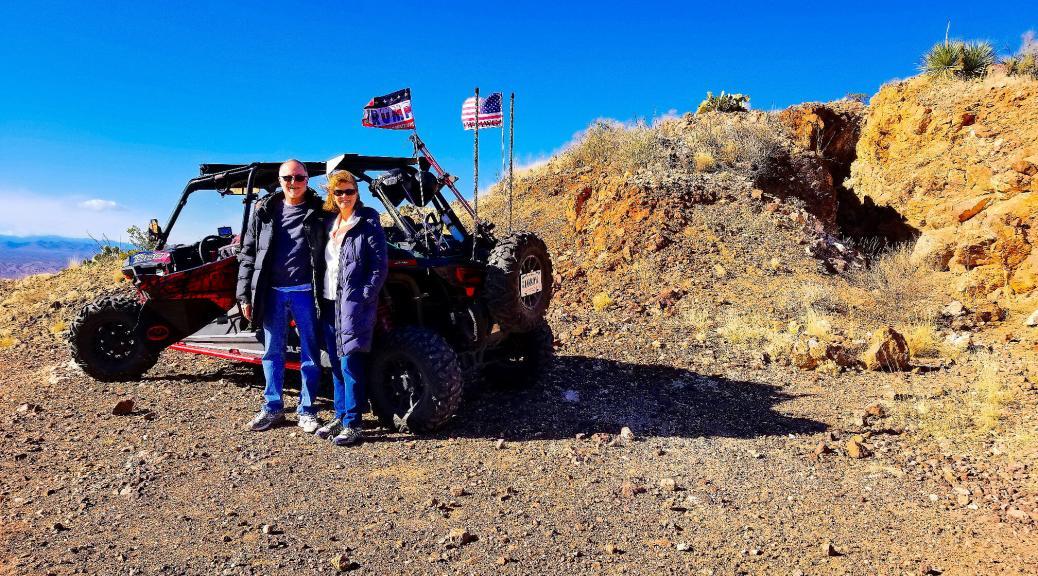 While staying in the Elephant Butte Lake RV Resort we met several of our neighbors and they were all into exploring the trails around New Mexico with their Side-By-Side ATVs. We were lucky enough that Doug and Susan, our next door neighbors, had a 4-seat unit and they invited us out for a couple of trips into the desert and mountain areas around Truth or Consequences and Caballo in the Rio Grande river valley.
New Mexico has an abundance of trails that are open to the public and most are only accessible by 4-wheel ATVs like theirs. There are many rocky, steep and narrow areas that most normal vehicles even with 4-wheel drive could not navigate. We were amazed that they could follow all the trails without getting lost!
Our trip took us into the mountains and up to several old abandoned mines. The views of the desert valley on the way up were spectacular and we were even surprised to find sand dunes and red dirt way up there.
At each mine, there were opportunities to search in the discard piles for amethyst, quartz and other rock specimens. Anna took home quite a few smaller rocks hoping to make jewelry out of them at some point in the future. One of the mines we visited had partially collapsed inside and was clearly not safe but we were able to go several hundred feet inside another. It was interesting to imagine how difficult it must have been to mine here with mostly hammers and chisels. At least they had spectacular views of the valley below when they emerged from the mine!