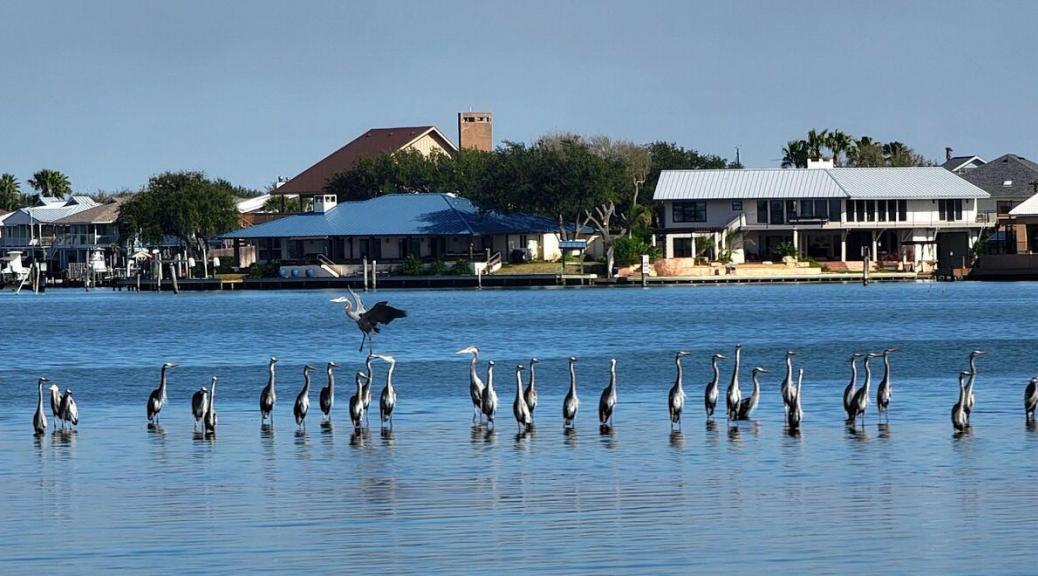 Rockport, TX
Rockport, TX
After spending the summer and fall of 2021 on a long loop through the north west we decided we wanted to spend some time chillin in Texas. We figured the Rockport area would give us a lot of options with the gulf nearby in Port Aransas, lots of history, nature areas and some good seafood. While there were a lot of activities in the area, many of them were small. For instance the Farmers Market and Market Days activities only had a few vendors and light attendance particularly in January and February. By March and April things were picking up. Other events like Pardi Gras, Oysterfest and Crawfish Festival were better attended.
In addition to water sports, the area is home to many artists and you can find galleries with their creations as well as numerous boutiques and other stores offering a variety of local products.
We were thrilled to have many friends come down to visit us in Rockport. We are truly blessed with great friends willing to travel with us, visiting and keeping in touch along with loving our family being so supportive of our new RV life!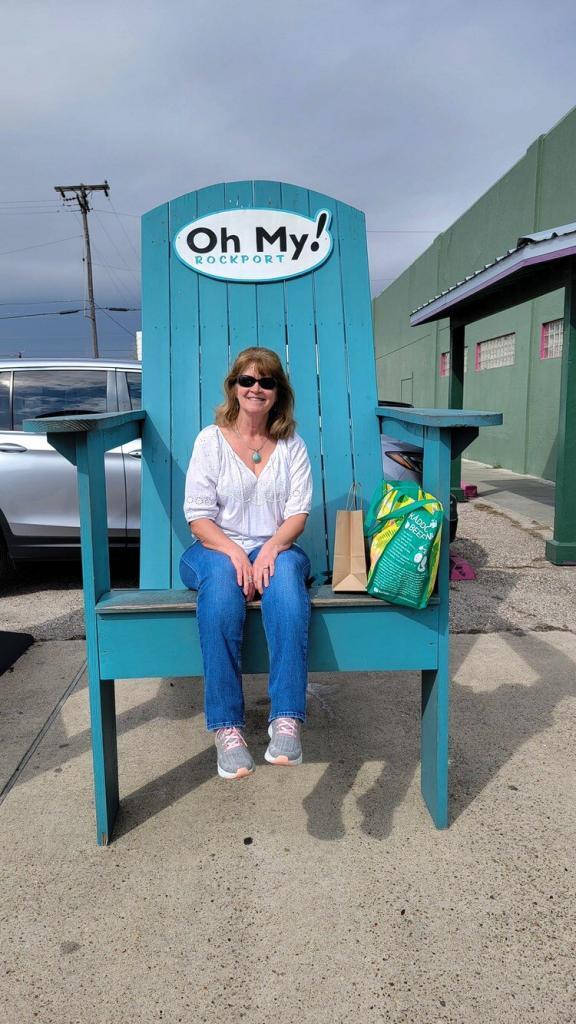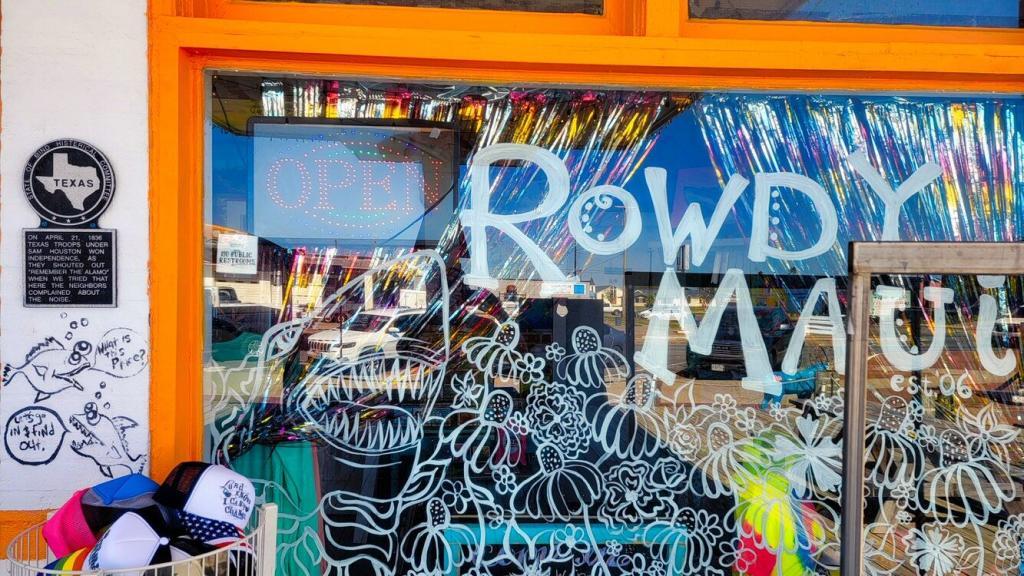 Fulton Mansion
The mansion is an 1870's French Second Empire structure that was the home of cattleman George W. Fulton and his family until the mid-1890's. Innovative for its time, the house features several modern conveniences such as indoor plumbing including hot and cold running water and flush toilets, central gasoline powered lighting, and heating. At one point, the mansion became an RV park before being purchased by the state and refurbished to become a state historical site and museum.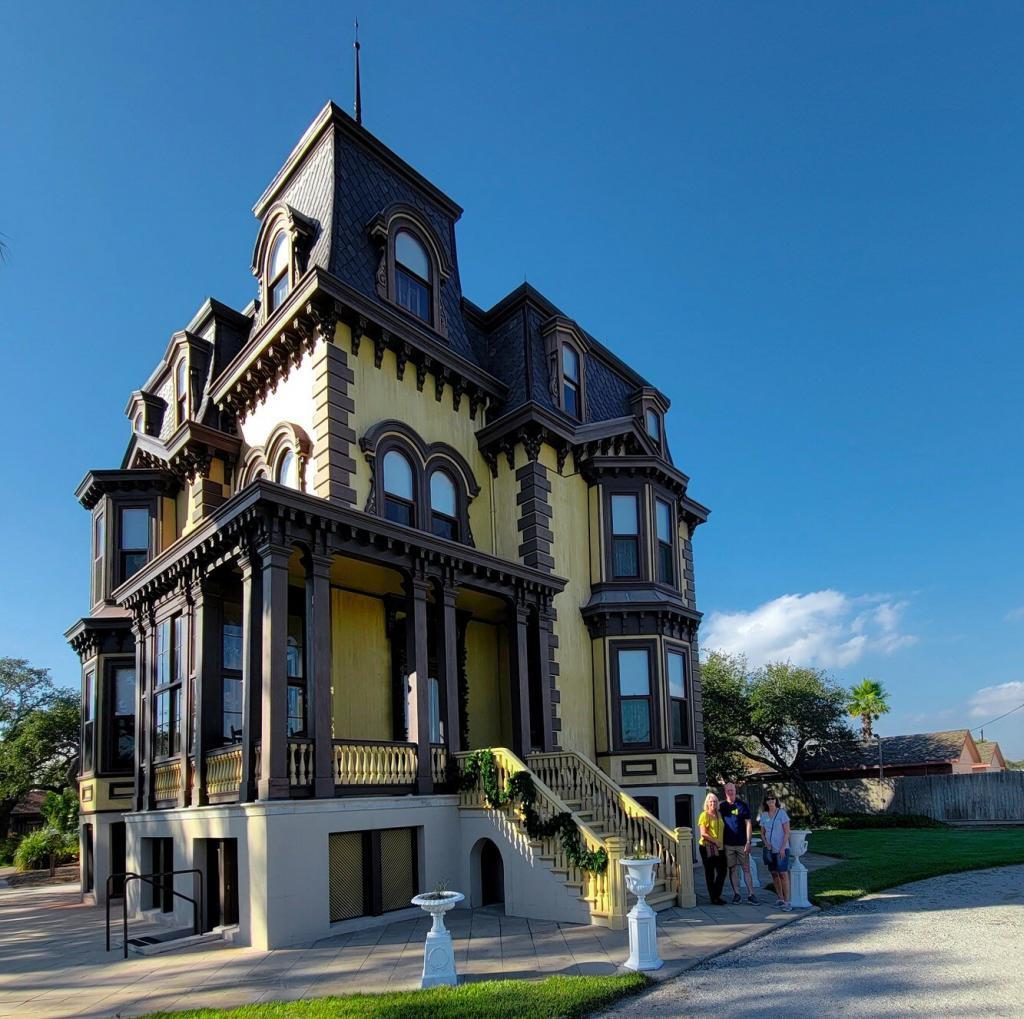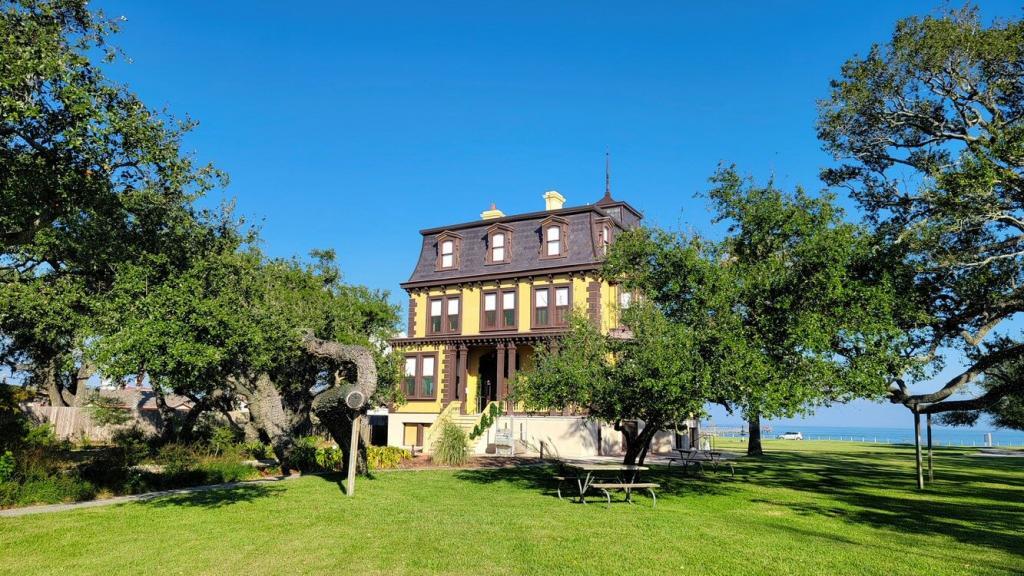 Oysterfest
This festival is a salute to the oyster industry ad is held at Fulton Harbor. There was entertainment, food, crafts and of course an oyster eating contest. The winner ate more than 90 large raw oysters in less than 5 minutes.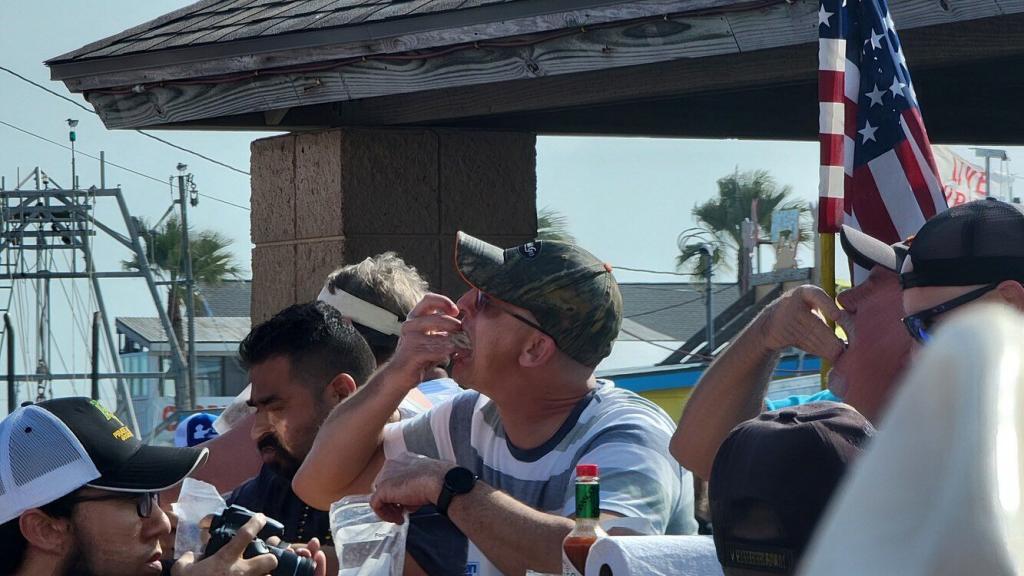 Pardi Gras
This event in Aransas Pass commemorating Mardi Gras included a gumbo cook-off where attendees voted for their favorite gumbo among entries from numerous contestants. Along with the contest, there were vendors selling various goods, food trucks, live music, and dancing. Our favorite part was taste testing all the seafood gumbos!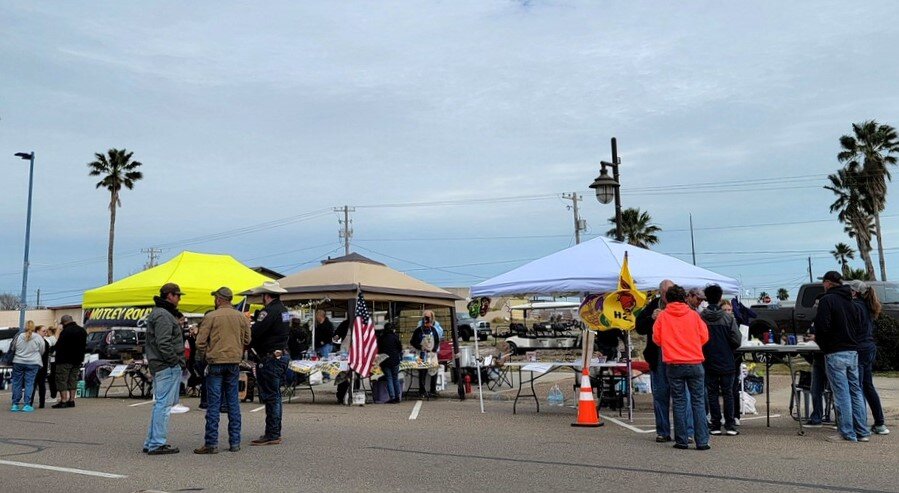 Port Aransas
Port Aransas can be reached by taking a short ferry ride across the intercoastal channel from Aransas Pass. It provides access to the Gulf of Mexico as opposed to the Aransas Bay which is protected by the barrier of San Jose Island. Port Aransas is another nice small coastal town with lots of shops and restaurants as well as some nice RV parks, many with beach access. While many may prefer close access to the beach, everything is more expensive in Port Aransas and RV sites tend to be much smaller and closer together.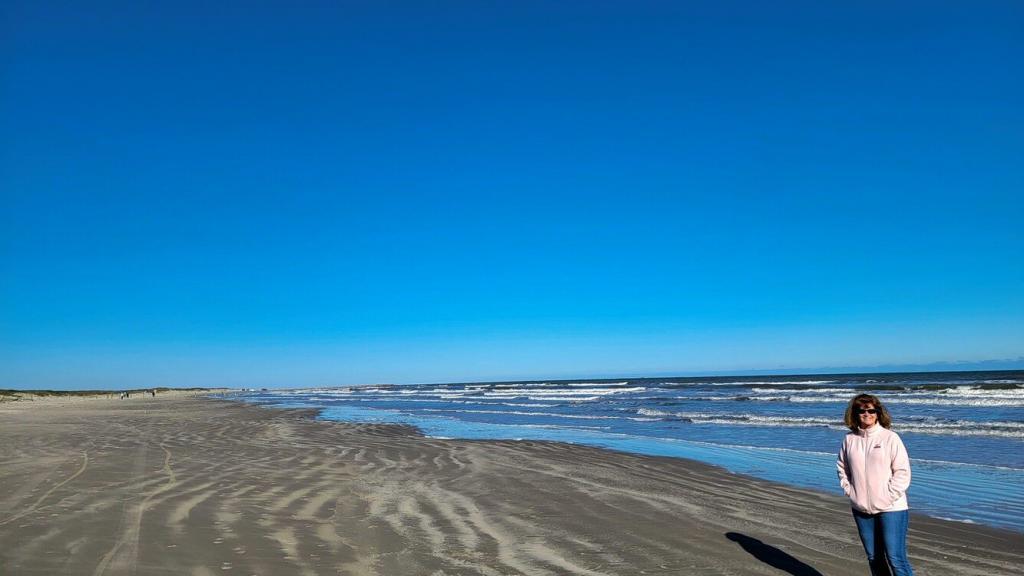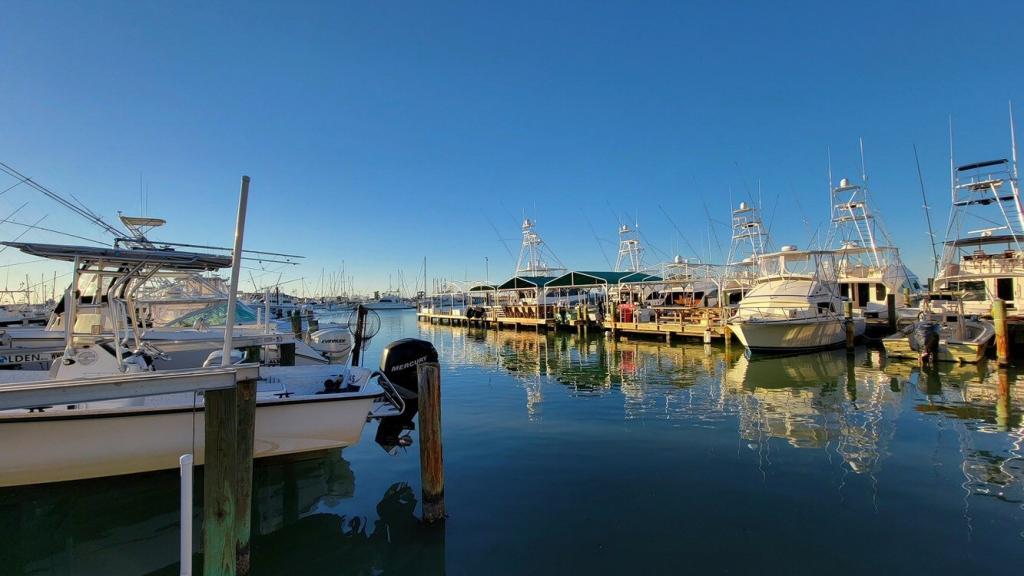 The Big Tree in Goose Island State Park
This is one of the most famous trees in the world. This giant Live Oak measures 35 feet in circumference and 44 feet high and has a crown spread of 89 feet. The Texas Forest Service estimates it is over 1000 years old. It is amazing the tree has survived all of the hurricanes and other weather of the area.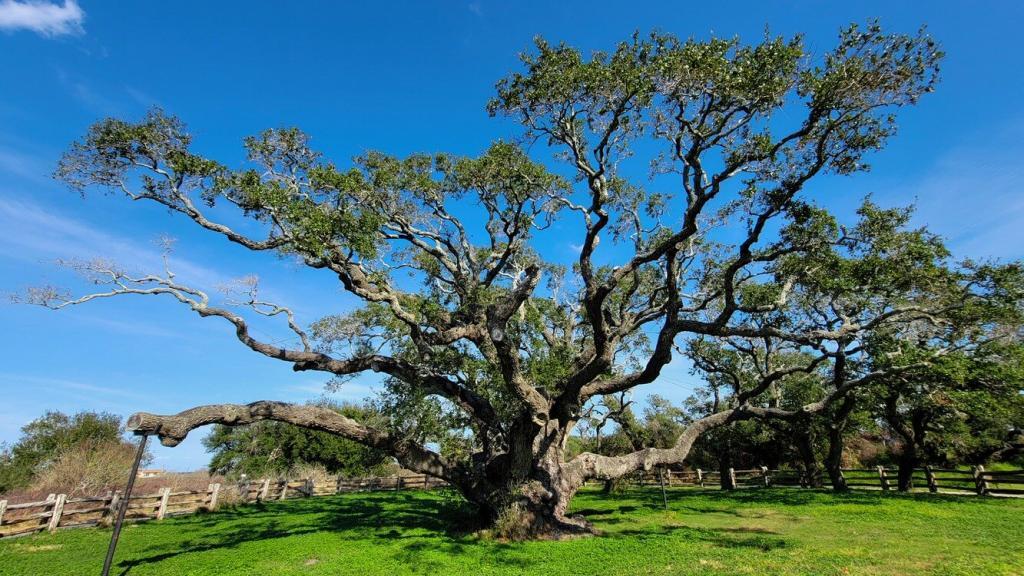 Aransas National Wildlife Reserve
During the winter months with plenty of marsh land and warmer temperatures, the Coastal Bend is an ideal location for birds like the Whooping Crane, Sand Hill Crane, Roseate Spoonbill, Brown Pelican and Blue Heron. Except for the Whooping Crane, all call this area home year-round. Whooping Cranes are the tallest bird in North America at up to 5 feet tall along with a wingspan of 7 to 8 feet. In the 1940's there were less than 20 alive and all called the refuge home for the winter. Today there are an estimated 840 around the world and 504 are expected to winter in the Rockport, Texas area. In the warmer months, the Whooping Cranes return to their home in Canada near Saskatchewan. Whooping Cranes live at least 22 years and sometimes as long as 40 years. On the day we visited the park we were luck enough to see several of them.
There is a Big Tree trail in the reserve but this is a different tree than the 1000 year old big tree above.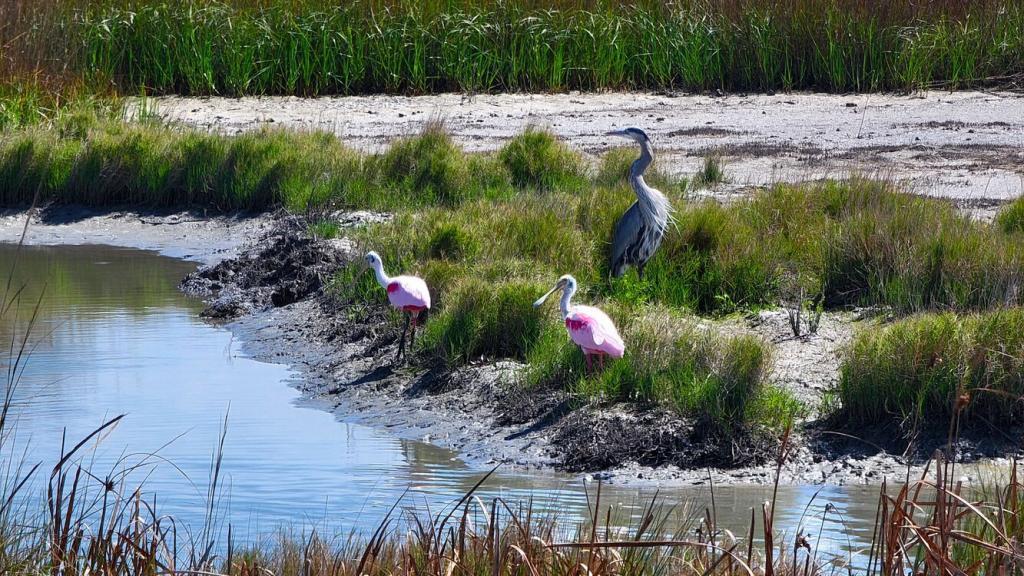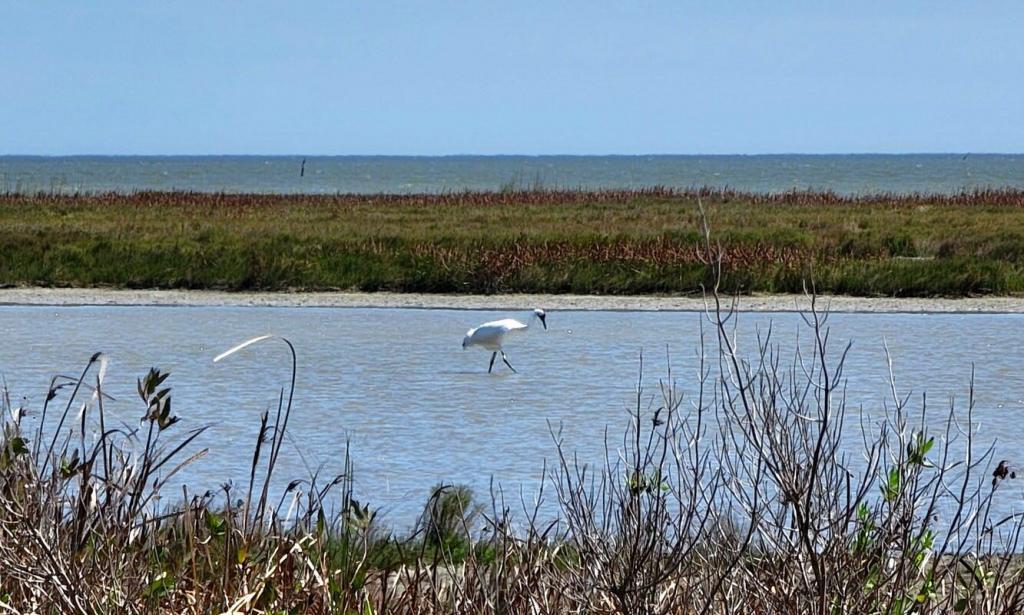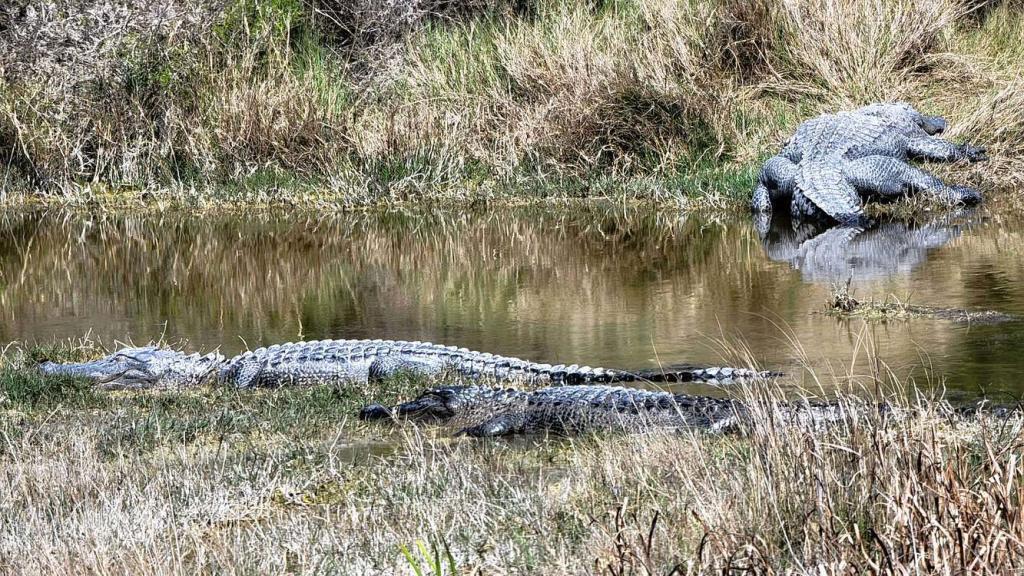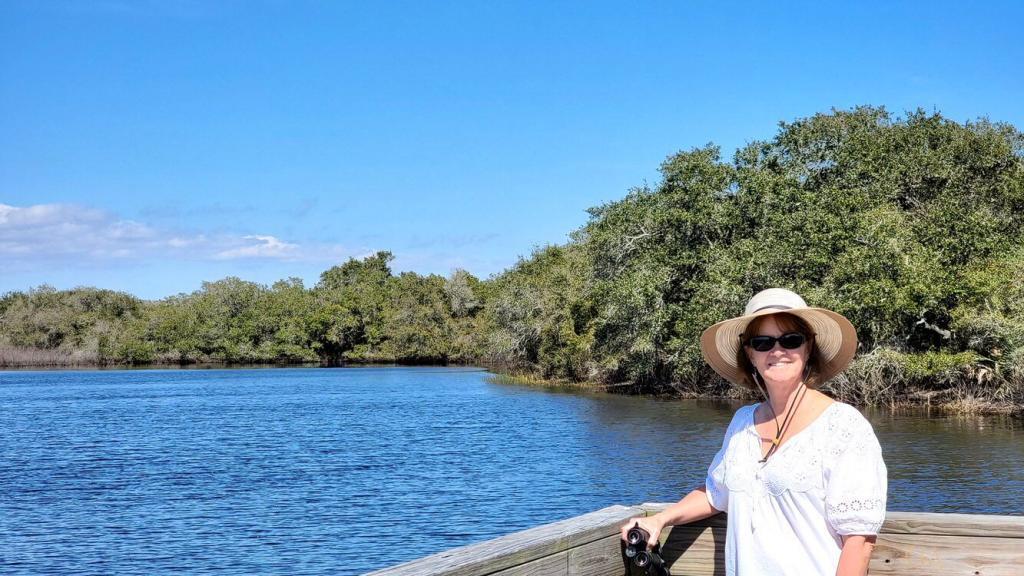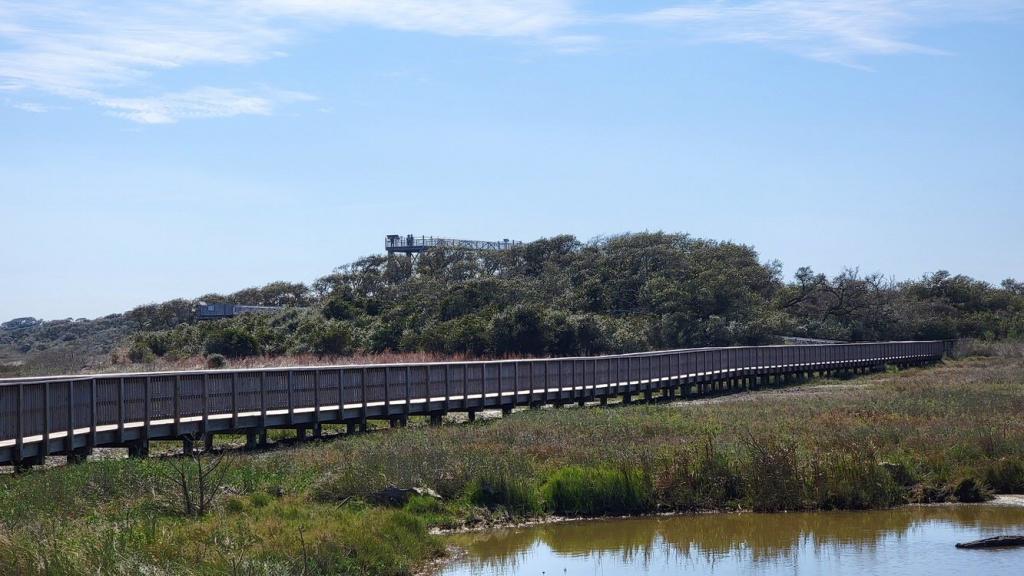 Trailer Maintenance
With our extended time in the area we found it a good time to take care of some maintenance. We had the coolant flushed and replaced in the truck. This was a part of the 60K mile service and we were close to 65K miles.
We also got new tires for our trailer. We had about 25K miles on the original tires and we were also seeing some abnormal wear on 3 of the 4 tires. These 3 were the original tires but the 4th was replaced at about 10K miles due to an alignment problem. For some reason this tire didn't have the same wear. It did have less miles but I would have thought a similar wear pattern would already be showing but it was not. From what I could find out the wear was called "channel" or "river" wear and is not uncommon on trailer tires and there isn't really anything you can do about it. The original tires were soon to be 5 years old and it would have been time to start thinking about replacing them anyway.
One of the YouTube blogs I follow put Continental HTL2 tires on his rig and he had upgraded to slightly larger tires that give him some additional safety margin and we did the same with ours. In fact, we went to the same place to get it done that he had – Southern Tire in Corpus Christi and got the same tires. They were great to work with and got us in amongst other big trucks including a fire truck. One tire expert recommended having a 15% to 25% safety margin in regards to the weight your tires are carrying. One of ours had only about 2% margin with the old tires. With the new J rated tires we have 25% safety margin on most tires and a minimum of 15% on the heaviest tire without having to run the maximum air pressure on each tire.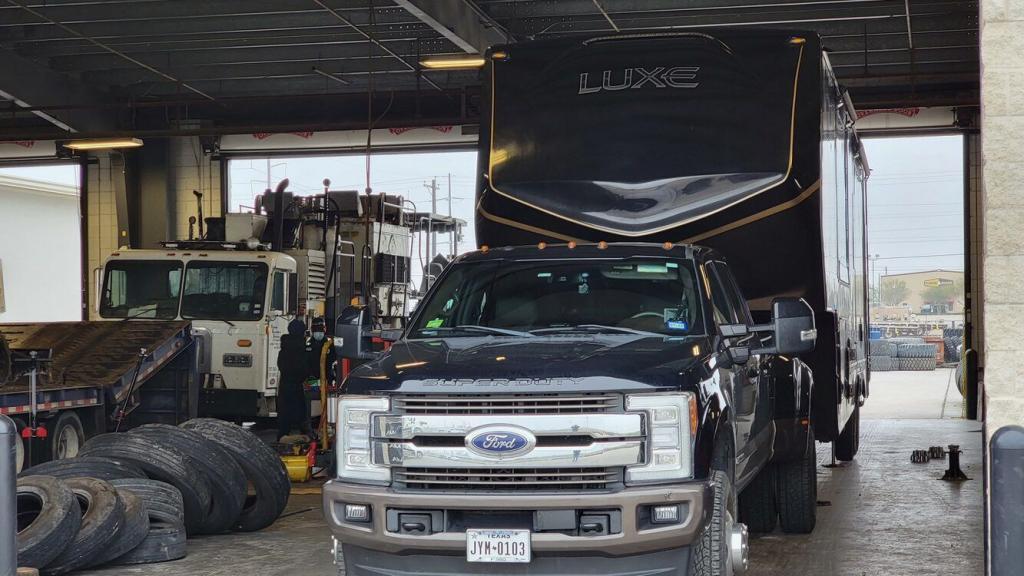 While replacing the tires we also had the trailer inspected. They noticed that the brake pads were approaching their minimum thickness and even though they passed inspection they needed to be replaced. I already had new pads but was planning to replace them later this year. Instead, we decided to go ahead and repack the bearings and replace the brake pads. Of course, nothing ever goes to plan and we needed to replace some additional parts so it took a couple of times to get all the parts in and replace them but we should be good to go for the next year or two.
Park Review – Coastal Breeze RV Resort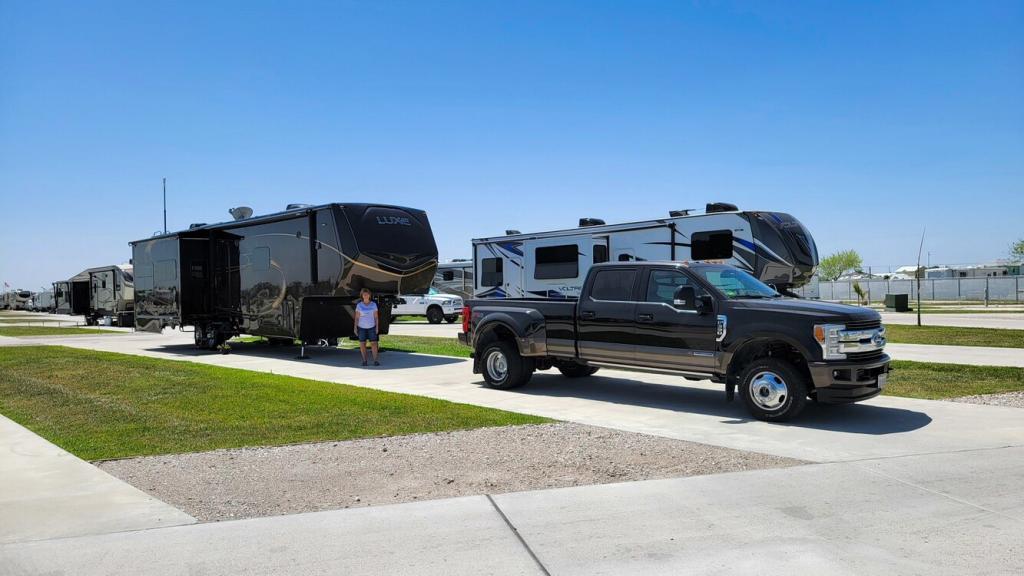 Rating: ⭐⭐⭐⭐
Location: Rockport, TX
Site Quality / Amenities: Concrete roads and pads. Full hookup sites with 50A and 30A service. The park includes multiple dog parks, two game areas, a volleyball court, 2 outdoor pools and a club house. There is also a pond with fishing pier and a fishing pier out into Salt Lake. There are restrooms with showers and laundry facilities in the park.
Type: Commercial park
Access: Easy access via FM1781 north of Rockport and west of Fulton. When coming from the north, the shortest route is on FM1781 as it follows the shoreline all the way around to the park. However, it is easier with an RV to continue on TX-35 until it reaches Broadway/TX-35/FM3036 and then turn right. Stay on 3036 until it reaches FM1781 then turn right and the park is less than a mile on the left.
Staff: The staff was always friendly and helpful.
Cellular/Wi-Fi: Verizon was often slow however at times speeds could reach 11 Mbps with an external antenna and booster. AT&T was generally useful at about 2.25 Mbps. Night time speeds were often slower. It seemed like speeds should have been better as we had about 3 bars on Verizon and when speed testing on the same tower but much closer I got 180 Mbps which is one of the fastest speeds I have ever seen on 4G. At least we were able to text and make phone calls without too many problems.
Restaurants: Charlotte Plummer – Good seafood with a view of the harbor. Great for watching the oyster boats unload their catches in the afternoons.
Old Fulton Seafood Cafe & Deli – Great seafood in a strip center (no view). Probably one of the best in the area for seafood.
Paradise Key Dockside Bar & Grill – Great seafood overlooking a marina.
Mickey's – Good seafood in an RV park overlooking a marina.
Pier 77 – A local favorite for seafood with generous portions. The Calamari appetizer was fantastic. Shrimp was great. As of early 2022 the restaurant was cash only.
Steelburger Grill & Grub – The best place in the area for a burger. Nothing fancy just a good basic old style burger. You order outside in what is basically a food truck but they do have seating inside a small house adjacent to the truck.
Nearby parks: Listed in order of preference (1…n)
1. Southern Oaks Luxury RV Resort – We prefer the Rockport/Fulton area but this is one of the nicest parks in the area for longer stays and actually there are more of the larger stores nearby including Walmart and Lowes. Each site is wide and some are extra long with concrete throughout. Good for satellite because of minimal trees. Great cellular data rate of 88 Mbps. Many more scheduled activities, concerts and exercise classes in the clubhouse.
2. Lagoons RV Resort – Although getting around this park is a bit tight it is certainly doable. Amenities include an indoor pool, coffee shop, lots of activities and a large community center. The park is all concrete – roads and pads. We would need the get an orange 70′ site to fit so our options would be limited. Great cellular data rate of 56 Mbps.
3. Majestic Oak Resort – Lots of trees (could cause satellite issues), picnic tables, pool and jacuzzi, recreation center, wide roads, all concrete, 55 Mbps data rate. Not laid out as a big rectangle so the park has a bit more character at the expense of being possibly a bit more difficult to navigate.
4. Coastal Breeze RV Resort – See current review.
5. Reel Chill RV Resort – Very close in quality to Coastal breeze, All concrete, minimal landscaping. Better data rate at 4.75 Mbps but right on TX-35 Bypass so there is a potential for much more road noise.
6. Sunrise RV Resort – New smaller park in town (Fulton) that includes concrete runners for the RV pads as well as a concrete driveway and patio for the truck. Sites on the north side of Myrtle St. were the best. Due to trees satellite could be a problem and navigation could be a bit of a challenge for larger rigs. This park is very close to the local cell tower and we had full bars and a whopping 180 Mbps data rate – the fastest I have ever seen on 4G! Due to lack of activities, this park is probably best for shorter stays.
7. Cove Harbor Waterfront RV Resort – Nice small park in a marina area. Sites closest to the water are motorhome sites and trailer sites are back-ins toward the road. All roads and sites are concrete. Data rate was 27 Mbps. Probably best for shorter stays due to no activities.
8. Paradise Lagoons – Some challenges navigating the park, trees could interfere with satellite reception. Sites around the edges appeared to be longer and there were some pull-throughs. The sites included bump out driveways. Right along TX-35 so there could be a bit of road noise. Data rate was 34 Mbps.
* Places we would not go to whether due to navigation issues, sketchy park, etc. include: Bay View RV Resort, Wilderness Oaks RV Park, Blue Lagoons RV Resort, Rockport Oaks (Owners only), Estes RV Resort, By the Bay RV & Lodging, Enchanted Oaks RV Park, Drifters Resort.
We also looked at three parks in Port Aransas. Port A RV Resort is a fairly large park just outside the city. Although there are some big rigs in there the roads were squared off and would be very tight to navigate. The sites were also tightly spaced. Pioneer RV Resort was a bit further out of town. It was easier to navigate but sites were still very tight. We only liked their premium sites in the 300 section. They has slightly more space and didn't feel as claustrophobic. Finally we looked at Gulf Waters Beach Front RV Resort. Wow! This is one of the nicest parks we have ever seen but it has prices to match with winter monthly rates well over $1000 per month. Many of the sites are owned by people who allow the park to lease them out when they are not staying there and they have been updated to include outdoor bars, cabanas and other nice features. This is truly a resort and could be good for short stays – if you can get in. A bonus is that they have houses that can also be rented for your non-RVing friends and family.
What we liked: Active winter Texan community with lots of activities. Nice newer and well kept park with a bit more space between sites than average for a commercial park. Some sites had small patios but many were very close to the neighboring site and/or the connections. Others had the patios right off the RV pad for the site and those would be better.
What we didn't like: No picnic table, grill or fire ring at each site. Generally bad cellular data reception. It's always windy along the coast, but winter 2022 was particularly so.
Verdict: We'd stay at Coastal Breeze again although we'd prefer Southern Oaks due to better cellular speeds and more amenities. Coastal Breeze is expanding though and may offer improvements in their clubhouse capabilities in the future.