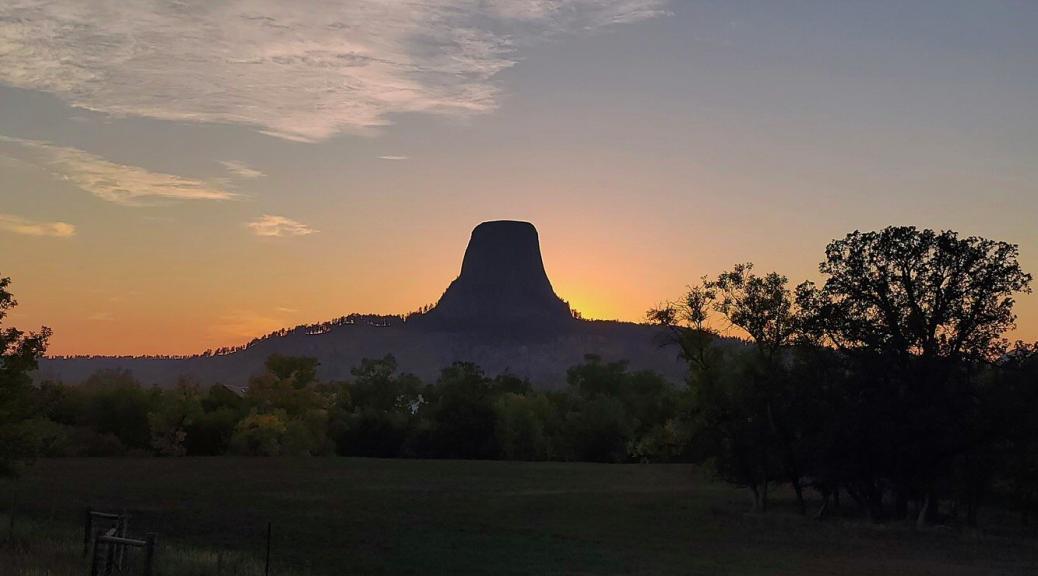 Devils Tower, WY
Devils Tower, WY
Bear Lodge is one of many Indian names given to the tower. Other American Indian names include Bear's Tipi, Home of the Bear, Tree Rock and Great Gray Horn. Many Indians believed a bear scratched the side of the "mountain" with its claws and then lived inside the structure. Col. Richard Dodge translated the name to Devils Tower in 1875 and the name stuck. Some contend that Col. Dodge simply got a bad translation of the indigenous name; others say it was an intentional renaming. Dodge led a military expedition in the area to confirm reports of gold in the Black Hills and to survey the area. Scientists at that time thought the tower was the core of an ancient volcano. Recent data suggests it is actually an igneous intrusion. About 50 million years ago molten magma was forced into sedimentary rock above and then it cooled underground. As it cooled it contracted and fractured into columns. Over millions of years, erosion of the sedimentary rock exposed the tower.
Long before white men came to settle our country, It was considered sacred by Northern Plains Indians and indigenous people. Each tribe had their own oral history, and in many cases multiple histories exist from the same tribe. Many of the stories contain similar elements. They are preserved today by the the traditions of American Indian culture. Every year 5000-6000 people climb Devils Tower but they are asked to voluntarily forgo climbing in June to allow Indians today to celebrate their sacred traditions at the tower.  There have been six climbing fatalities since 1937 when climbing records started being kept. Three of these fatalities occurred while descending (rappelling) the Tower.
We enjoyed our couple of days at Devils Tower. We hiked the Tower Trail which circles Devils Tower on a wonderful clear day seeing two rock climbers on different sides of the tower. The views of the valley below were just gorgeous and thankfully the smoke from wildfires did not follow us here. On the KOA Trail Ride later that evening we toured the valley owned by Campstool Ranch which encompasses thousands of acres around Devils Tower.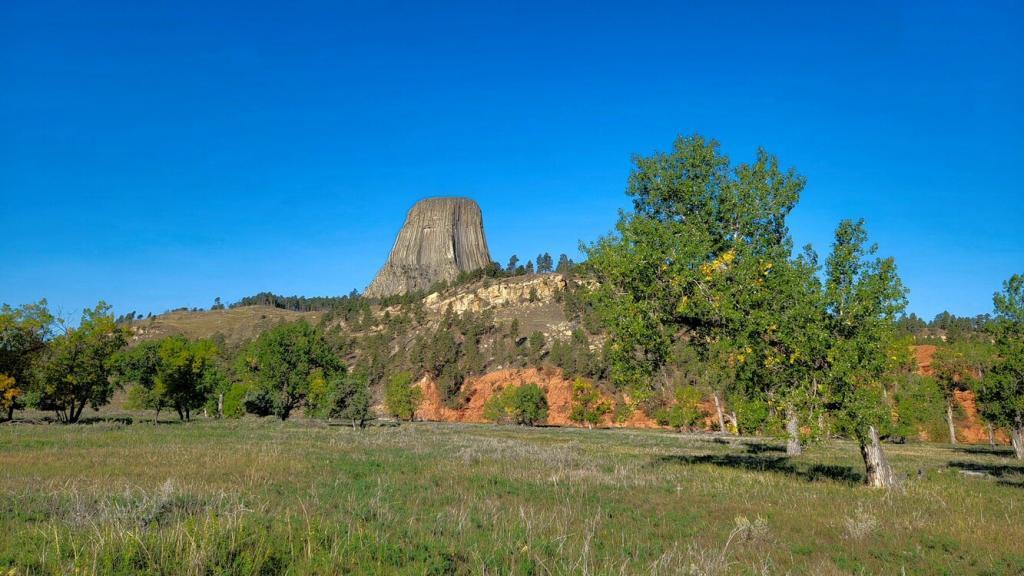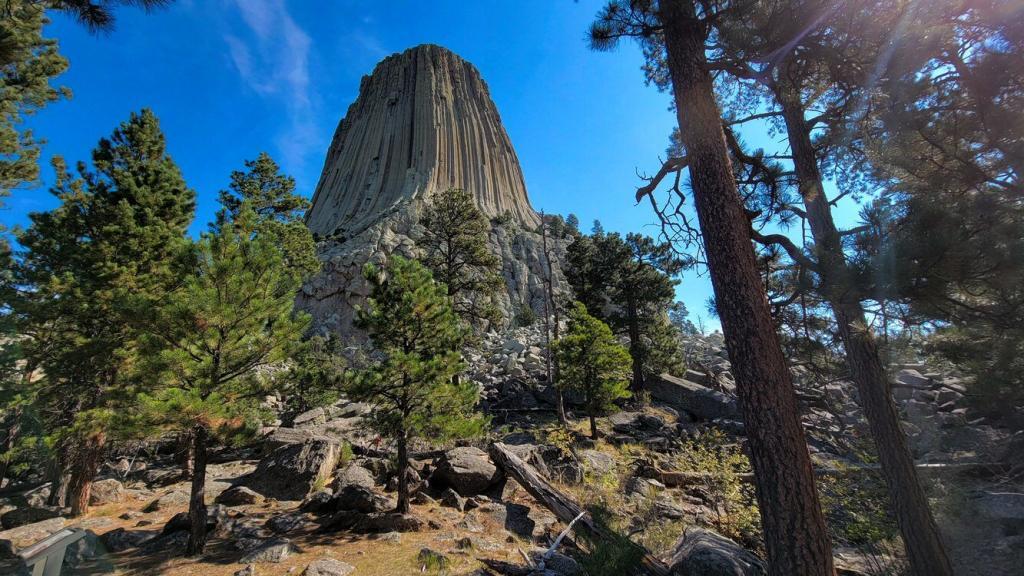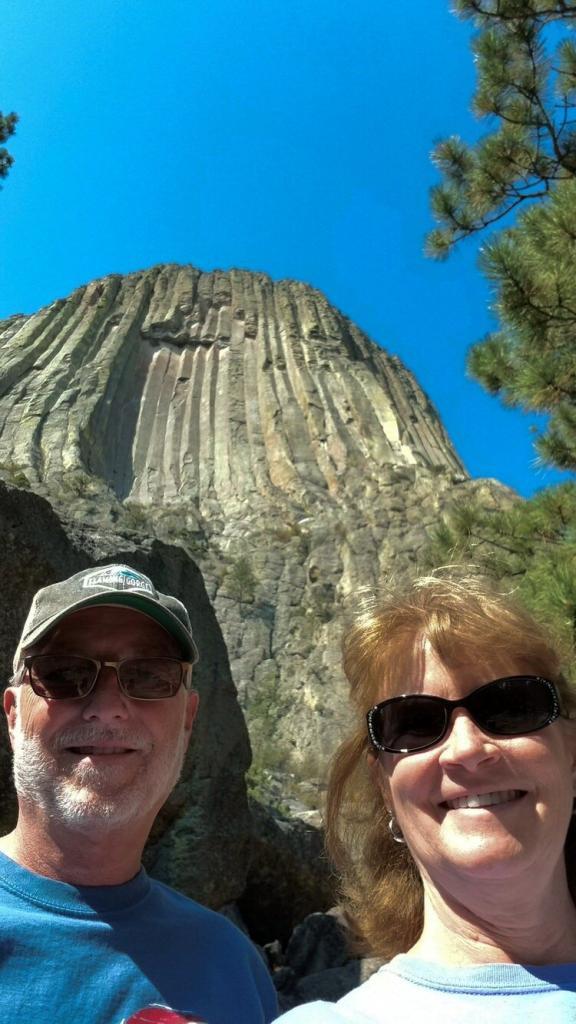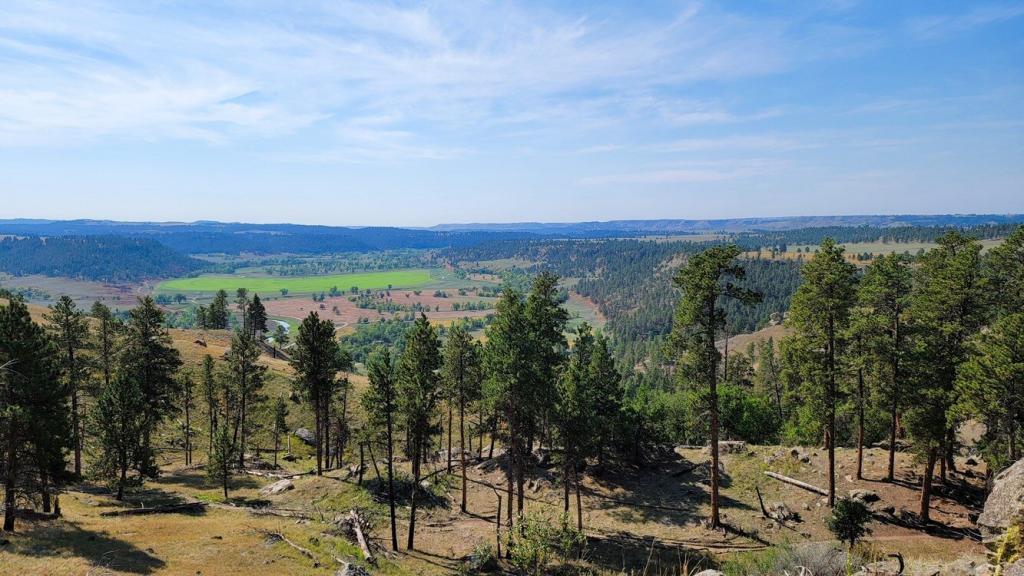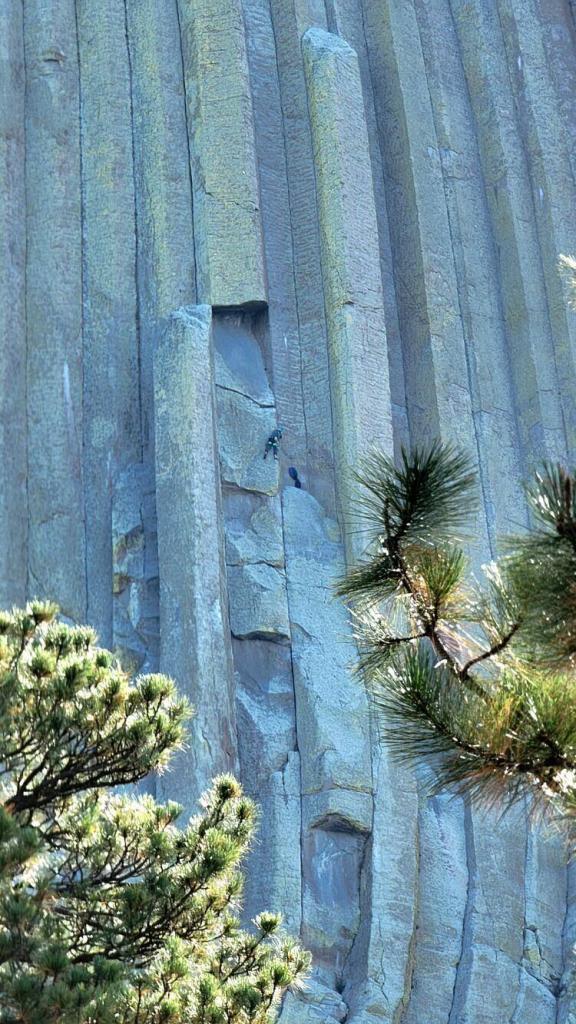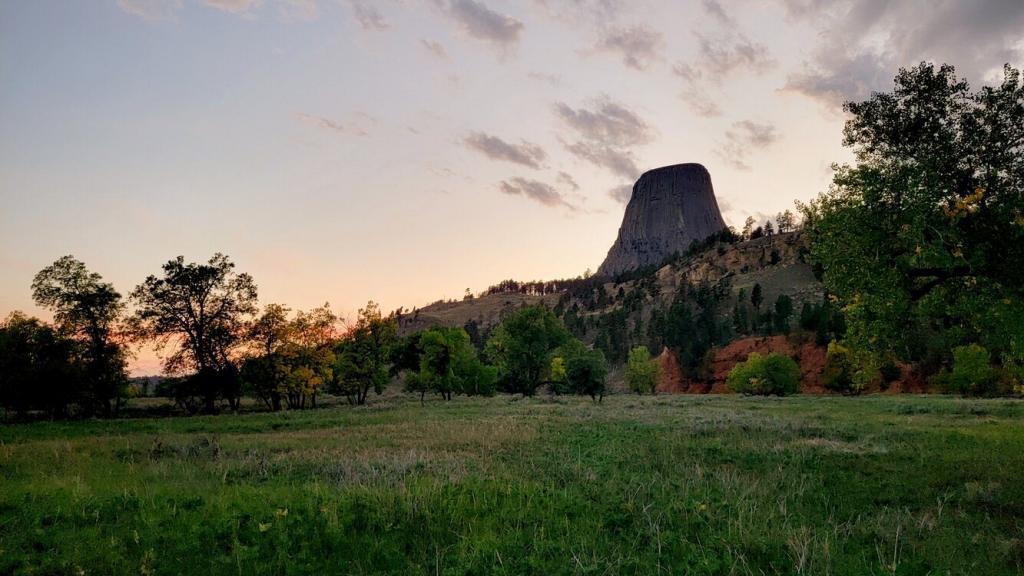 Park Review – Devils Tower / Black Hills KOA Journey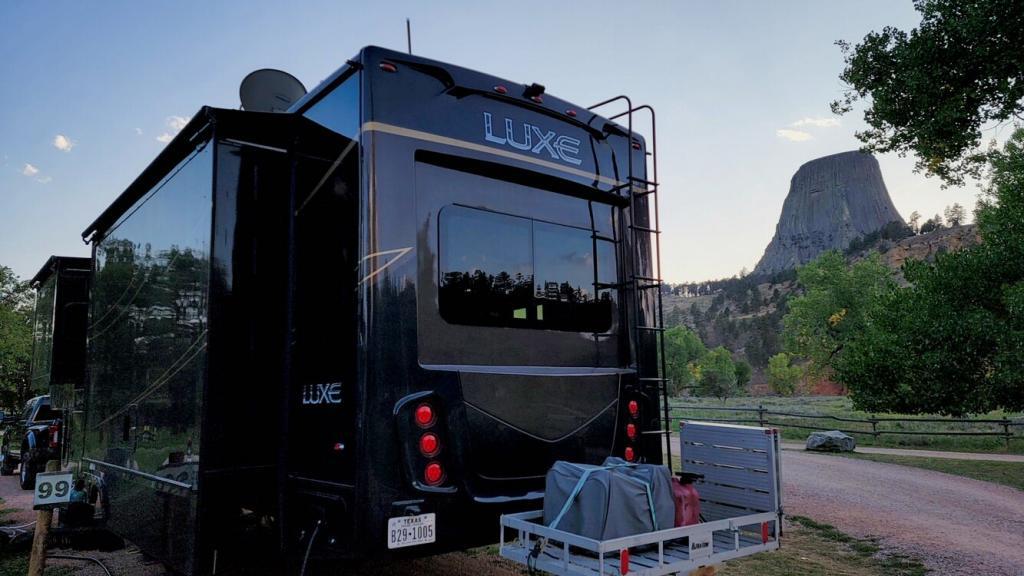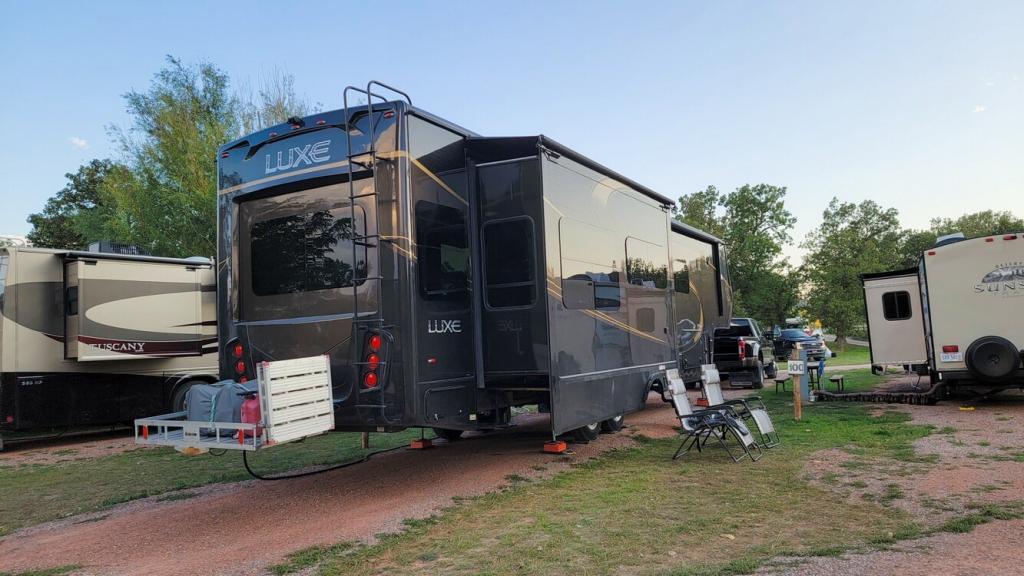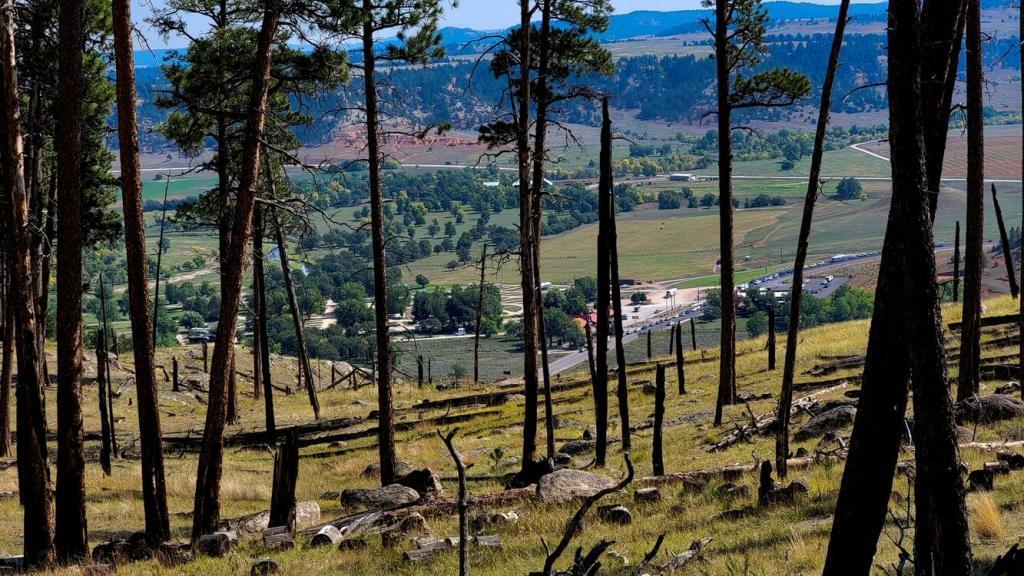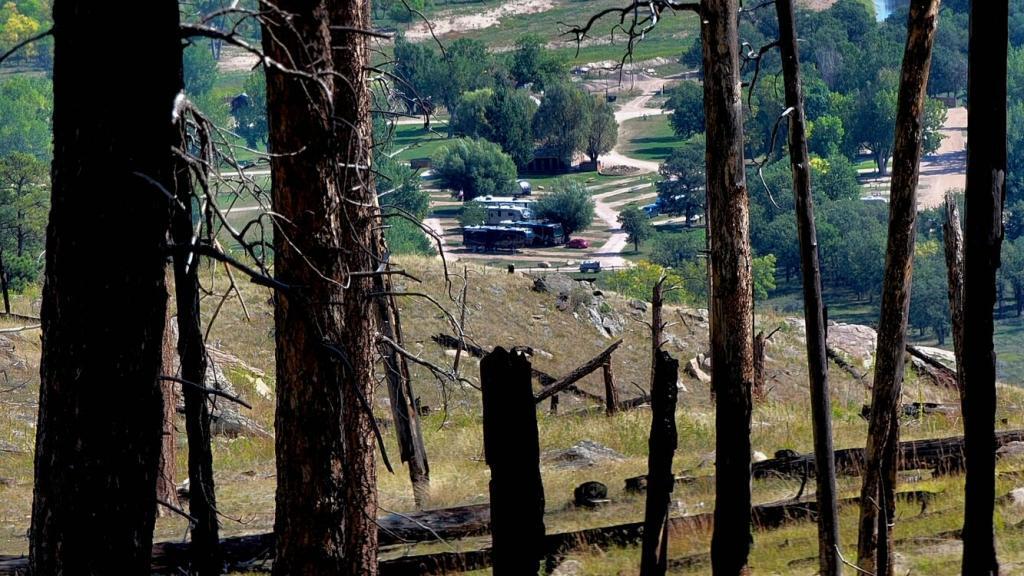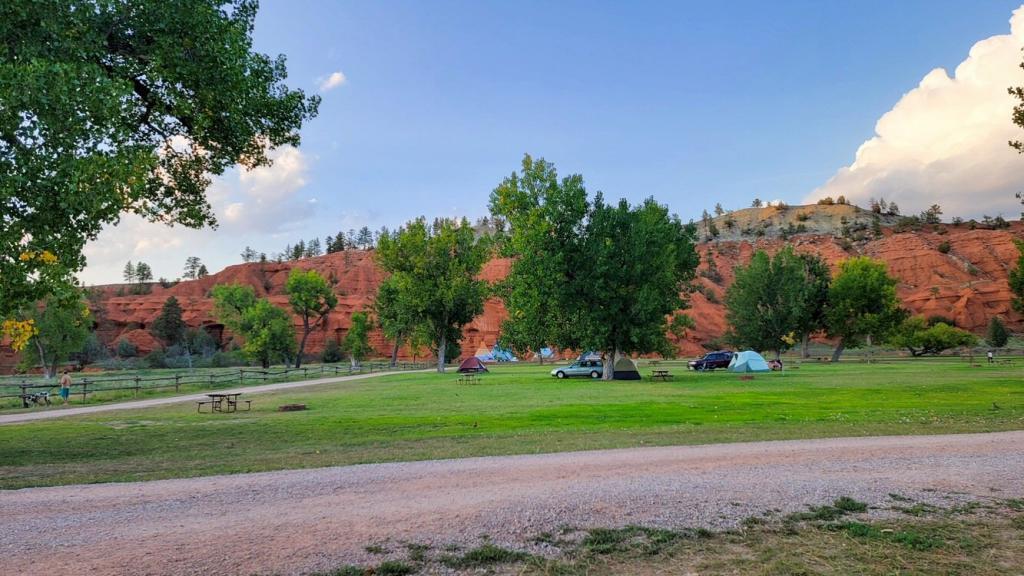 Rating: ⭐⭐⭐1/2
Site Quality / Amenities: Gravel pads and roads. Picnic table at each site.
Type: Commercial
Access: About 25 to 30 miles north of Interstate 90 via US 14 from Moorcroft (from the west) or Sundance (from the east). The road into the park backs up later in the day and could create some delay getting into the park. Coffee Cup Fuel Stop at exit 154 in Moorcroft has truck lanes with diesel and it is much cheaper than the truck stops in Gillette further west.
Staff: Staff were friendly and offered tips for things to do around the park.
Cellular/Wi-Fi: Verizon was 10 Mbps download and 1 Mbps upload. AT&T was about 1/3 as fast. The park had Wi-Fi but we didn't try it.
Restaurants: Red Rock Café, Hulett, WY – Hulett was a cute little town of less than 400 residents and on a Tuesday afternoon Red Rock was the only place we could find open. We were glad we took the 10 mile trip up from Devils Tower. We both got very good hamburgers and we also splurged for some pie afterward. The pie was good but not great. Definitely worth the short drive just to check out the town. Ponderosa Café is just across the street.
Nearby parks: The campground in the Devils Tower park looked nice if not a bit tight for larger rigs. It's also dry camping only.
What we liked: Gorgeous views of red sandstone cliffs behind us and of the Devils Tower to the side of us. Site 100, next to us toward Devils Tower was always occupied but 2 out of 3 nights were short trailers that did not obstruct our view. The third night was a class A but they also parked toward the front end of their site and again we didn't have anything blocking our view of Devils Tower. Onsite Store, gift shop and Café although hours were limited when we were there in mid-September. There is also a pool but it closes on Labor Day. Nightly they have an outdoor showing of Close Encounters of the Third Kind which was filmed at the Devils Tower and on the grounds of the KOA. Finally they offer a hayride through the historic Campstool Ranch which is adjacent to the KOA. This is not to be missed!
What we didn't like: Sites 99 and 100 are among the best sites (100 would be preferred). The problem with 99 and many others is that they are very close together. Our site 99 just barely had the width of our picnic table between us and 100 and their hookups were halfway in between the sites.
Verdict: Good for at least a night or two to spend some time hanging around the Devils Tower. If you just want to hang out for a while longer and not do anything but enjoy the scenery you could spend a week or more here.