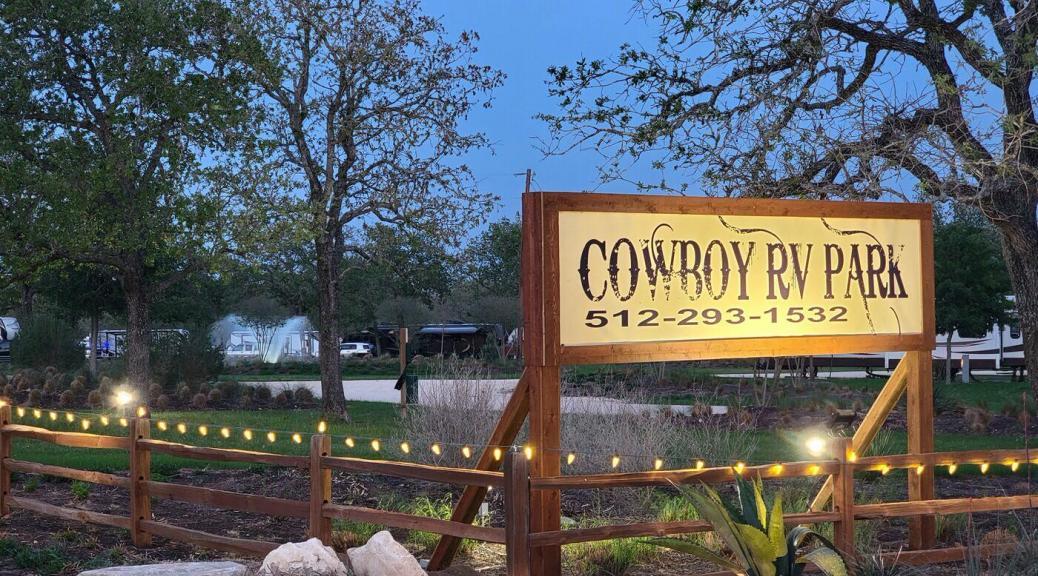 Cowboy RV Park, Lockhart TX
Cowboy RV Park, Lockhart TX
Cowboy RV Park is just south of Lockhart Texas on State Park Road (Ranch Road 20). We stayed here for a month in April 2021 as we worked our way toward the Round Rock / Georgetown area for our bi-annual doctor appointments. We weren't real sure what we were getting into before going there as it was a relatively new park that was still under construction and it was gravel, something we try to avoid during the rainy season. After arrival, we found out that although there was an office on site, no one was ever there. This created some concern at first as we wondered who would take care of any issues that might pop up. We quickly learned one of our neighbors worked part time with the owners to take care of things and they were quick to evict someone who broke the rules so that made us feel a bit better. We also met a retired police officer who stayed in the park and he assured us there were no issues. There was also an active State Trooper who lived there.
Many of the others staying there were working and most kept pretty much to themselves so it was a bit difficult to meet many of our neighbors but by the time we left we had met several. We found out that the park had only been about 1/4 full until just before we arrived and then it nearly filled to capacity mostly with people working to build the new Tesla plant near the Austin airport. They seemed to have a variety of jobs from construction to engineering but most seemed to be on the upper end of that spectrum. That was good for us because there wasn't a mass exodus at 5AM leaving for work. The park was actually very quiet and we often slept much later than we probably should have.
Also, friends Debbie and Frank came to visit for a day. Even with pouring rain we drove to McQueeny and enjoyed dinner at Blake's Cafe. We are so blessed to have good friends who stay in touch with us during our life on the road.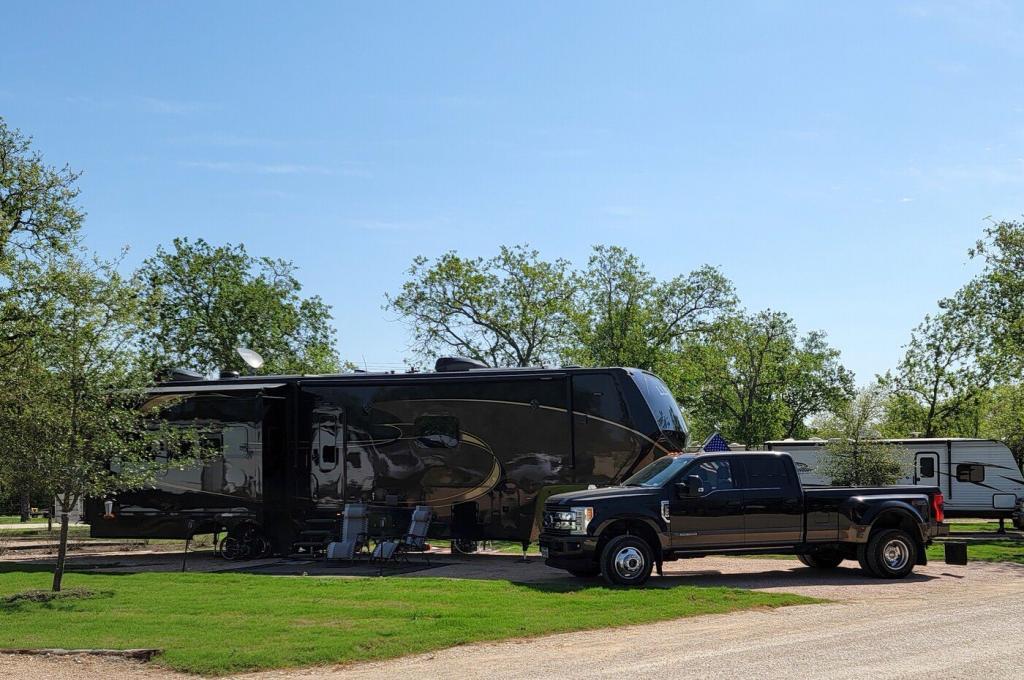 While there, we bought a new Hummingbird feeder after our last one had sprung a leak. We enjoyed watching the hummingbirds come to the feeder although we had one that pretty much controlled access, rarely letting anyone else near the feeder. Because of that, we were only needing to refill the feeder once every couple of weeks. As I am writing this we are in another location and although the birds are still territorial we often have 4 at a time on the feeder with another 4 waiting to get to it. Here we're refilling the feeder every day or two. It's a lot more fun watching them when there are more to watch. Simple pleasures.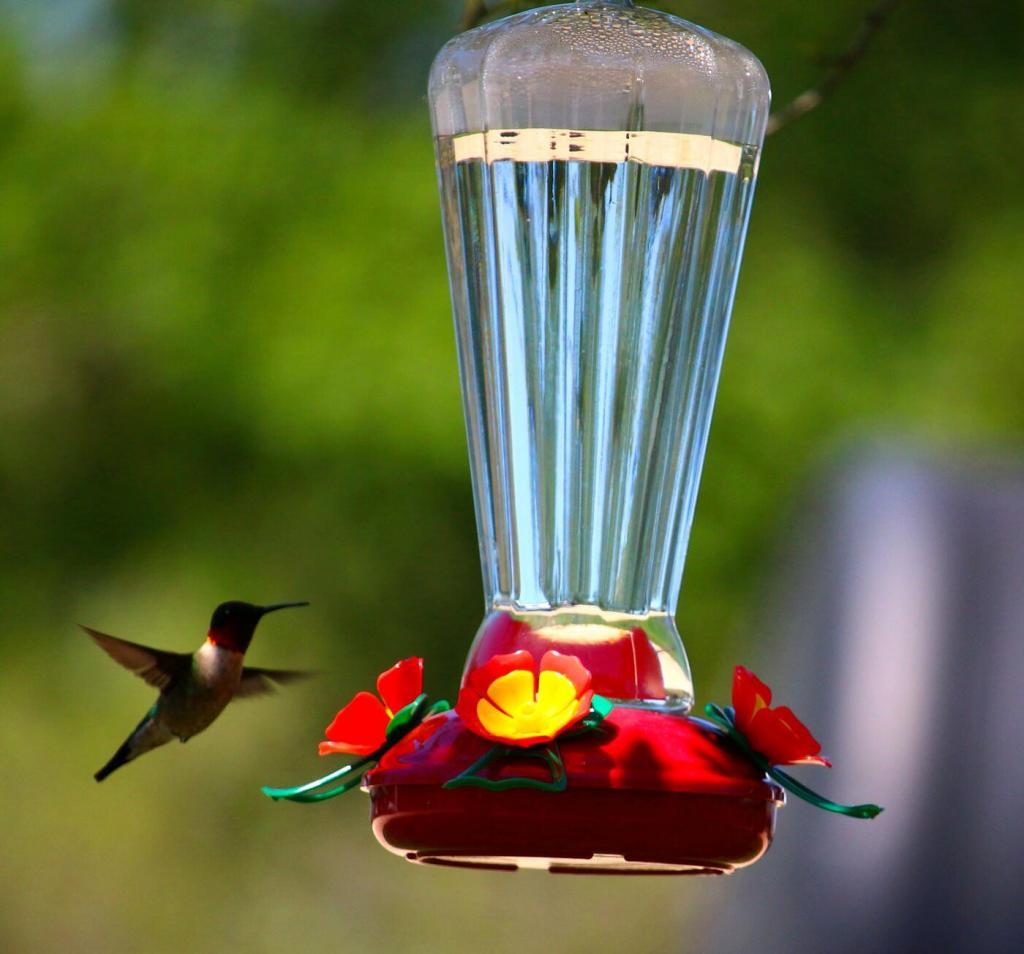 We also enjoyed watching skydiving at Skydive San Marcos which was about 2 miles away from the park. Although the pictures are from a spot close to the airport, we could see them from our campground most days when the weather was good. Almost daily they kept 2 different airplanes busy most of the day carrying jumpers up to about 14000 feet to jump. Years ago I gave Anna an anniversary present of a tandem skydive and it just so happened that Skydive San Marcos was where she did it. We didn't realize when we booked the park that we would be that close to where this monumental event occurred!
Being a pilot, one of the things that intrigued me was how fast the airplanes came back down after dropping the jumpers. Using Flight Aware I was able to see them descending over 3000 feet per minute. To keep that in perspective, airliners typically descend less than 2000 FPM whereas the space shuttle would drop at up to 12,000 fpm. When I flew, we would descend about 500 fpm – any more would likely scare the passengers and descending faster would make it difficult to control airspeed. I wondered how the could descend so fast without going too fast to land. A little research showed that they can actually reverse the direction of airflow from the propeller to slow the plane as they descend that way. This is apparently an old bush pilot trick to get into small runways.
One of the things Lockhart is best known for is BBQ so we had to try all three of the most well known places in the area. We went to Black's, Kreuz Market and Smitty's. Kreuz and I believe Smitty's as well began life as meat markets in the early days (Smitty's for instance has been around since 1900). They soon realized they could cook the leftover meat and sell that to their customers. Reflecting their history, both Kreuz and Smitty's sell the meat at the pits where it is cooked and you go "inside" to get fixins like potato salad, beans and drinks. Since both places stay busy and there are lines at the pits and inside, we found the setup to be a bit awkward. Black's was setup more like most modern day BBQ joints where you go through a line where you order the meat and whatever sides you want then pay at the end. Although all 3 had really good BBQ, in the end we preferred Black's.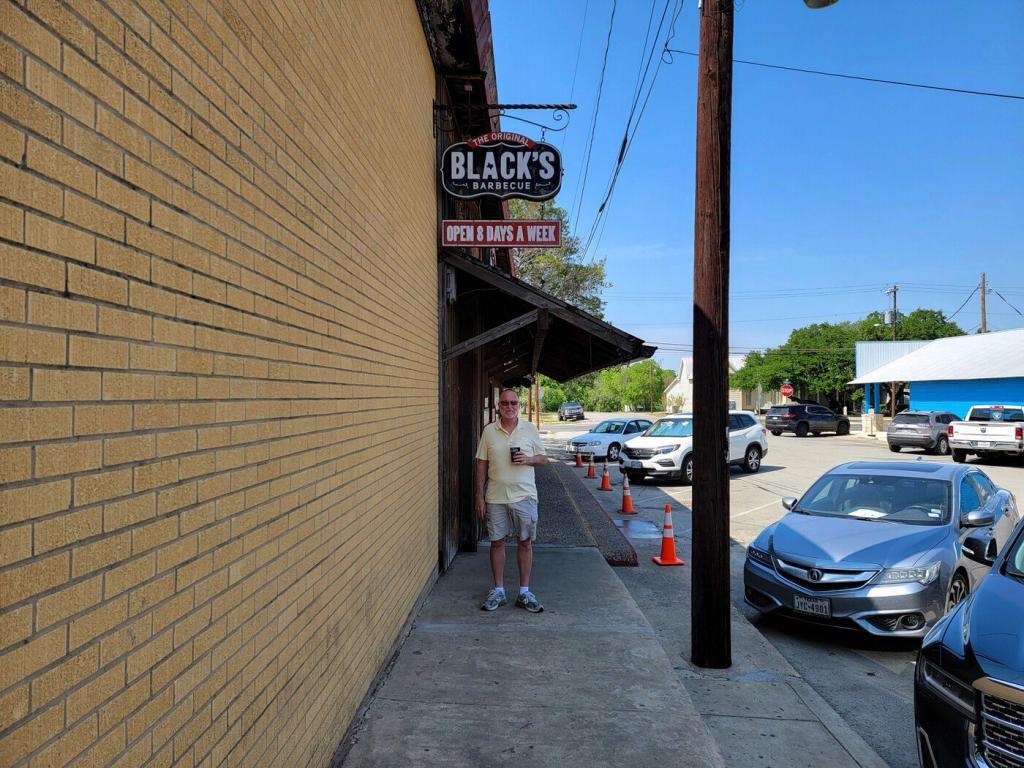 We took a day trip to Lockhart State Park which is actually just up State Park Road before you get to Lockhart. Since we spend quite a bit of time in Texas we maintain a Texas State Park Pass which gives you free entrance as well as some camping discounts at all Texas State parks. With entrance fees being pretty high these days, it doesn't take long to offset the cost of the park pass. Lockhart State Park like many other Texas parks was built by the Civilian Conservation Corps (CCC) back in the 1930's and many of the original structures are still in use there – a testament to the work these folks did. We spent an hour or two hiking some of the trails inside the park and looking at some of the wildflowers along the trails. We would have liked to go back and hike some more but we unfortunately we had so much rain and ran out of time.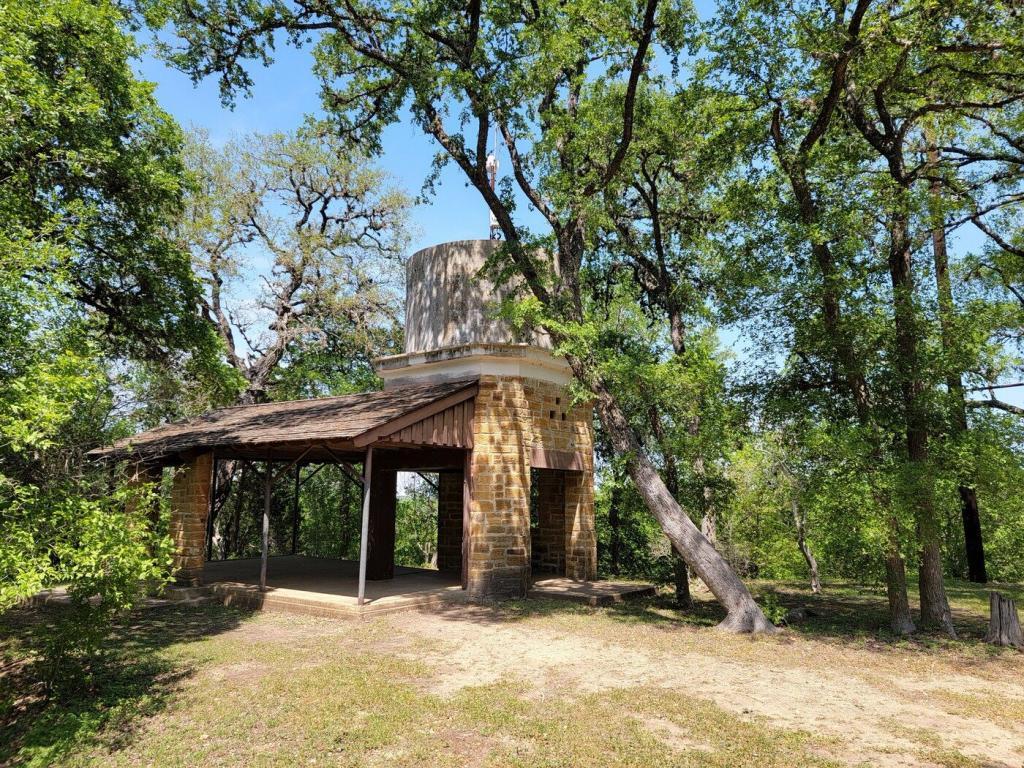 We took another day trip over to Luling TX which is just a short distance from our park. There we learned about some of the history of that area including Zedler Mill which was used to mill flower, as a saw mill, and as a power generation plant back in the early 1900's. We also stopped in the Luling Oil Museum to learn about the early efforts to find and produce oil in the area. Even today, oil is big in the area and signs of that are everywhere.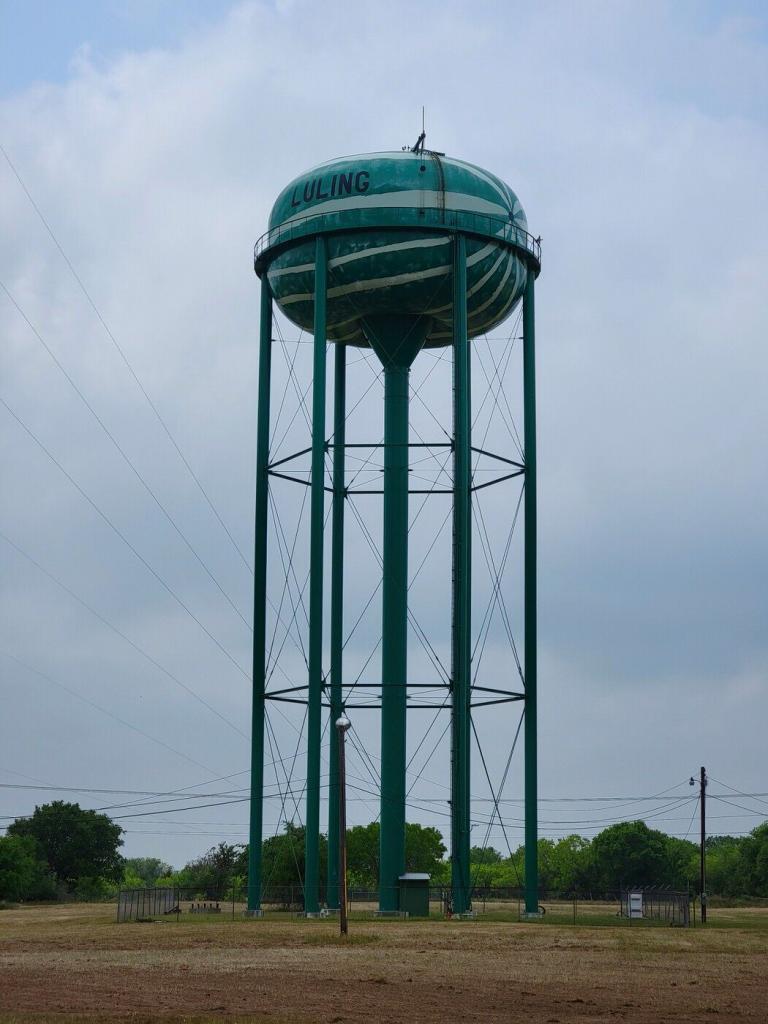 Gonzales is another nearby town that has a lot of history particularly in regards to the Texas Revolution. This is the site of the cannon known as the "Come and Take It Cannon", a challenge to the Mexican government. Often called "The Shot Heard Around the World" the first shot of the Texas Revolution was also fired near here in 1835. This shot started the revolution that ended up with the United States acquiring more land than was part of the original 13 colonies.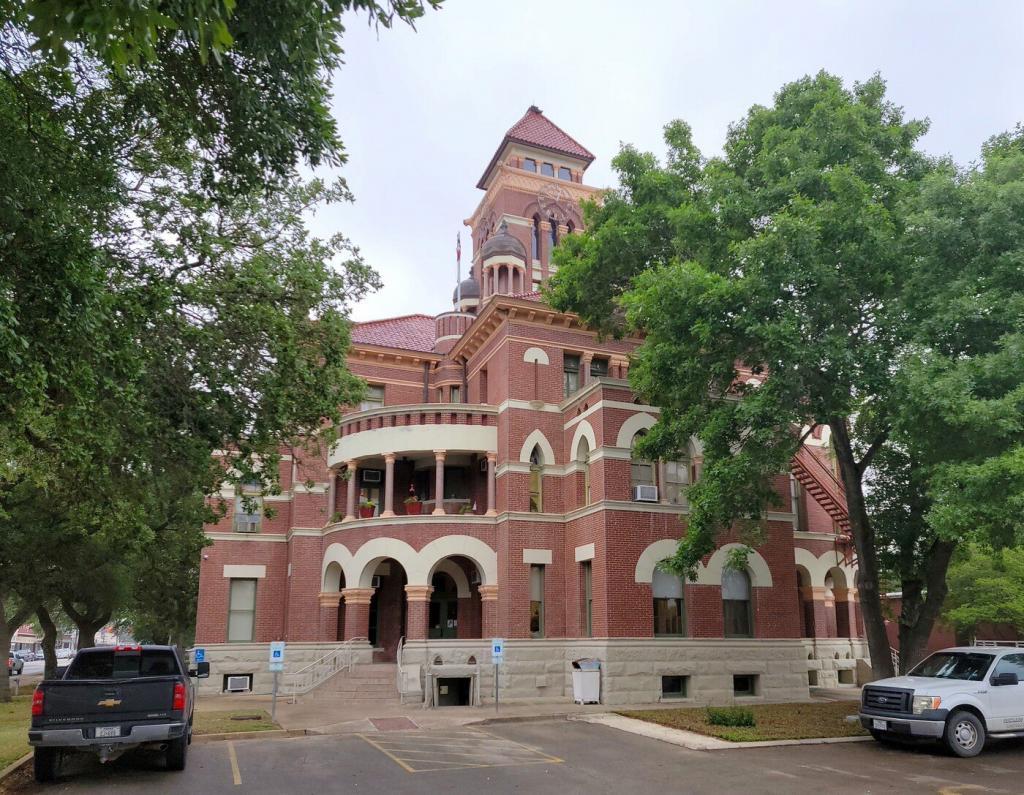 Park Review
Rating: ⭐⭐⭐
Site Quality: Gravel roads and pads. Each site has a gravel porch/parking area to the side of the RV pad.
Type: Commercial
Access: Easy access off State Park Road (RR20) south of Lockhart. It's best to approach from San Marcos Highway (80) from the south to avoid going through Lockhart.
Staff: The reservation process went well and communications were good via phone. After leaving we expected to owe more for electricity over our deposit but we never heard back even after reaching out to them. I suppose we should be happy but it was a bit weird
Amenities: Community fire pits and picnic tables. Laundry facilities. There were no restrooms/showers on site.
Cellular/Wi-Fi: AT&T was decent at about 7.5 Mbps and Verizon was good at about 82.5 Mbps. Wi-Fi was not available at the park.
Restaurants: Lockhart Seafood and Steak – We both ate seafood and it was pretty good but not exceptional. Black's BBQ – Established in 1932 and one of the three most famous BBQ places in Lockhart, Black's claims to be the oldest and best major BBQ restaurant in Texas continuously owned by the same family. The beef brisket was very lean which makes it a bit dry but I prefer lean. The sides were also very good. Kreuz Market – Established in 1900 as a meat market they later added BBQ. The shoulder clod or lean brisket was very lean and dry, next time we would probably try the regular brisket with more fat. You order and pay for the meat at the pits and then go inside and order everything else and pay again. I thought that was a bit awkward and didn't care for it much. Smitty's Market – Configured much like Kreuz, you buy the meat in one room and go into another for drinks and sides. Unlike the other 2 BBQ places we tried, Smitty's only takes cash and they don't believe in forks or BBQ sauce. Blake's (Luling) – We both had Chicken Fried Steak. They were huge, too big for the plates they were on making them somewhat difficult to eat. For me, they had way too much breading and way too much black pepper. Blake's Cafe (McQueeny) – Excellent hamburgers and Chicken Fried Steak. Definitely a place to go back to.
What we liked: Lots of space between sites. The park was well maintained.
What we didn't like: No picnic tables or fire rings at each site although there were both in public areas around the park. Sites are not level, mostly from side to side. To get our rig level, the stair side was as low as we could get it while the other side had the wheels about 4″ off the ground. No one onsite in the office. Packages from Amazon or UPS were delivered directly to each site but USPS packages were not and they had to be picked up at the Post Office in Lockhart. We were never sure what would happen if a letter was sent there as they did have a mailbox out on the road but we weren't sure how they would get from there to us.
Nearby Parks: Leisure Resort – In nearby Fentress was where I originally wanted to stay. Because it was on the San Marcos River, prices were high and they did not offer a monthly rate. After driving through, we were glad we didn't stay there. Although the river was nice, the roads were not in good shape and were tight to navigate even in the truck. Only a few of the sites were full hookups with concrete pads (1-5, 14-28, and A1-A11) but many of them would be difficult to get to and apparently you had to go down a narrow dirt road to get turned around. This place looked best for small rigs or tents and probably for families or younger people wanting to swim or tube in the river. We'll stay away! Lockhart State Park – Small park with about 20 campsites and some nice trails. The Fairway View Camping Loop sites are for a 40′ trailer maximum and the spur lengths are shorter than 50′ so we couldn't stay there. The Clear Fork Creek sites are all way too short for us.
Verdict: The park is a mixed bag – the grounds are nice and well landscaped but the roads and sites are gravel although that didn't present too big a problem even after heavy rains. The sites are not very level making it difficult to level the trailer and for it to stay level. Without on-site staff, any issues could be difficult to resolve and it may contribute to things going downhill over time although at the time we were here that was not an issue. We'd probably stay here again but we would need to carefully check recent reviews.