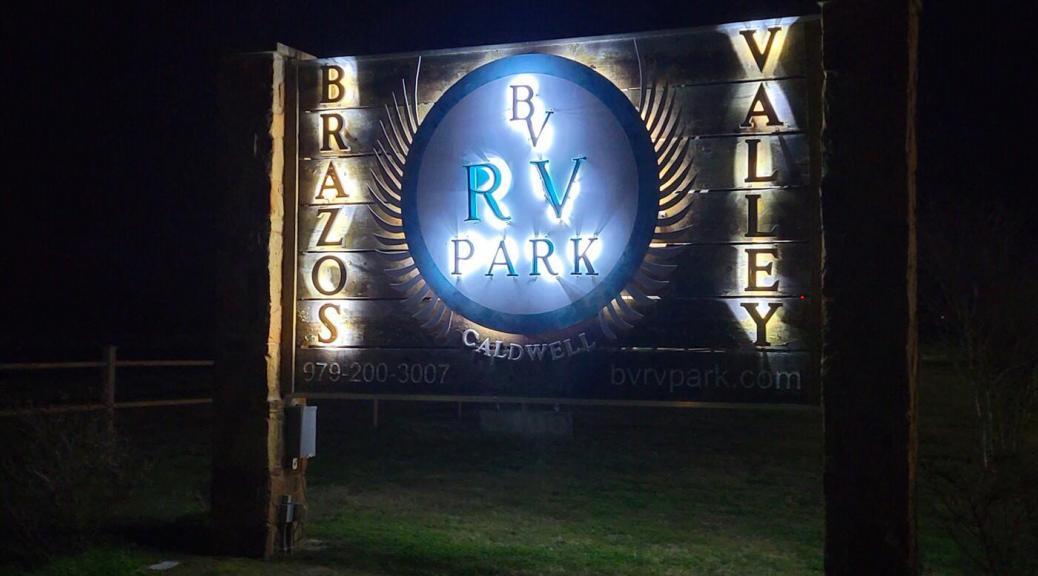 Brazos Valley RV Park, Caldwell, TX
Brazos Valley RV Park, Caldwell, TX
One of the criteria we had when looking for places to stay this winter in Texas was that they needed to be close to shopping, particularly Walmart, and medical services so that we could get COVID vaccinations when available or other medical care if needed. We found it difficult to get into a State Park for more than a few days at a time and in particular weekends were pretty much fully booked. We found Brazos Valley and it offered a small Walmart and a Brookshire's grocery in nearby Caldwell as well as Walmart Supercenters, restaurants and numerous other stores in nearby Bryan and College Station. We thought surely we could find enough things to do in the area to stay busy for a month so we booked our stay without knowing quite what to expect. To our surprise we really liked the park and the area.
Caldwell
Many small towns in Texas are suffering a slow painful death with many of the downtown area buildings becoming empty and then starting to decay. Although Caldwell had a few such buildings, the area around the square was vibrant and alive with shops, boutiques, and restaurants. You won't find gourmet food in Caldwell but there is a good selection of BBQ, Mexican and Burger joints as well as a decent Steak and Seafood restaurant. In the warmer spring and summer months several venues offer live music but unfortunately we left the area just before these started. Just after we arrived in town, the businesses downtown offered a Chocolate, Champaign, and Cake Walk with a Mardi Gras theme. For a small fee you could go to each of about 20 stores downtown for Wine or Champaign and desserts like Chocolate or Cake. Each time they marked your card and once it was completed you turned it in to enter a drawing for free stuff. Although we didn't win anything we still had a good time drinking and eating!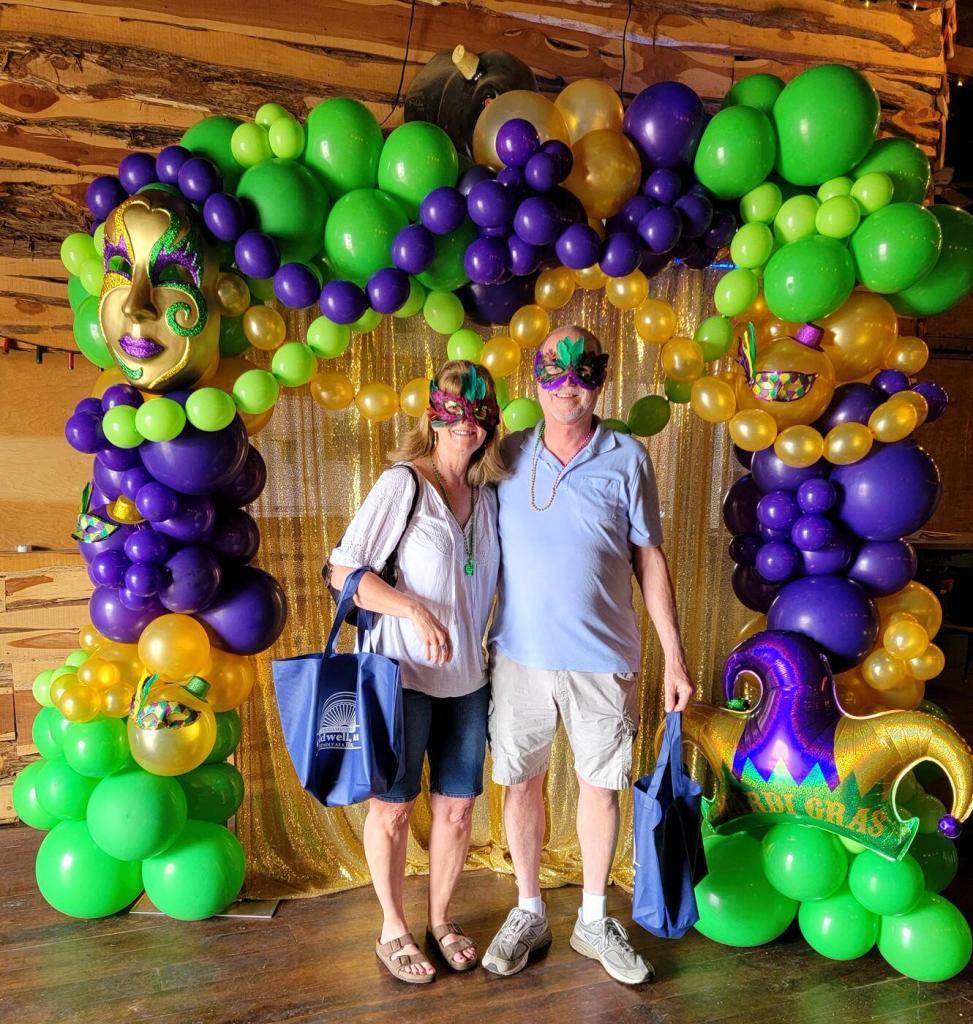 That same day our friends Tammie and Peter came to stay at Brazos Valley for a week in their new fifth wheel. We enjoyed dinner out one evening at a restaurant called The Old Post Office which is literally inside the original Post Office for Caldwell. Peter was able to fix a few minor issues they found during their shakedown campout. We enjoyed having their company and were able to get in a campfire on one of the few windless evenings.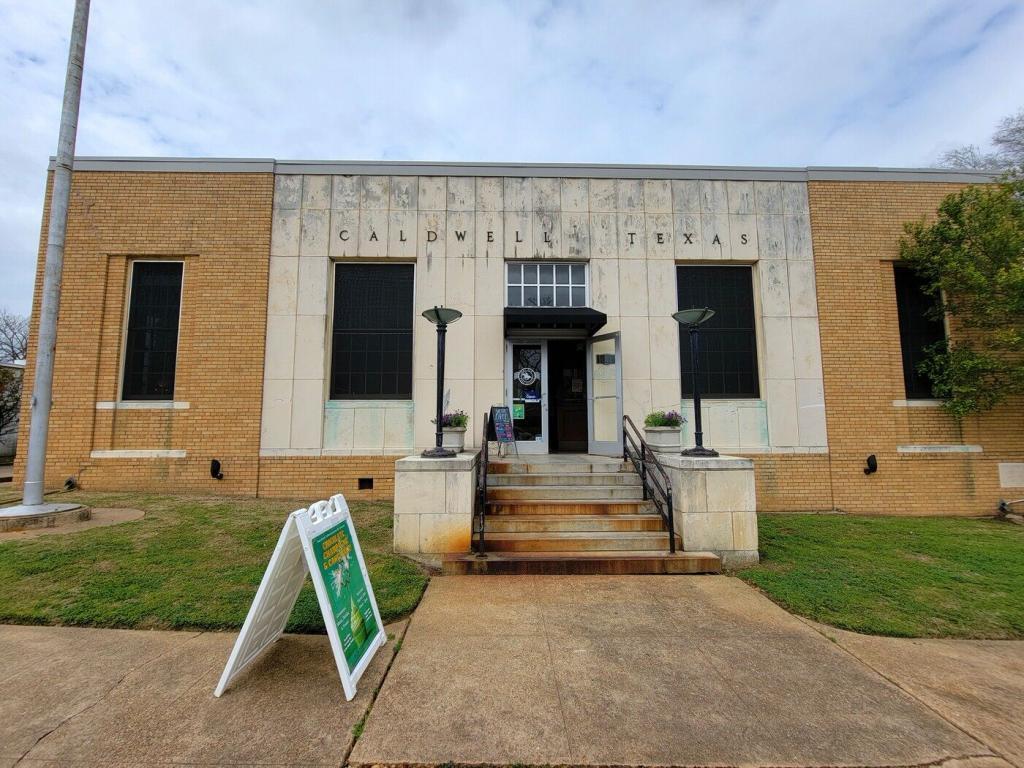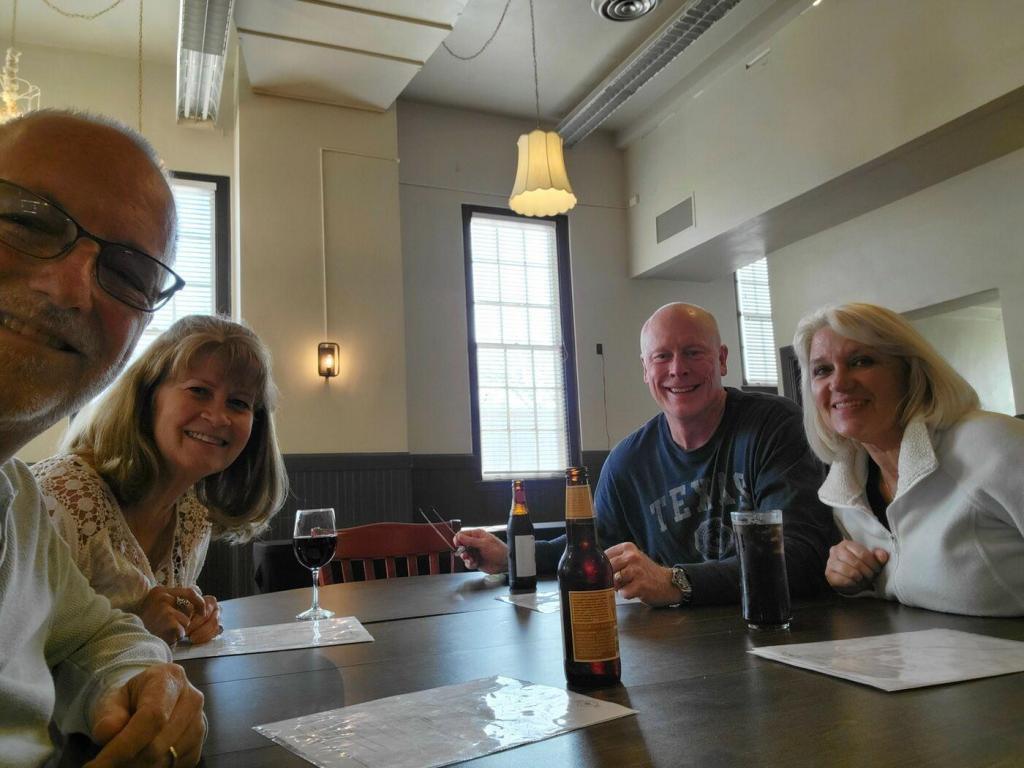 Round Top
We took a day trip with Tammie and Peter down to Round Top during their spring Antiques Show. Wow was I surprised. Overall, this is much larger than the monthly flea market in Canton that we went to while in Tyler. Our friends found several things for their house while we just looked. We found some interesting things like one guy that converted old telephone pole insulators into lights and old mailboxes from a Post Office into piggy banks. We were disappointed to find so many things we grew up with that are now called "antiques".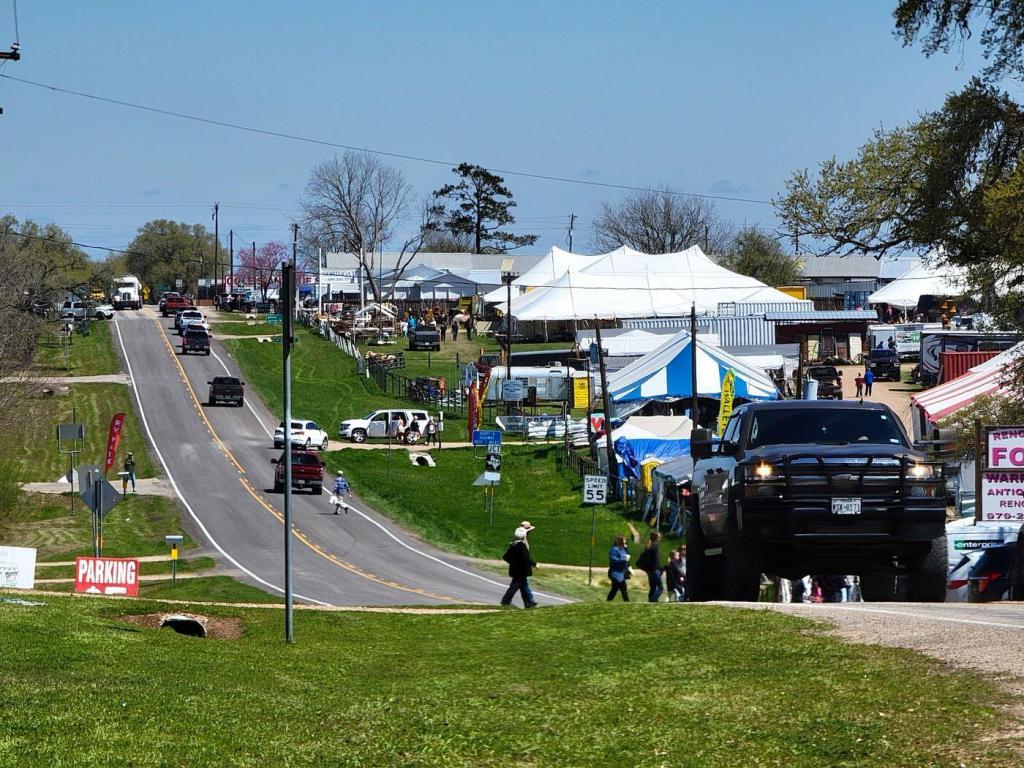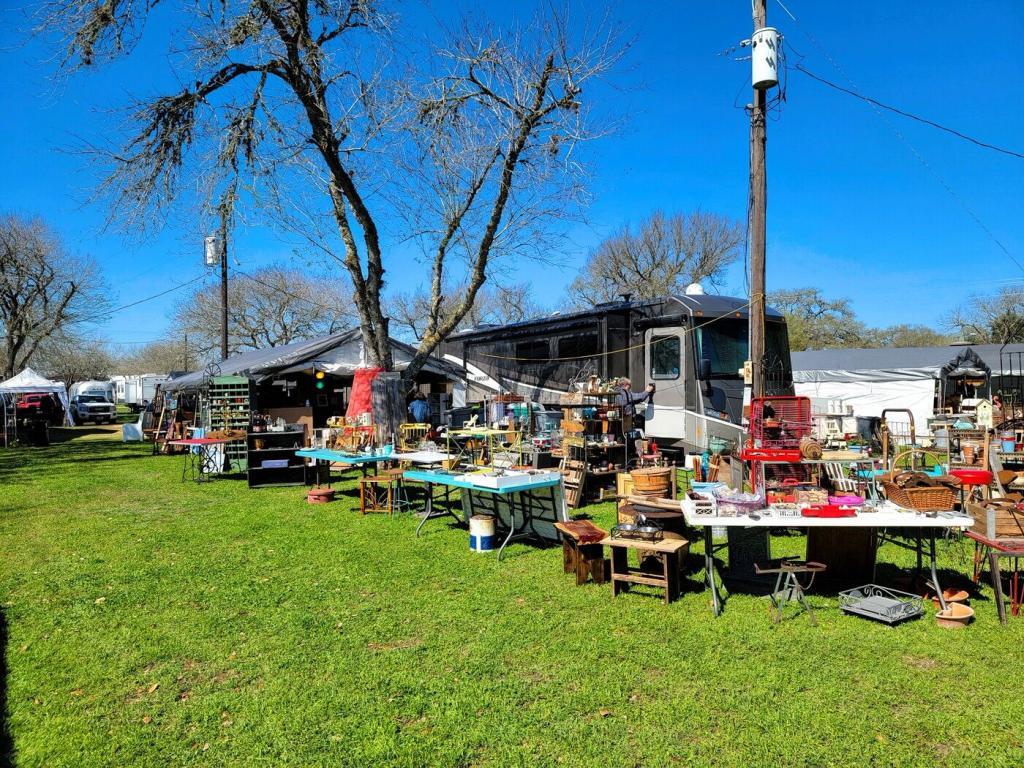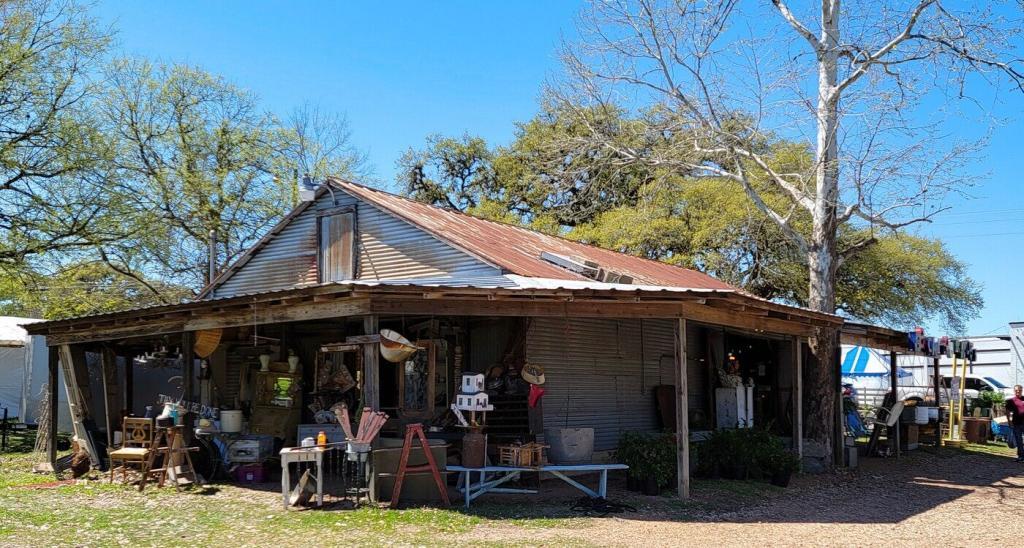 Bryan
On St. Patrick's Day we took a short drive over to Bryan for some green beer and good Mexican food. Bryan also has a vibrant downtown area with shops, restaurants and bars. The old Queen Theater is typical of some of the historic buildings downtown. It was originally built in the late 1800's as a hotel in the heart of Downtown Bryan. The hotel began showing silent films on the ground level in the early 1900's. The name "Queen Theatre" was officially given to the building in 1914 and then in 1939 the hotel was converted into a fully operational movie theatre. It still operates as a single screen movie theater today.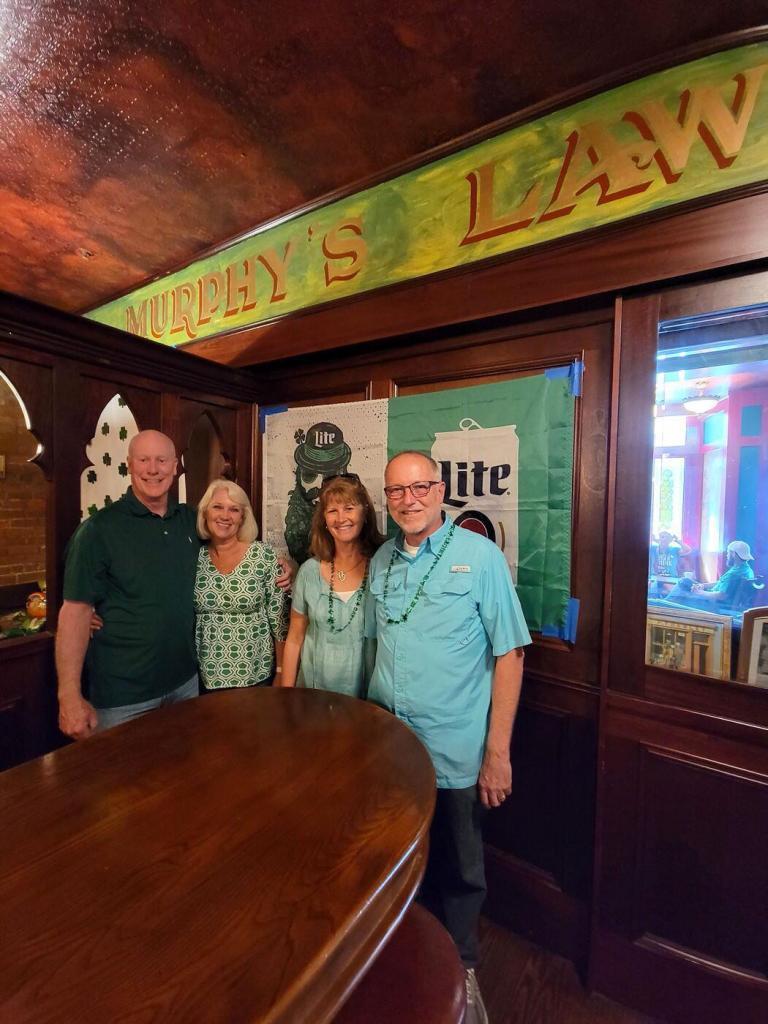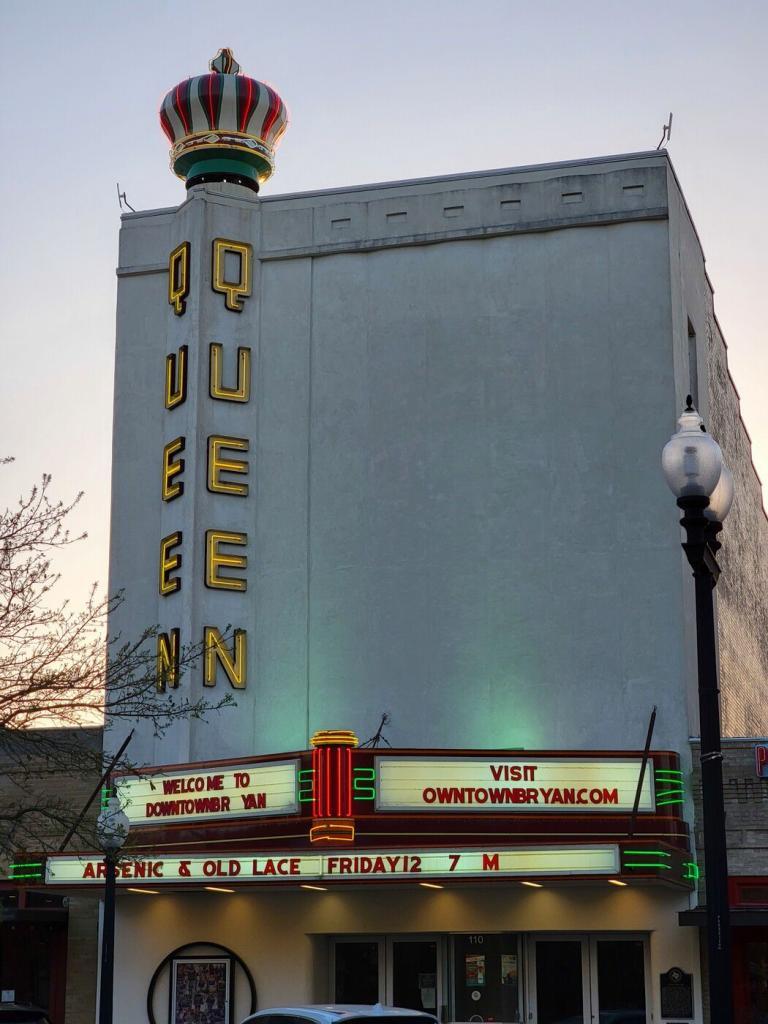 On another day we drove over to C&C Bar-B-Que on the north side of Bryan. We were a bit hesitant to go inside when we saw the place and the area around it but our hunger got the best of us. We were so glad it did as this was some of the best Texas BBQ we have eaten recently.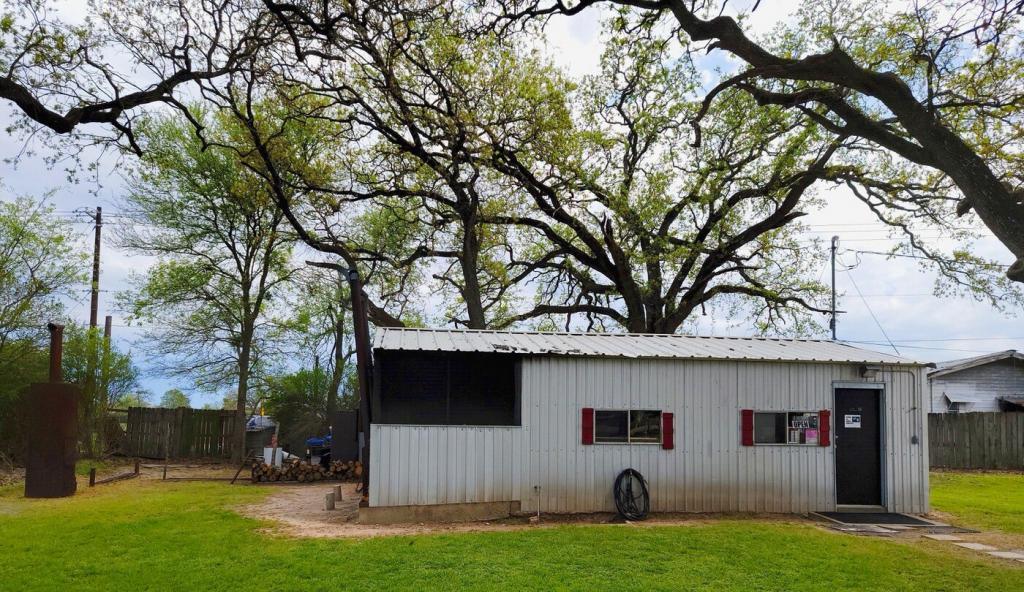 Washington on the Brazos
The General Convention, which would decide the fate of Texas, met at Washington Texas in March 1836. Washington-on-the-Brazos is the site where the Texas Declaration of Independence was signed on March 2, 1836. Thereafter, despite great personal risk, the delegates continued meeting for 17 days until they had drafted a constitution and established the new nation's first lasting government. Washington-on-the-Brazos is a state historic site where the Republic of Texas was born. We enjoyed walking the trails around the site and imagining what it would have been like in 1836 and how much we owe those brave men for taking the risks they did to give us Texas.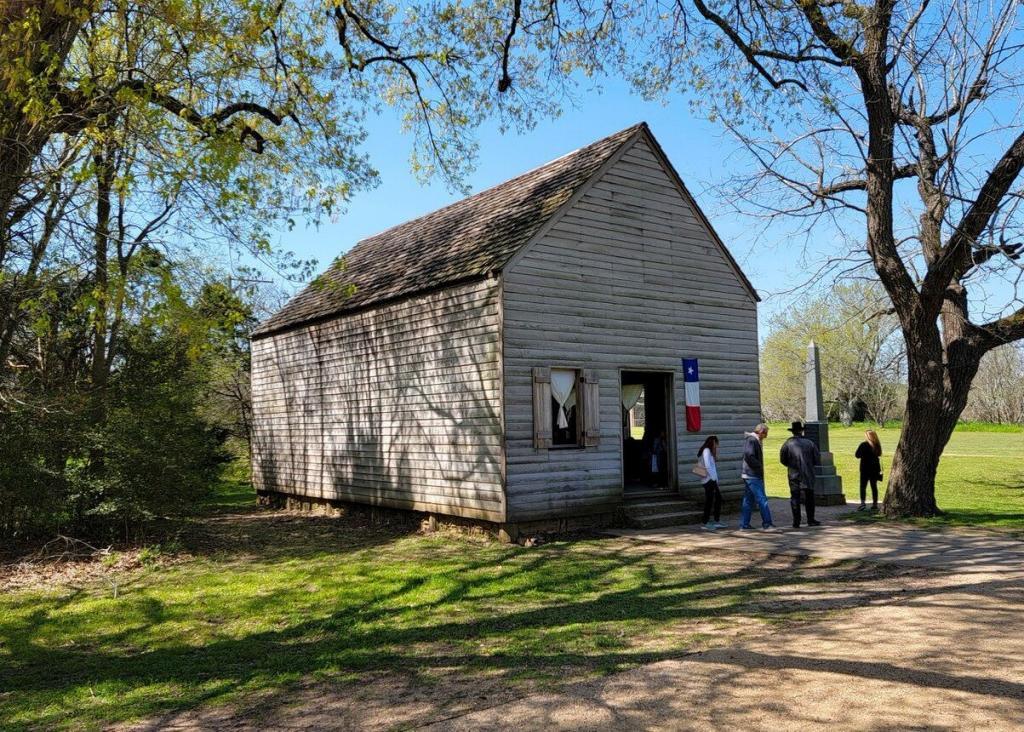 Also on the property is the Barrington Farm, the original home of the last president of the Republic of Texas, Anson Jones. Texas became the 28th state in the United States in February 1846 and Anson's job as president of the Republic was done. Today the site offers a glimpse of life on a small cotton plantation in 1850.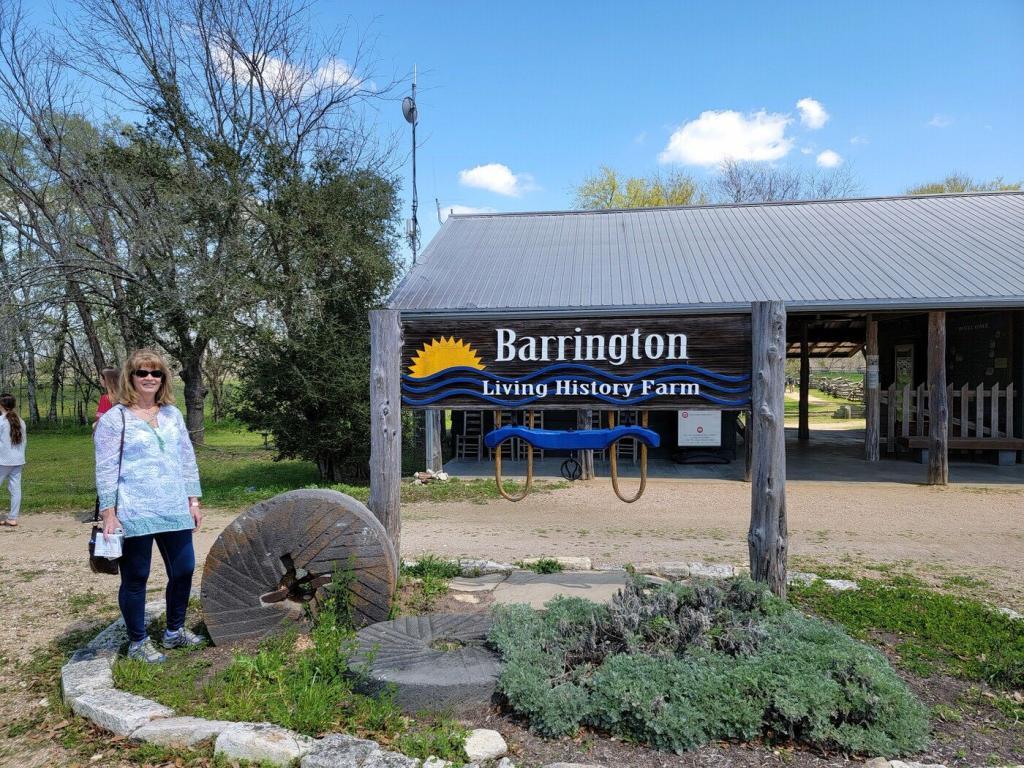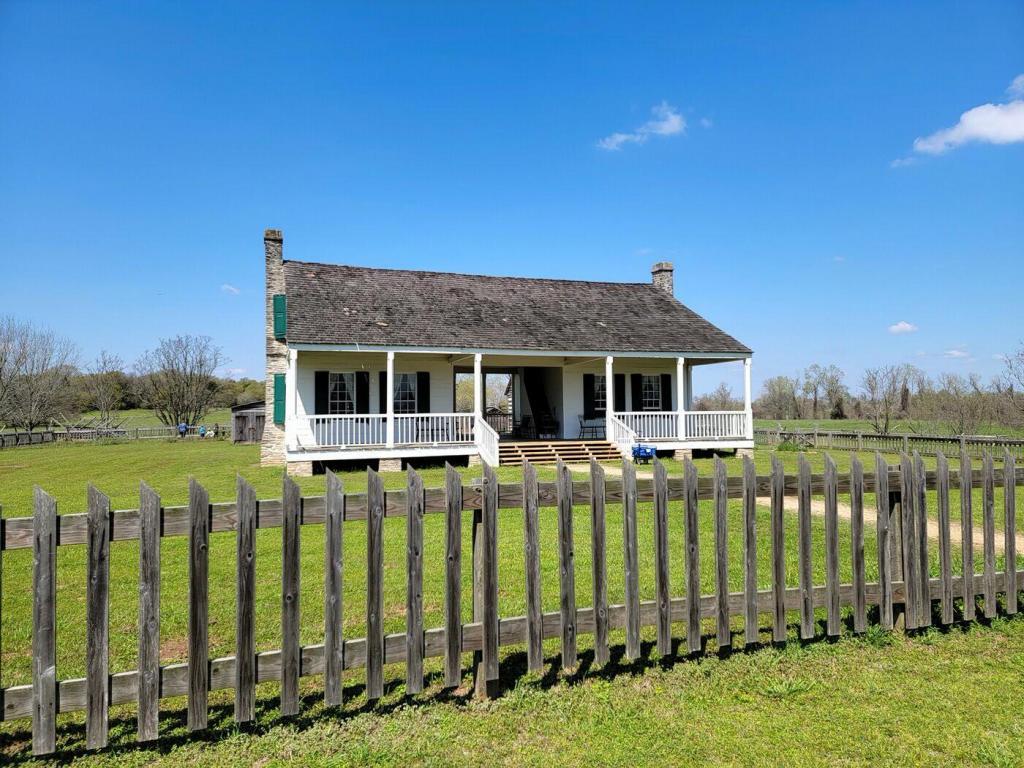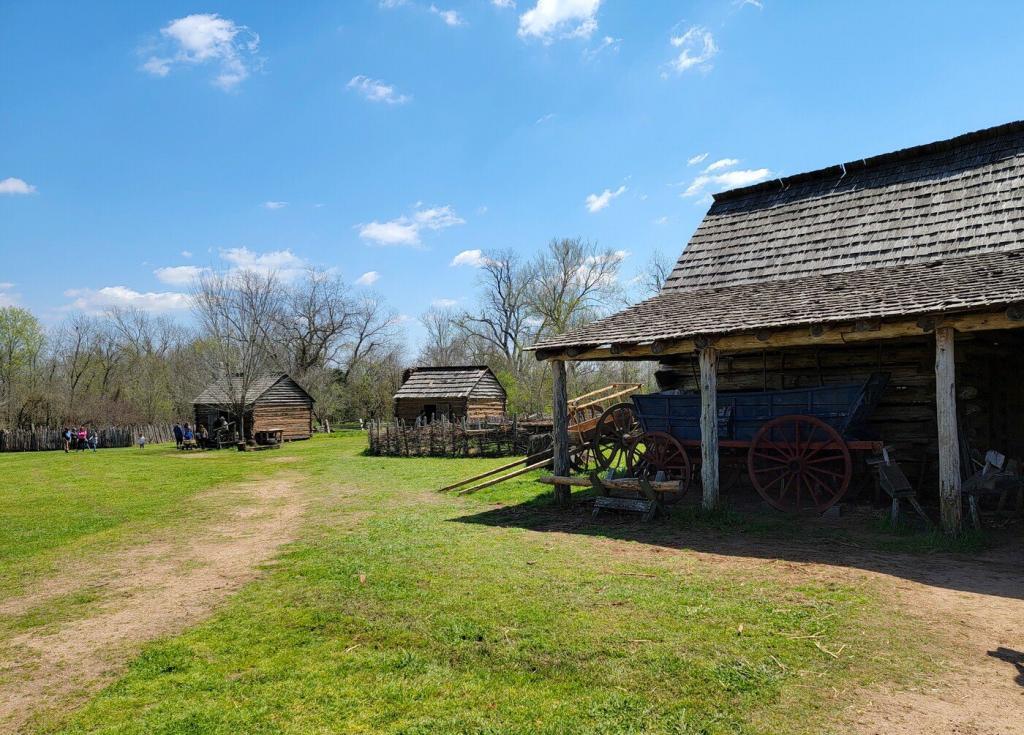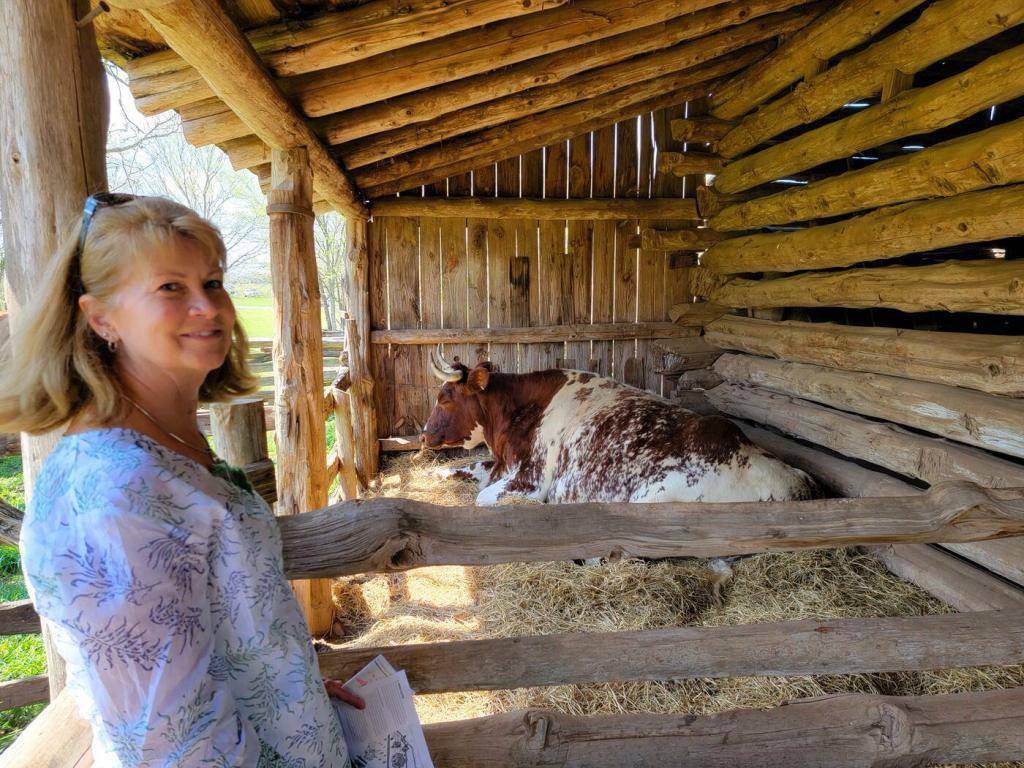 Brenham
Brenham was another surprise. The downtown area has been restored and seems to be completely occupied by businesses, stores and restaurants. I don't recall any empty buildings (although there probably were a few) and none were in a state of decay. Stores and businesses seem to be doing a robust business even in the face of COVID. We enjoyed walking around the area for a few hours and grabbing a bite to eat at TABU Tacos and Burgers.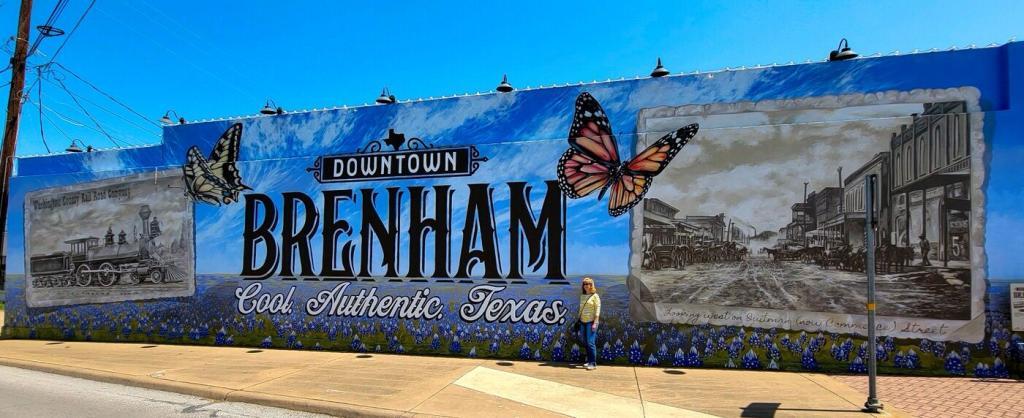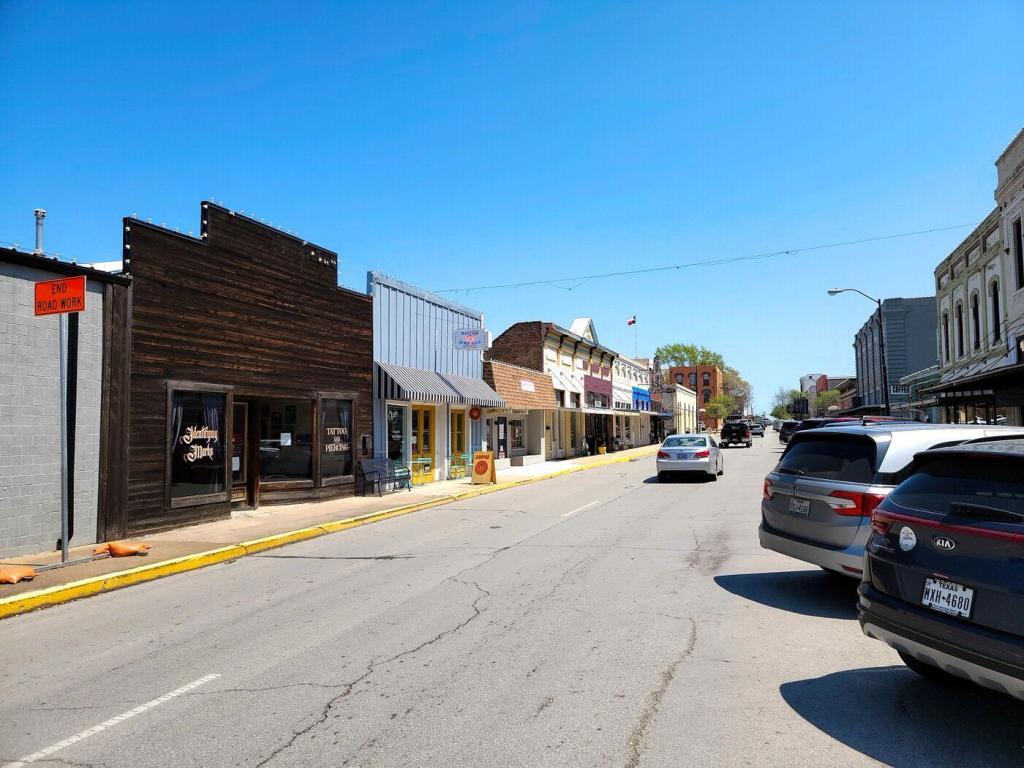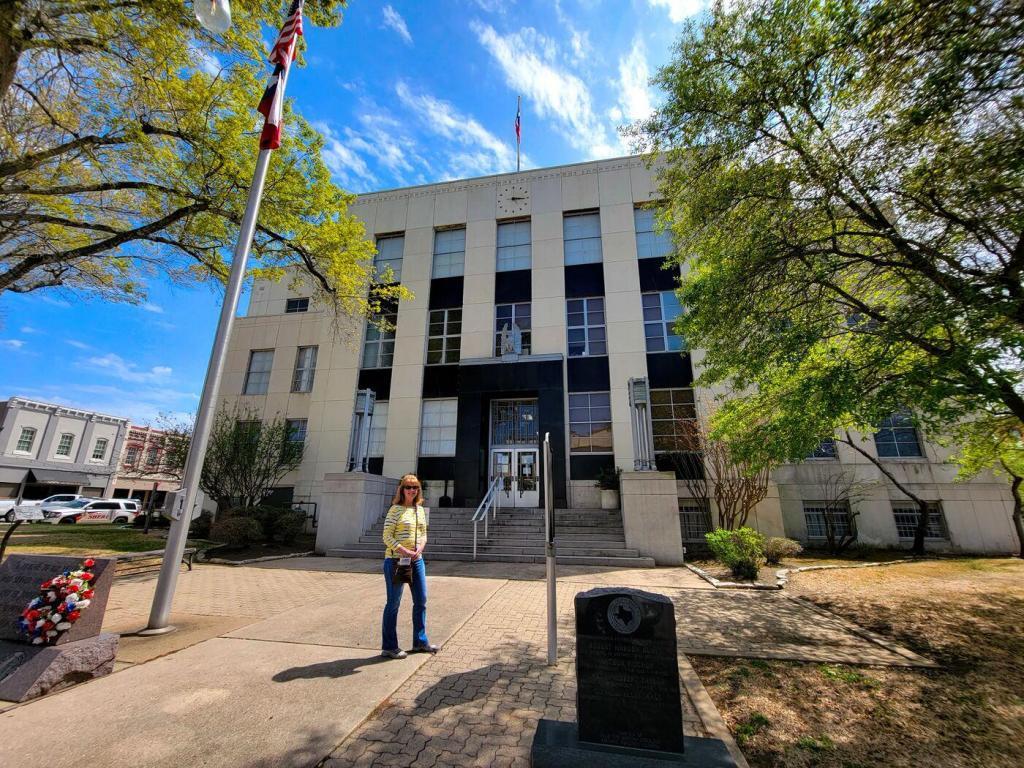 Brenham is also home of Bluebell Ice Cream which is well known across Texas and now enjoying an expanded area outside Texas. Although the visitor center and store were open, you could not go out into the production viewing area to see ice cream being made. In the store we each got a scoop of ice cream. Anna found they had Blackberry Cobbler Ice Cream, Blackberry Cobbler is one of her favorites so she had to try the ice cream. It tasted just like cobbler and even had chunks of crust in the ice cream!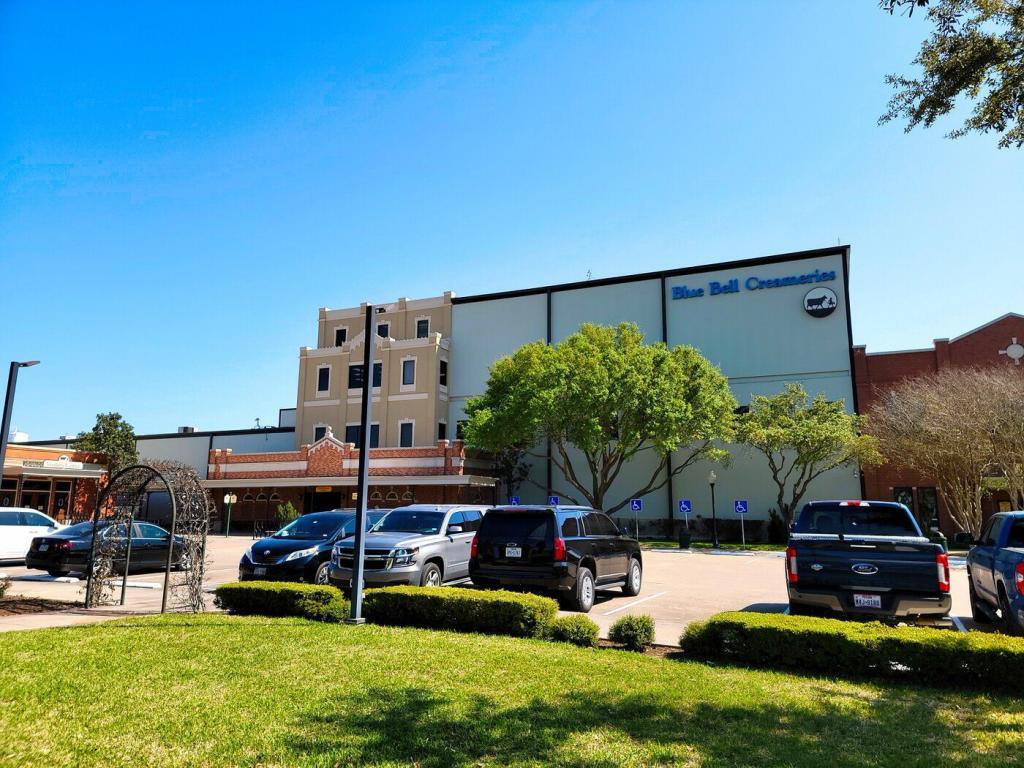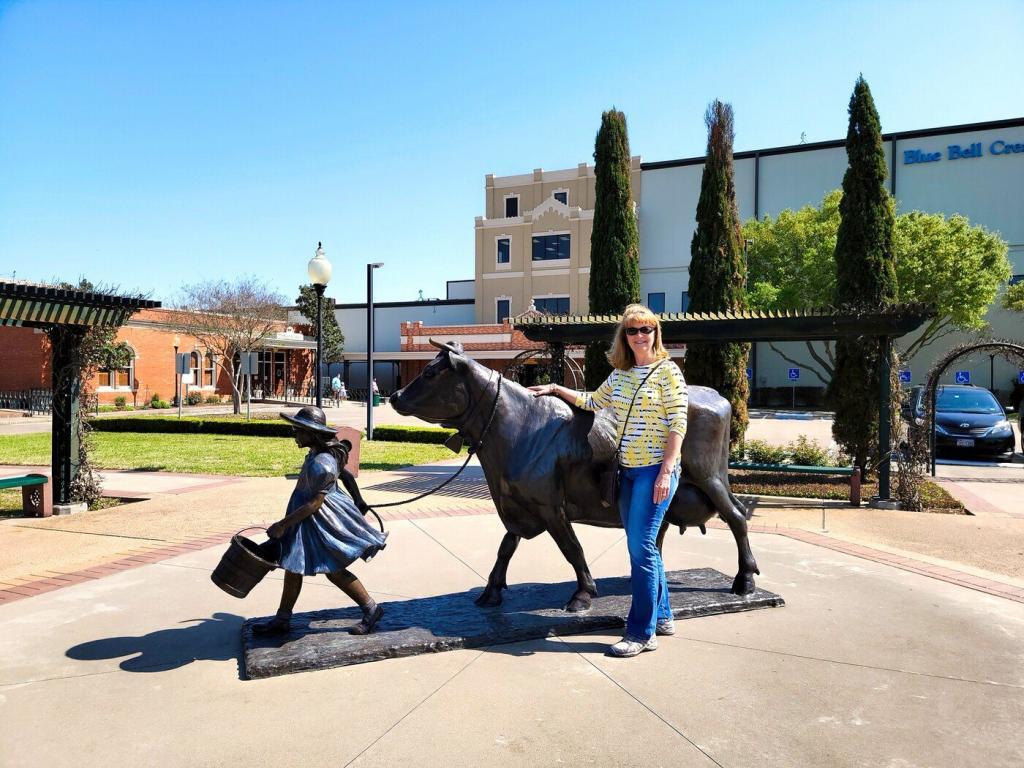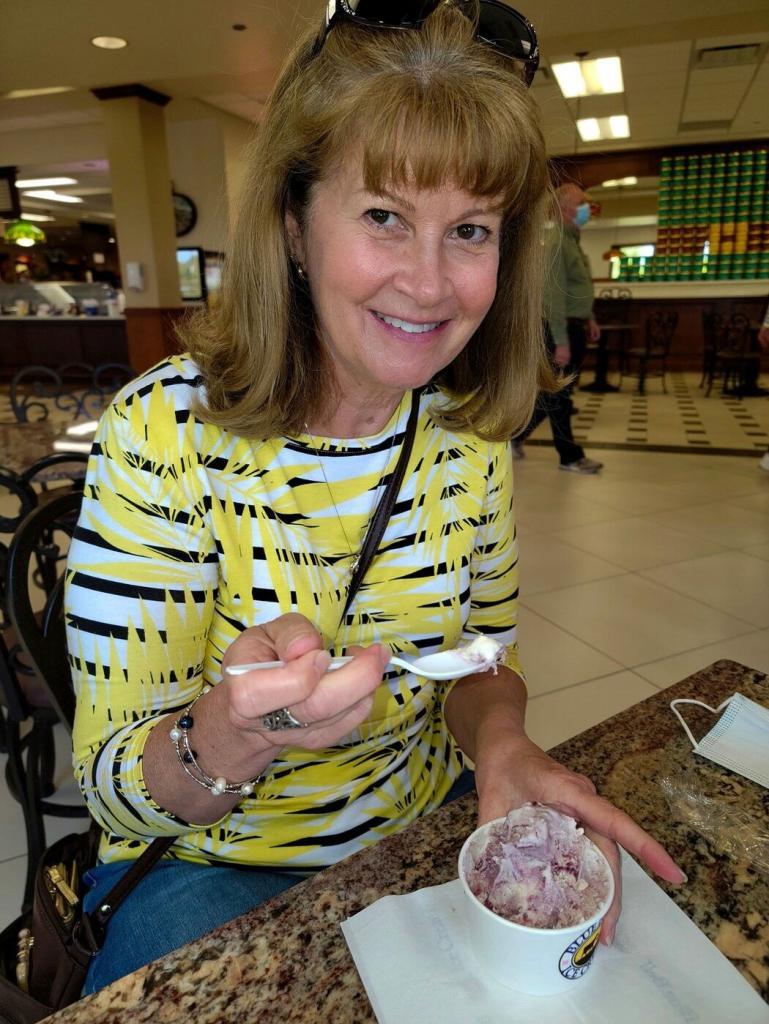 Independence
Founded in 1835, Independence is a town rich in history. It had become the wealthiest community in Texas and a Baptist stronghold when selected to be the site of Baylor University in 1845. Reaching its peak during the 1850s, the town was recognized as an educational, economic, and religious center.
The Civil War, the by-pass of the railroad, and Baylor's relocation in 1886 altered the Independence economy. The surrounding farmland, however, remained productive, often under the tillage of European immigrants, especially German families, who came in the late 19th century. African Americans, many of whom were former slaves from Washington County, also acquired and farmed the land.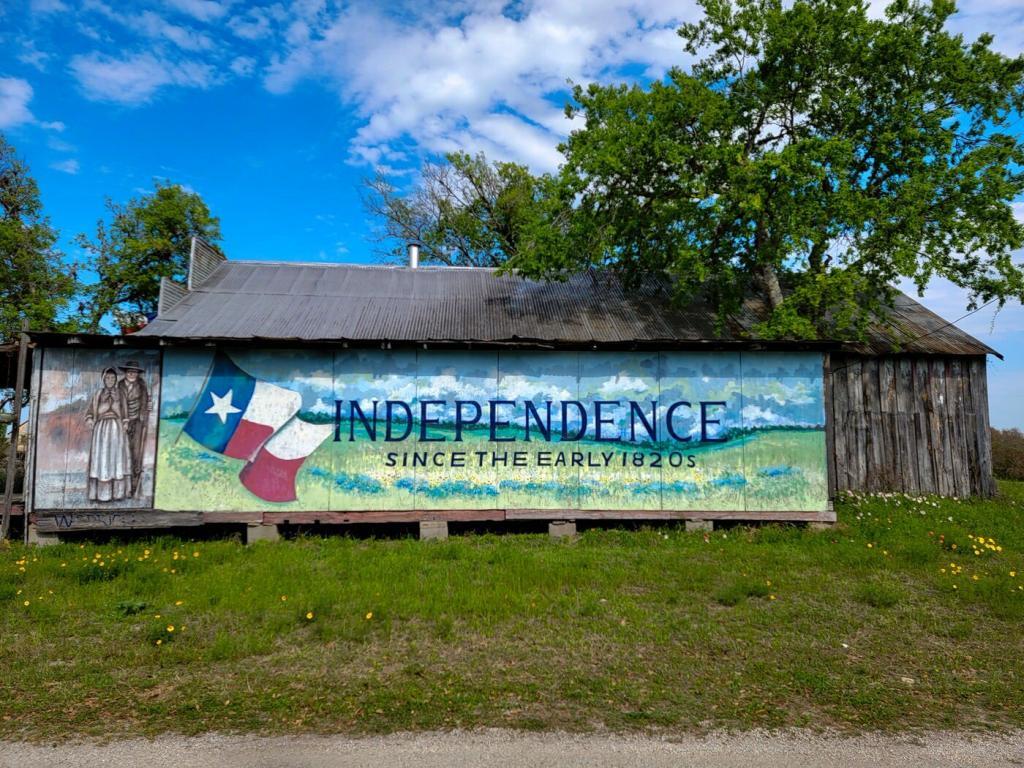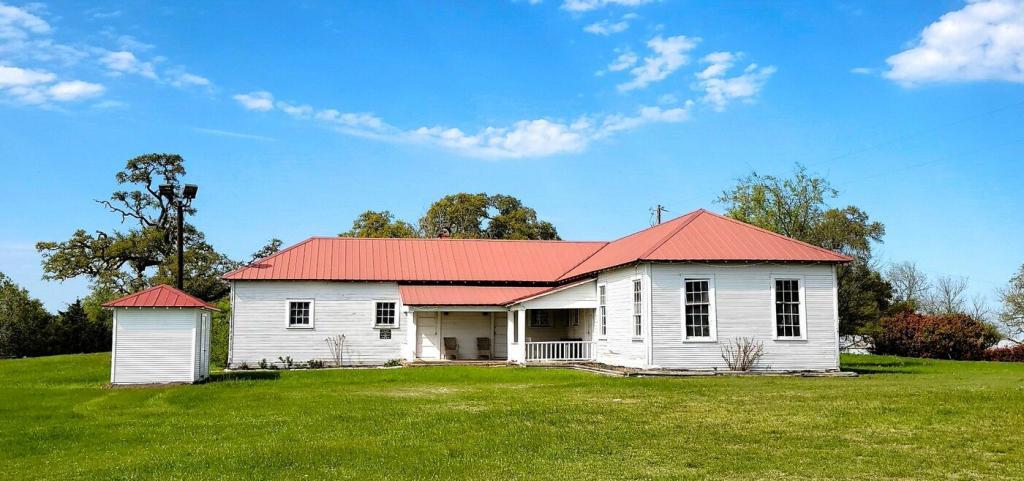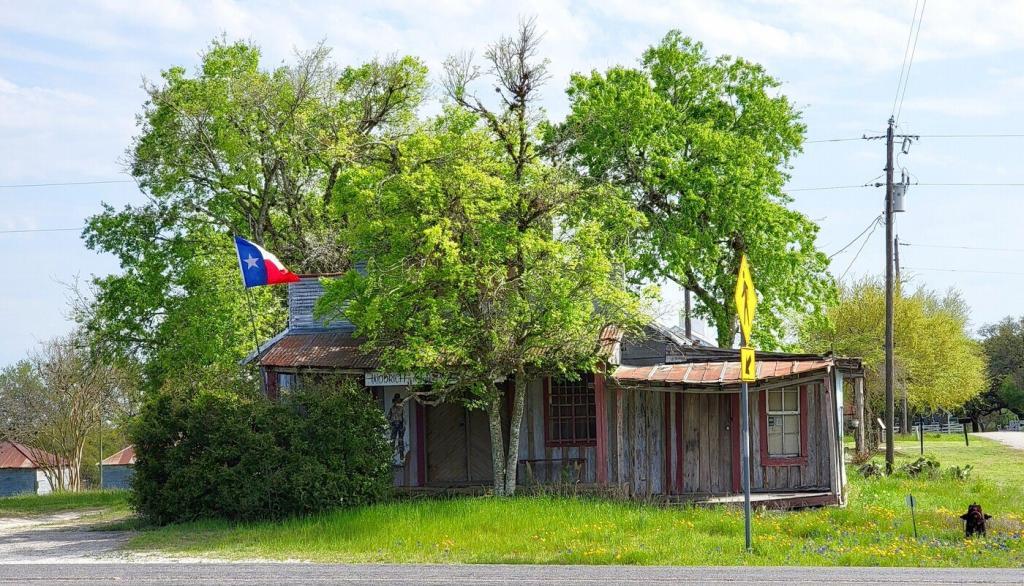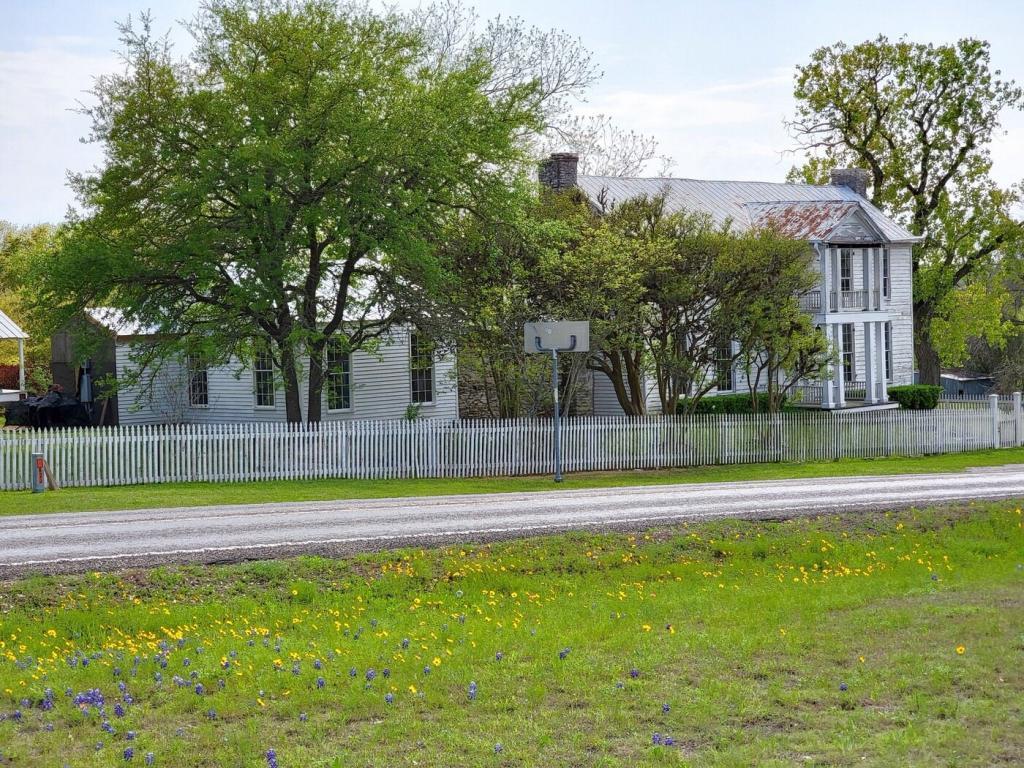 Bluebonnets
Late March and early May is wildflower season in south central Texas. We took a road trip through some of the back roads around Brenham to see some of the best wildflowers in the area.
On the way to our next campground we saw something that's truly Texas. There was a large patch of Bluebonnets on the side of the road and people were stopped there to take pictures. That's quite common to see but what was unusual is that they had brought a large cow and had him in the field to be in the pictures with what appeared to be a teenage boy. Unfortunately, we didn't have time to get a picture as we passed by.
Park Review
Rating: ⭐⭐⭐⭐
Site Quality: Asphalt roads and concrete pads. Each site has a paved porch area. Picnic tables and fire pits are available for an additional fee.
Type: Commercial
Access: Easy access off TX-21 just east of Caldwell, TX. If coming south on TX-36 from US-79 there is a low 13'11" train bridge just south of US-79 that isn't indicated on any of the low bridge databases I have but it should be fine for just about anyone.
Staff: The park is a family run operation with the daughter-in-law of the owner (Melissa) pretty much running the park. They also have a few other people covering the office at times during the week. All were friendly and helpful and Melissa even gave us some tips about happenings in nearby Caldwell.
Amenities: Propane on site. Small swimming pool, dog run and community fire pit with covered picnic tables. Club house.
Cellular/WiFi: Both AT&T and Verizon were great with Verizon rates reaching as high as 133Mbps. WiFi was available at the park but we did not use it.
Restaurants: C&C Bar-B-Que, Bryan – This is the quintessential "hole-in-the-wall" kind of place with excellent BBQ. Go early as they may close early if they run out. Casa Rodriguez, Bryan – This was an unexpected treat in Bryan with very good Tex-Mex. Ye Star Chinese Buffet, College Station – Typical Chinese buffet. Recommended by others but I won't return. Texas Seafood and Steak House, Caldwell – Seemed to have more seafood than steaks but the seafood was good and a friend said the steak was as well. The Old Post Office, Caldwell – Has potential and the food was pretty good but due to the venue I expected more. MasFajitas, Caldwell – Decent Tex-Mex. Papa G's Old Fashioned Burger, Caldwell – Good burgers adjacent to a gas station. Lissa's Restyled Sip & Shop, Caldwell – Good burgers and sandwiches all made with fresh baked bread. They also serve coffee and breakfast. TABU Tacos & Burgers, Brenham – Good unique burgers.
What we liked: Family run park with great owners. Lots of space between sites. The park was well maintained.
What we didn't like: Although not a huge problem, the water hookups are at the back of each site. You need a long hose (we needed about 40′) to reach and that could be a problem during freeing weather since heated hoses are usually shorter. There is a train track about 3/4 mile away and it was fairly active although they used their horns minimally. Only small trees at the sites, no shade but nice in the winter. Large fields around the park so no wind breaks and in the winter it gets quite windy.
Nearby Parks: We didn't look at any nearby parks.
Verdict: We would definitely stay at Brazos Valley again next time we are in this area. It's perfect for a long term stay although wind can be a problem in the spring and likely heat would be a problem in the summer with no trees.