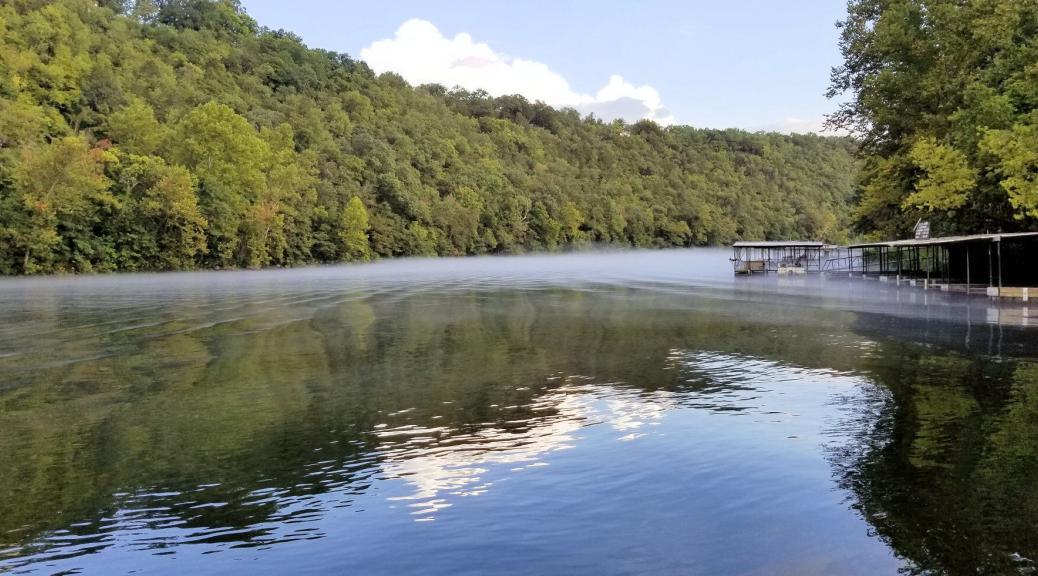 Cooper Creek – Branson
Cooper Creek – Branson
Rating: ⭐⭐⭐⭐
Location:  Branson, Missouri
Site Quality:  Asphalt roads throughout the park with gravel pull thru and back in spots.
Type:  Commercial
Access: From highway 65, take the highway 76 Country Blvd exit (center lane to turn then get into the left lane as soon as possible) then go 1.2 miles West to Fall Creek Rd (Yellow route south). Go left (south) 1.6 miles then take a slight left onto River Valley Rd. Follow the signs to the campground. Even though this goes into Branson on highway 76 it's not too bad even with a big rig. The road is hilly and busy but you turn off before the main area of Branson attractions.
Staff: Friendly and helpful but at times a bit odd. The did look out for us and move us to higher ground before potential flooding rains which was great but sometimes seemed to have a bit of a negative disposition. Overall, more positive than negative.
Amenities:  Cable TV, pool (2 but only one was open), store, laundry facilities along with showers and restrooms, horseshoes, basketball court, tornado shelter. Marina on site with fishing and boat rental opportunities. There are also cabins for rent and a playground for kids.
Cellular/WiFi:  AT&T and Verizon 1 bar (phones) with decent speeds (6 Mbps Verizon / 5 Mbps AT&T) when using the booster. WiFi was available but we did not use it.
What we liked: Felt safe and secure. Our sites (#84 and #8) had lots of shade from large trees.
What we didn't like: Satellite did not work but only because of the shade trees. Free CATV is included so that was an alternative. Speed limit is 5 MPH but many people were going through the park at least at 20 MPH.

We stayed here for two weeks in mid-September 2018 to be close to Anna's uncle who lives in Springfield and to take some time enjoying the Ozarks. Cooper Creek is on the shores of Lake Taneycomo – in this area it's more like a river than a lake with a strong current and narrow waterway. Since the water comes from the bottom of Table Rock Lake it is quite cold (averaging 48°F).  We started out in site #84 because a lot of rain was expected and site #8 collects water when it rains hard. Site #8, while not on the water was as close as you can get without being in a premium waterfront site (#1 through #7). A drawback was that it is right by a trash dumpster and across from the store. In early September the park was only about half full with most sites closer to the water being filled. In general we would prefer being further away from the water to get more open space. Sites 19, 20, 22, 23, 24, 27, 65, possibly 75 through 79 although these look closer together, and 84 look best and all have 50A power. When this area was full, it was a bit more cramped with our picnic table being right beside our neighbor's unit including sewer connection although there was a bit more space than other parks we have seen. This was a great park and we would definitely stay here again.
During our stay here we took in several nearby attractions (be sure to see the pictures below). First, we took a short trip over to Table Rock Lake and visited the Visitor Center there where we got an overview of the construction of the dam as well as some close up views of the dam and the lake. 

We also went to the Shepherd of the Hills Outdoor Drama.  This is an action-packed live reenactment of the famous historical novel by Christian minister, Harold Bell Wright.  Published in 1907, this beautiful story tells of life in the rugged Ozark Mountains of Missouri in the late 1800's. 
Of course we had to visit some local restaurants while we were there so we stopped in at The Farmhouse on our first day – it was pretty good, particularly the Blackberry cobbler which Anna had been waiting for months to find. We also stopped at her mother and uncles favorite – Clockers which was also good (although I liked the cobbler at the Farmhouse a little better :-)). We also had to stop at Cantina Laredo in the Branson Landing shopping area. Yes, it's a chain but we wanted some mexican food we could trust. Branson Landing features a scenic boardwalk along the Taneycomo Lakefront. At the heart of the Landing is a vibrant town square terracing down to the $7.5 million spectacular water attraction that features the first-ever merging of water, fire, light and music. 

While in the area we also took a look at some of the other RV parks and here is some thoughts about those should we come back this way:
Branson Lakeside RV Park – This park is run by the City of Branson and is right on the shore of Lake Taneycomo adjacent to the Branson Landing shopping center and about a mile from the old downtown area (close enough to walk). We likely won't stay here as the sites were very close together. For example I noticed one awning nearly touching the neighboring RV. There were less trees for shade here as well. Other than that, it probably wasn't too bad.
Escapees Turkey Creek RV Village – This is an Escapees park and with membership the rates were very low – particularly for a month. This park is also on the shores of Lake Taneycomo and although a bit farther away is still within walking distance to Branson Landing and the old downtown area (a bit over a mile walking). This park was not bad but it appeared to be a bit more dated. Some sites were back to back and would be too short for us. There was a bit more space between sites than at Branson Landing.
Branson Stagecoach RV Park – Nothing special here, most sites are very close together and it appears there are quite a few full time residents. Some RV pads were concrete, most look to be too small for our RV. The park was pretty full compared to some others. Likely only a choice if some of the better parks are not available.
Table Rock State Park – We did not go through this park but it looks like this could be a great option if you made reservations early. Only less desirable sites were available when we booked. Some sites are close together and without trees for shade while others are more secluded and tree covered. None of them seem to be within view of the lake.
Branson KOA Holiday – This is a very large park with mostly pull through sites. There are trees but most sites are not that shady. The park was probably less than half full in early September so it should be somewhat easy to get a spot. Best access is from 165 and Animal Safari Road. From 265, the road was narrow and with steep hills and would not be good for a big rig.
Branson Treehouse Adventures – This was a gorgeous park with cabins, treehouses and RV sites. Unfortunately, I can't imagine navigating the park with a big rig. Getting out of the park is also difficult as there is a blind hill in highway 265 at the exit. It was dangerous with just the truck and would have been really tricky pulling a rig.
Other highway 265 parks – Several nice looking parks were in highway 265 between Silver Dollar City south to Animal Safari Road. They would need to be investigated to be sure they can handle big rigs. Also 265 is hilly and somewhat narrow with numerous curves so it could be challenging pulling a big rig. It's probably not any worse than Fall Creek Road that goes to  Cooper Creek but it is a much longer drive. As previously mentioned, it's best to avoid going from 265 down Animal Safari Rd toward 165 with a big rig.
Bar B RV Park – This park was away from Branson near Forsyth and Bull Shoals Lake. It looked promising and was cheap but in driving through it wasn't really a place we would feel comfortable staying at with our rig. To make matters worse, there was bridge work going on near the road to the park and the road was down to one lane with lights controlling the flow. It would have been difficult navigating this with a big rig.
Aunts Creek – There are actually two campgrounds here – a commercial RV park and a COE park. The commercial park likely wouldn't accommodate our trailer as it would be difficult navigating within the park. The COE park would be a better option although it is only open from April 1'st to mid-September. Also only 5 sites out of 55 are long enough for us. The road going down to the park could be slightly challenging with lots of curves on a narrow road and some 7% grades.