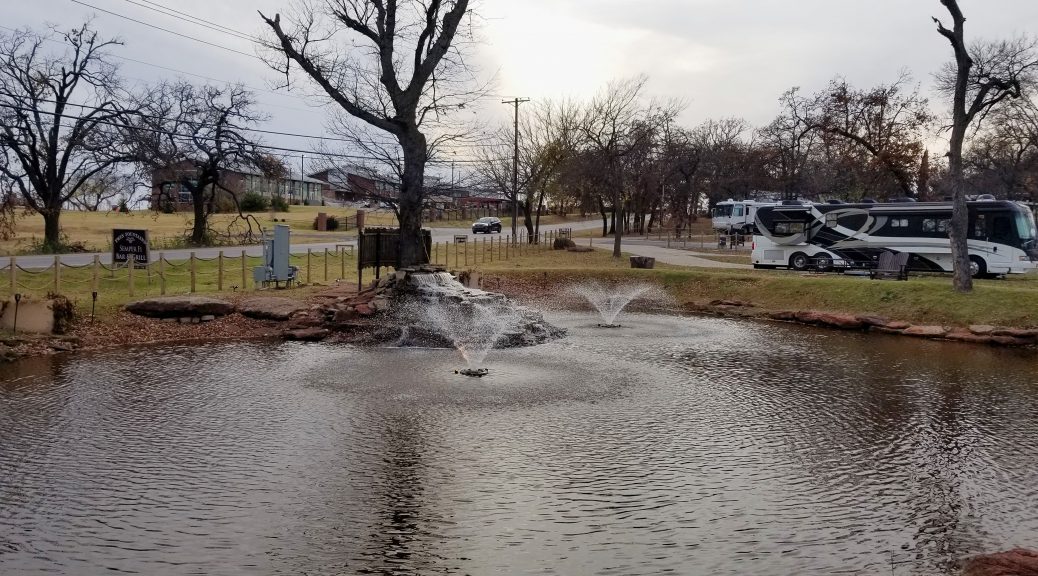 Twin Fountains RV Park, Oklahoma City, OK
Park Review
Rating: ⭐⭐⭐⭐
Site Quality: Concrete pads and asphalt roads. The site (P-67) was plenty long enough for our RV and truck but it was a bit interesting. The exit went out to the park entrance and was beyond the security gate. At night, we couldn't back up to the trailer because the drive was very narrow and made a turn which would have been difficult to navigate in the dark. Getting out of the site was much easier than it looked like it would be. The nice thing about this site is that it was one of two that are right beside the pond and twin fountains.
Type: Commercial
Access: We followed the parks directions on arriving from the south on I35 and merged onto I44 then taking the first exit to loop back to the park. It seemed like we could have exited I35 to 63'rd directly. On leaving we exited to the east and back to I35 rather than following the directions given, mostly because we really couldn't turn right out of the park from the entrance road.
Staff: We only interacted with the gate attendant who also guided us to the site. He was friendly and helpful.
Amenities: Onsite restaurant, pool, hot tub and splash pad, mini golf, playground, clubhouse, and convenience store.
Cellular/WiFi: Verizon and AT&T were both good.
Restaurants: We didn't eat out while staying in the park.
What we liked: We didn't spend much time at the park but it seemed really nice and had some nice amenities although due to COVID-19 and lack of time we didn't explore them. Several museums are in the area.
What we didn't like: Sleightly difficult to get to the park but overall not too bad. Awkward driveway on our site.
Nearby Parks: None
Verdict: We would stay here again when travelling through.
…