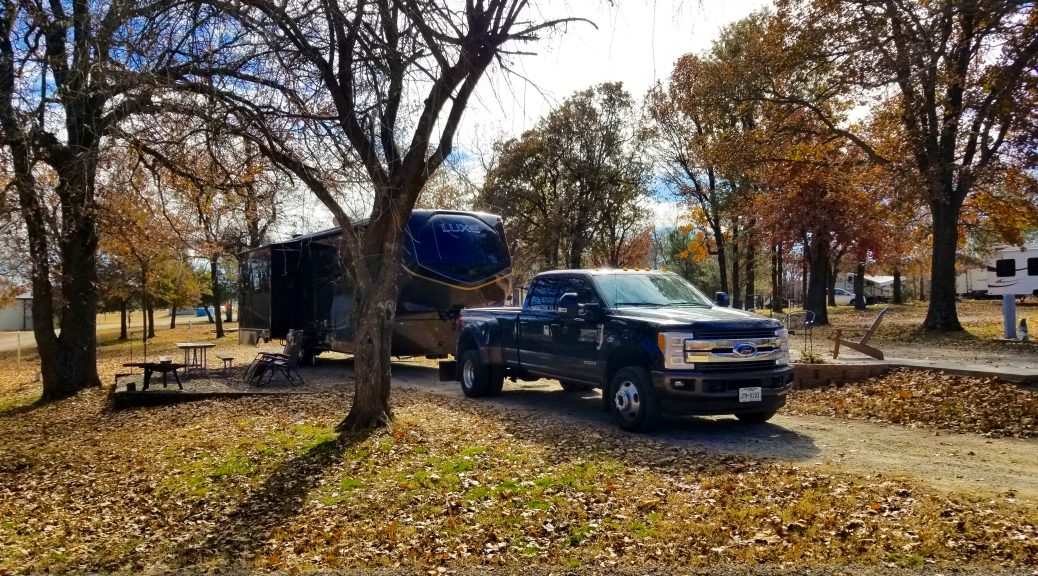 Checotah / Lake Eufaula West KOA, Checotah, OK
Rating: ⭐⭐⭐
Site Quality: Gravel roads and pads. Our site was plenty long for our rig and truck. Sites are fairly close together with a picnic table for each.
Type:  Commercial Park
Access: Just off Interstate 40 West of Checotah, OK. Take exit 255 (Pierce Rd.) then go West on the North service road.
Staff: Staff interaction was good but minimal.
Amenities:  Fishing pond, Swimming pool (in season), cabins, playground, laundry. Access to Lake Eufaula via a short trail at the back of the park.
Cellular/WiFi:  Verizon and AT&T were both good with AT&T being the fastest. They claimed to have WiFi but we did not see it or use it.
What we liked: Easy access, nice clean park. Pretty park with a fair amount of trees but we still got satellite at site 61. Decent price for a KOA part – ~$35 per night.
What we didn't like: Although the sites are gravel, there wasn't much gravel left. During wet weather they could be messy. Some road noise from Interstate 40. Quite a few long term residents and at least one trailer stored in a site that didn't look like it had been used for a while. The nearest restaurants and stores are about 15 miles away in either Checotah or Henryetta. Both have Walmarts. KOAs area always more expensive than what you get but this was one of the least expensive KOAs we have stayed at.
Verdict: This park is nice with large mature trees and decent sites as long as it's not wet and muddy. Deluxe sites with concrete patios would be nice in wet weather. Good for a short stay enroute as there wouldn't be a lot to do here for longer stays.