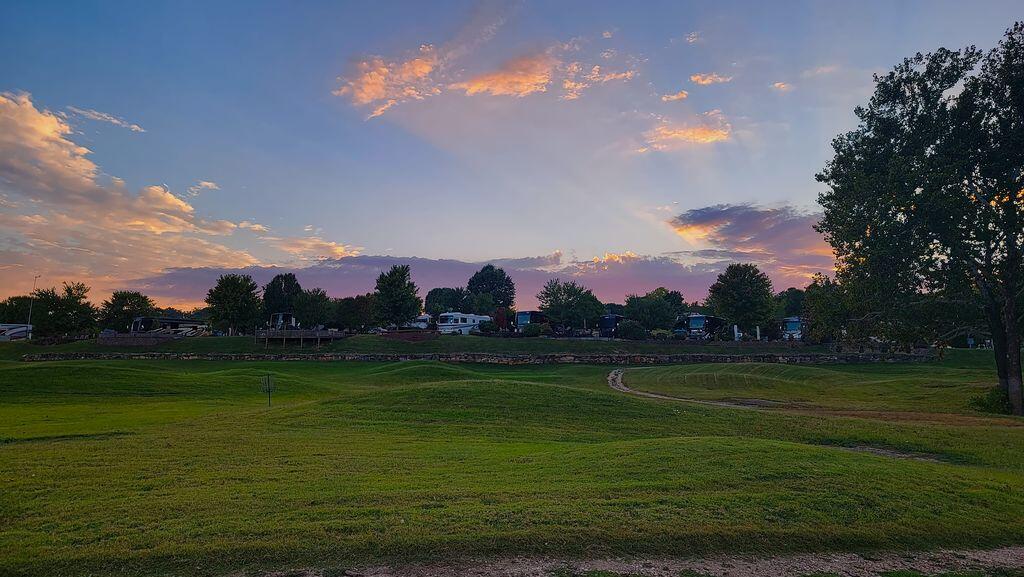 Ozarks RV Resort on Table Rock Lake, Oak Grove, AR
Ozarks RV Resort on Table Rock Lake, Oak Grove, AR
Ozarks RV Resort is primarily a park for people to buy a lot. If you don't own a lot, you can stay there if an owner has a lot available when you want to stay and has it open for renting. Because they are owner properties, the amenities for each lot can vary greatly, however, most are pretty nice. We were one of four Augusta Luxe RV's in the park – the most we have seen in any one place. Two of them were dark blue and were owned by someone in Canada. We hear they come down to the lake for only a couple of weeks every year.
Across the lake from Ozarks RV Resort is the Thunder Ridge Nature Arena. This is a 20,000 seat nature amphitheater owned by Johnny Morris of Bass Pro Shop fame. While we were there they had one of their first concerts featuring Garth Brooks. Even though we could see the amphitheater from the park, Anna was disappointed that we really couldn't hear the music very well. We did get a good view of the daily air shows that opened each of the three concerts however.
Park Review – Ozarks RV Resort on Table Rock Lake
Rating: ⭐⭐⭐1/2+
Location:  Oak Grove, AR
Site Quality / Amenities: Asphalt roads and concrete sites.
Type: Commercial Park
Access: From US-65 south of Branson/Hollister take Missouri state highway 86 to Missouri state highway 13 to Arkansas state highway 21. Right after entering take Arkansas highway 311 to county road 663 to the entrance.
Staff: Friendly family owned park.
Cellular/WiFi: Good AT&T and Verizon service.
Restaurants: Table Rock Coffee Roasters on Missouri 86 had good coffee. Branson has lots of restaurants and stores but it is a tourist area and can get very busy.
Nearby parks: We didn't look at any other parks in the area.
What we liked: Clean, well run, nicely landscaped park.
What we didn't like: A bit far off the beaten path. It's a good 30 minutes or more to any large grocery store or restaurant. You have to go into Branson, MO or Berryville, AR. There was a boil water notice while we were there and the only notice was at the main office so we never knew about it.
Verdict: This is a very nice park for a week or more when travelling through the area and we'd stay here again.