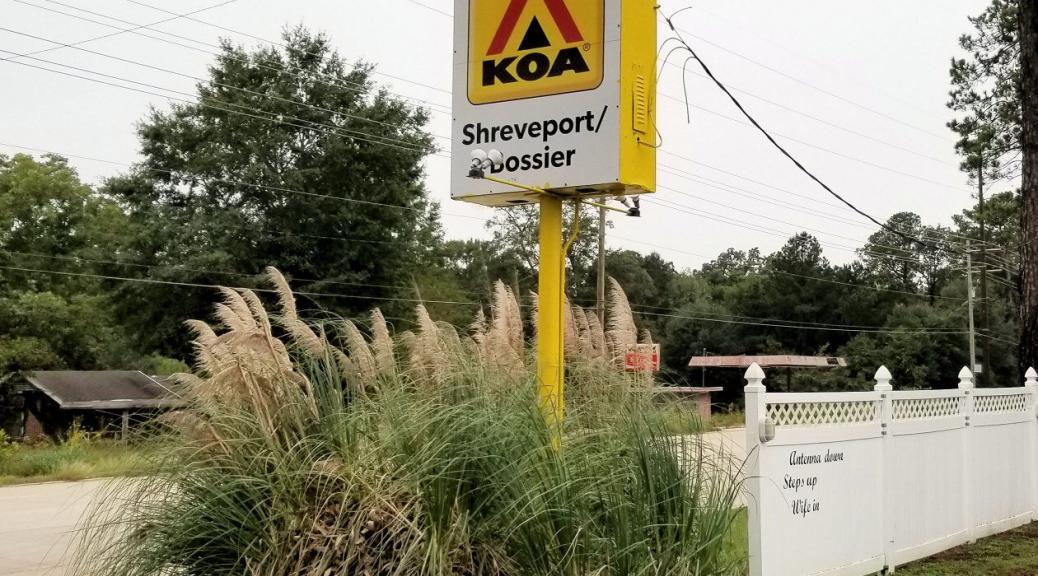 Shreveport / Bossier City KOA
Rating: ⭐⭐⭐
Location:  Shreveport, Louisiana
Site Quality:  Asphalt roads throughout the park. Depending on the type of site reserved pads are either gravel or concrete. If it is going to rain, the premium sites with concrete pads would definitely be preferable here as many of the other sites were muddy. Each site has a table and chairs. 
Type:  Commercial
Access:  Easy access from Interstate Highway 20 on the East side of Shreveport. 
Staff:  The park attendant who checked us in was very helpful and friendly. 
Amenities:  Full hookups. Bath house at the main office. 24 hour laundromat at the park office. Small store and available propane on site. Two dog park areas, pool, playground and a pond. 
Cellular/WiFi:  AT&T and Verizon 4-5 bars even without amplification. We got just under 9Mbps both AT&T and Verizon. My phone had much higher data rates. The park had WiFi but we did not use it.
What we liked:  Surrounded by lots of trees so it felt like you were not in town.
What we didn't like: Getting out of our site was a bit tight. The park is fairly close to IH20 so there was some road noise particularly outside. While inside it was not a problem.
…